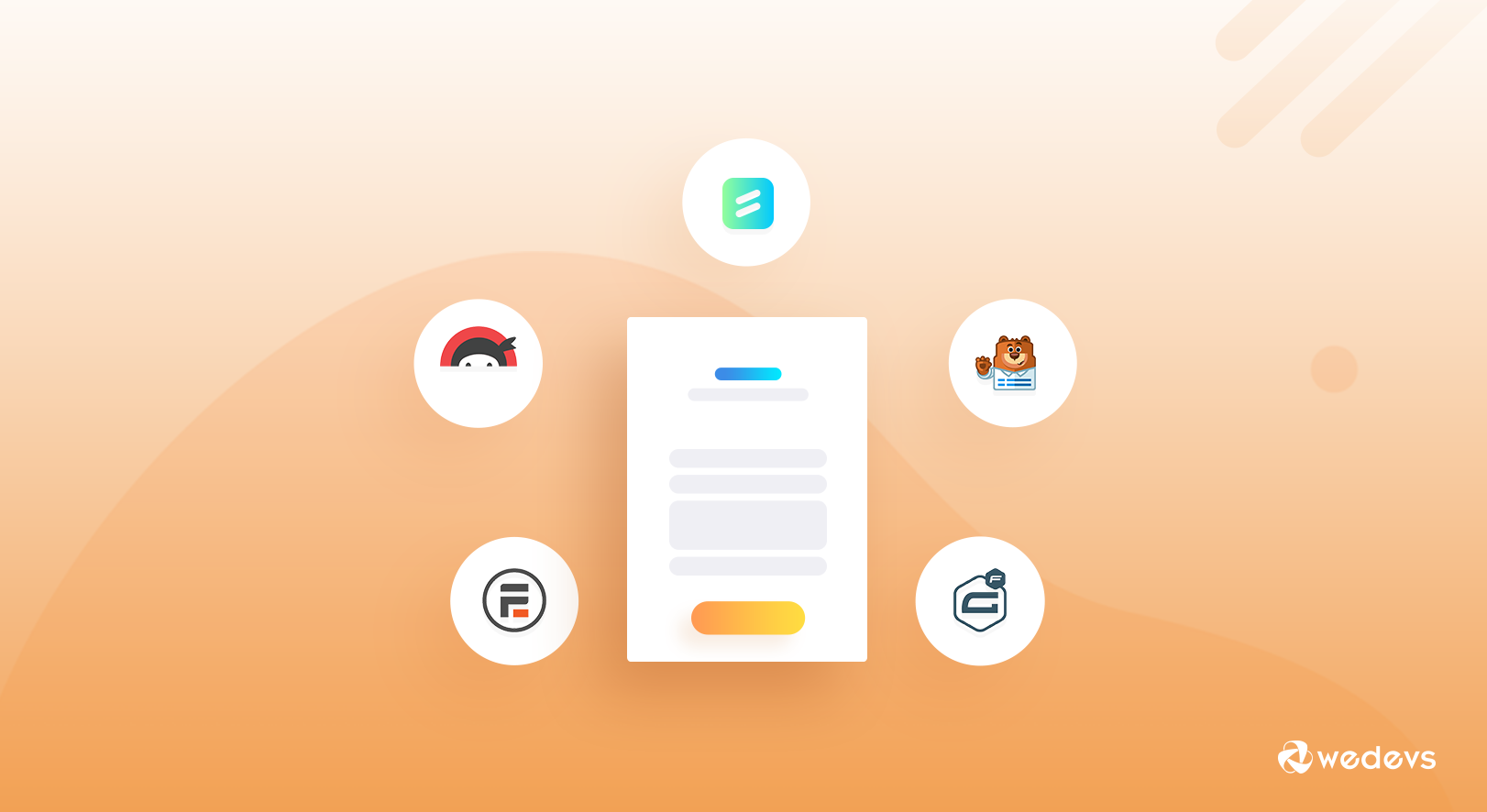 7 Best WordPress Form Builder Compared (Pros & Cons)
WordPress is a complete CMS that caters to all the requirements for the process of building a website. Although WordPress does not come up with a native contact form solution, there is an army of third-party freemium contact form plugins to take you to the rescue.
As there are a staggering 1625+ WordPress contact form plugins, a contact form seeker may easily get indecisive, which one to pick or not. And this is exactly why we handpicked this awesome list of WordPress contact form plugins today showing the pros and cons of each solution for you.
Before we move to choose a contact form plugin, let's see the benefits of using a WordPress contact form plugin:
Advantages of Using a Contact Form Plugin for Your Website
Though the idea of using web forms is not a new concept to generate leads, it still tops the list of all the other lead generating tools. Here is a fact: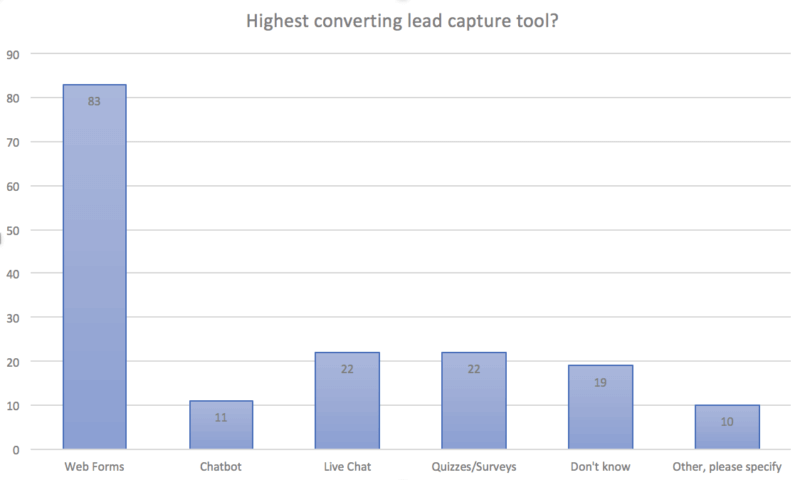 Here are a number of benefits of using a web form for your website:
It will be so much easier for your visitors to reach you. But not for spammers!
Reply faster and better.
Multifunctional & super useful.
On the path of building a large network.
Decreased bounce rates.
Increase conversions.
Less visitor disappointment.
Give a read to the following article to know more about these benefits in detail.
Here Are the 7 Best WordPress Contact Form Plugins
These WordPress form builders are the ones that our editors have picked up for you:
weForms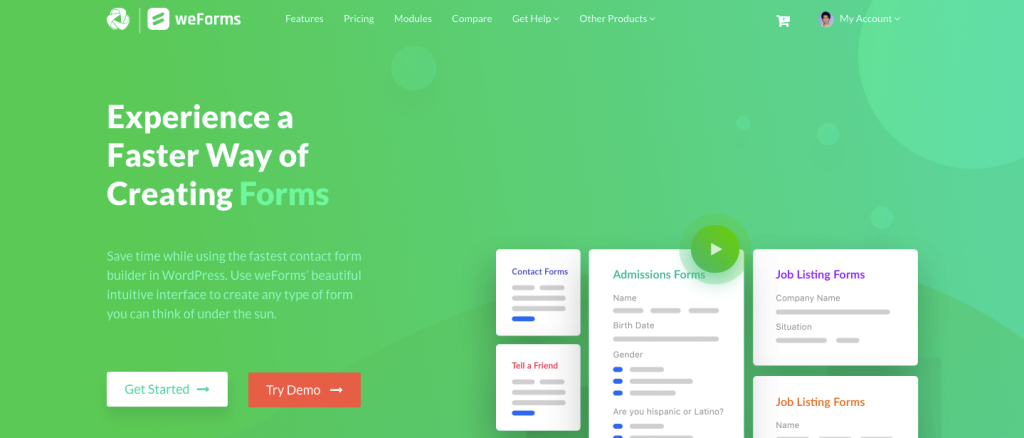 weForms is a great contact form plugin that has reshaped the way of creating advanced WordPress forms rather than creating stereotyped forms with its super fast drag-and-drop functionality, Ajax-driven one-page form operation, and a myriad of free tools.
The free version contains features like slack integration, management of entries, exportation, and importation of other forms' data, reCaptcha to check spams, multistep functionality, on a single page.
Plus, using the simple yet intuitive form builder, you can not only use shortcodes to publish forms but can also use the latest user-friendly Gutenberg weForms block to publish forms in a whole new and faster way.
You can also use conditional logic to create advanced, organized, delicate and user-friendly forms. Moreover, to save your time the form builder has a series of free and paid templates.
It's not just a form builder. As it comes with built-in analytics which lets you see the form views, conversion rates, form creator and lot more.
Pros
Super fast drag-and-drop functionality.
Ajax-driven one-page form operation.
The free version includes a myriad of tools some of which are unavailable in other form builders' free version.
Free slack integration and signature field.
reCaptcha for spam protection, multistep functionality.
Form analytics.
Gutenberg compatibility.
GDPR friendly.
Prebuilt templates to save time and effort.
Mobile responsiveness.
Plugin frontend is powered by WP User Frontend.
Email notifications for the admin.
32+ form fields.
Cons
Simplistic and unattractive UI.
The basic plan starts at $39.
WPForms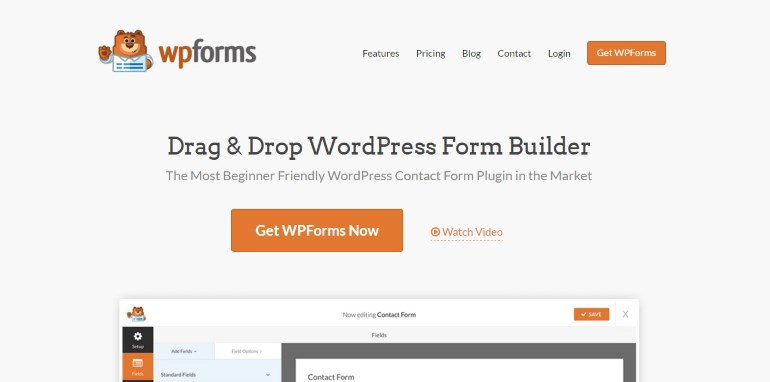 If you are looking for a contact form plugin having a wide array of tools then WP Forms is a good pick for you. This drag and drop form builder allows you to create contact forms, feedback forms, survey forms, and donation forms without writing a single line of code.
No matter what type of device you are using, the form builder is always 100% responsive. It contains smart logic for fields like drop-down, radio box, checkbox, etc. to create complex forms and it also contains a variety of templates to build a form in a much faster way.
Finally, if spam protection is all you are looking for then its smart captcha and honeypot have you covered.
Pros
Drag and drop functionalities.
Conditional logic.
Mobile responsiveness.
Spam protection.
Prebuilt form templates.
Integrations with popular.
GDPR friendly.
Gutenberg compatibility.
Signature field.
Cons
Free version has extremely limited functionalities.
The basic plan starts at $39.
Ninja Forms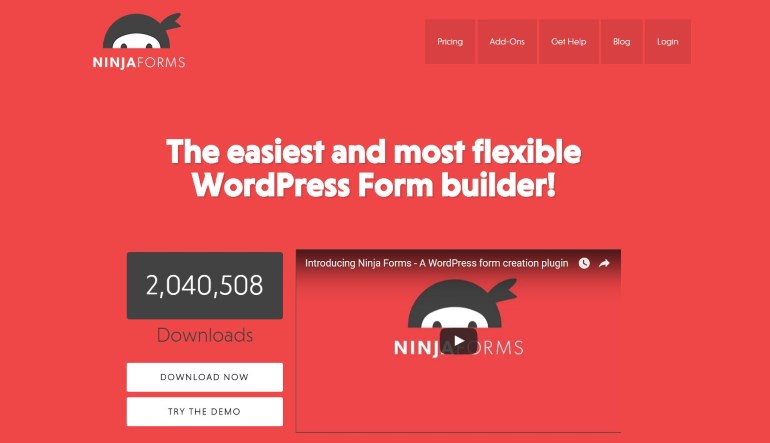 Ninja Forms is a full-fledged WordPress form builder that enables you to build any kinds of forms with a set of beautifully designed tools. Though the user experience is good enough with its intuitive interface, a lot of tools may overwhelm you at first-time use. But with time and some usage, you will find everything under your belt.
You can use conditional logic to create complex form and publish your form using shortcodes or add your form as a widget. The builder also comes with an army of prebuilt templates.
Apart from the core features of the form builder plugin, you can also extend its functionalities with a series of extensions.
Pros
Beautiful and intuitive drag & drop form builder interface.
Conditional logic.
Use of shortcodes to publish a form.
Integrations with a good number of platforms.
Email notification on form submission.
Fast form submission via Ajax.
Cons
A little confusing because of the many options and tools for beginners.
Pro version is too pricey.
The basic plan starts at $99
Gravity Forms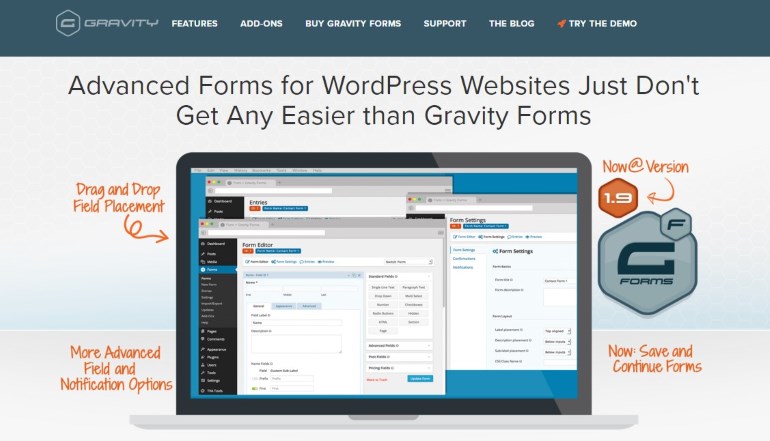 With over thirty built-in fields of this, you can build pretty much any type of form under the sun.
Gravity Forms is quite flexible and a full-stack WordPress form builder that allows you to build multi-page forms which are great for surveys. The other functions include limiting user entries, scheduling forms and many more.
With advanced conditional logic, you can make your forms more intuitive by showing or hiding certain fields. It is a must-have functionality when you need full control over what information your users enter in your forms.
Pros
Multipage form building.
Limiting user entries.
Scheduling forms.
Conditional logic.
30+ form fields.
Integrated calculator.
Spam protection.
Integrations with other platforms.
Cons
No free version is available right now.
The premium plan is a bit expensive.
Pricing starts at $59.
Everest Forms
The purpose of all web forms is the same – to get user responses as many as possible. And this is where the Everest form is good at. With the easy-to-use interface, you will be able to build aesthetically amazing contact forms and make more conversions.
Besides being able to build forms with the drag and drop functionality, you will get features like multipart forms, payment collection, Google reCaptcha, PDF form submission, etc.
This form builder also supports multi-column functionality and a few email notifications on form submissions.
Pros
Lots of features in the free version.
Easy to use interface.
Google reCaptcha to prevent spams.
PDF form submission.
Shortcode support.
Responsive templates.
Cons
The free version lacks some advanced features.
Contact Form 7

Contact Form 7 is literally the pioneer of all the other website form builders. If you are looking for a basic form builder plugin then Contact Form 7 is a perfect fit for you.
Though the form builder enables you to customize with simple markups and has features like Ajax powered submission, the downside is you can not use this form builder for some advanced features.
Although you can not expect a plethora of advanced features from this form builder, yet with the tool, you can create good-looking and basic forms.
Pros
Very simple and easy to use.
Good for basic form building.
Cons
Very limited functionalities.
Not extendable.
Form Craft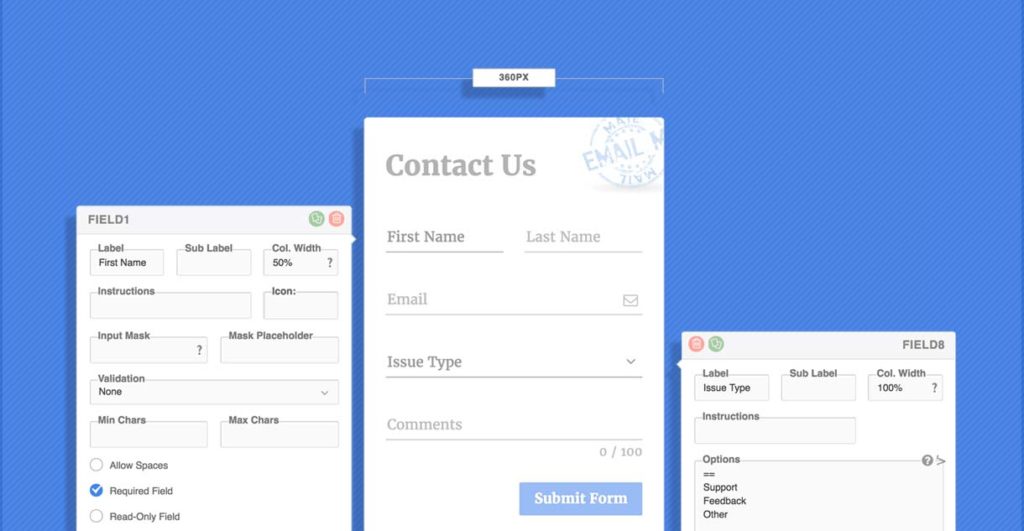 If you are on the lookout to adopt an easy-to-use WordPress contact form plugin with simplified settings and admin panels, then Form Craft is the one you will be looking for.
With the sleek drag and drop functionality, you can build any sort of form. Where the form builder truly shines in is you can embed the form as a popup on any page.
Another notable thing is that you can also trigger a form using an existing element on a page. Last but not least, you can use conditional logic to have full control over the form by making the form more user-friendly.
You can also use the form analytics to check how many times a form has been viewed, conversion rates on a specified period with the form analytics.
Pros
Drag & drop form builder.
Simplified settings and admin panels.
Conditional logic.
Built-in form analytics.
Email notifications for the admin on submissions.
Frontend mobile responsiveness.
Shortcode support.
28+ form fields.
Autosave form progress.
Math logic for quizzes or order forms.
Cons
The backend is not responsive.
A few e-mail notification options.
Price: $39
Formidable Forms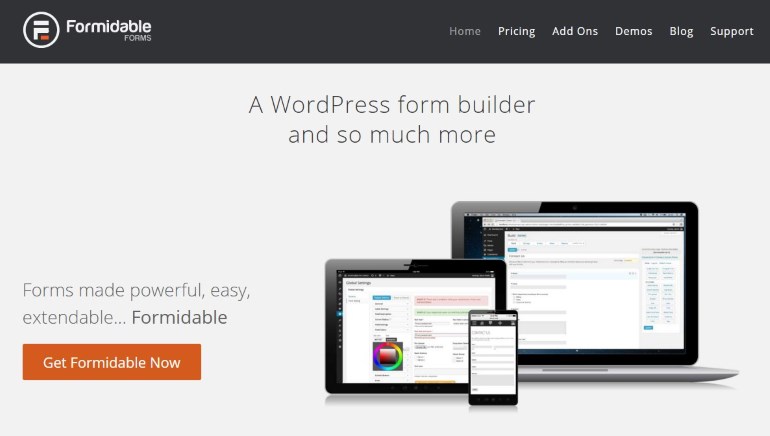 The Formidable Form builder is an amazing tool that helps you create a good-looking as well as complex form builders with features like drag and drop functionality, conditional logic, and multistep functionality.
With the amazing form builder, as you would expect, you can easily collect data from the forms, but the form builder will also provide you with tools to display that data.
The creators of the Formidable form claims that it is 100% GDPR friendly. And you can use a checkbox field to track the IP or take consent from the users.
Finally, if you are not satisfied with the free features of the form builder you can expand its functionalities with more than 20 extensions.
Pros
Drag and drop functionality.
Visual styler
Conditional logic
Multistep forms
Display Form data with views.
Unlimited form email notifications.
Cons
The basic plan is expensive as you can get more value in other form builders.
The basic plan starts at $49.
JetFormBuilder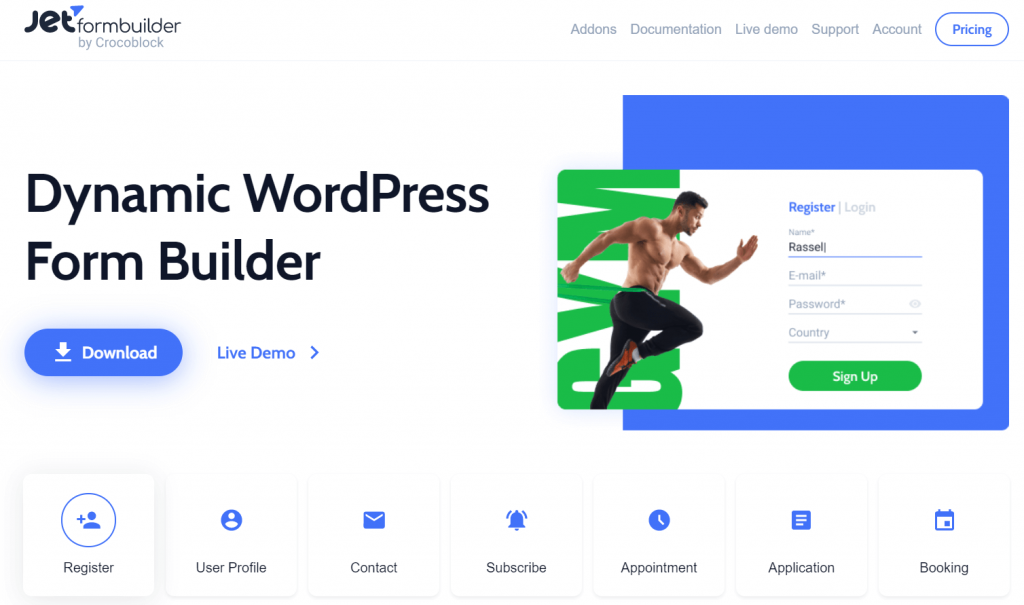 JetFormBuilder is a free contact form plugin for Gutenberg editor. The plugin allows users to create attractive forms and edit visually in Gutenberg with the JetStyleManager.
This dynamic WordPress contact form plugin has tons of free features, such as: 19+ field blocks, styling, conditional logic, and dynamic values for advanced and user-friendly forms. It assists you with creating as simple forms as complex contact forms with a bunch of valuable fields.
Furthermore, you can customize post-submit actions: redirect to a page, add a new post or send confirmation email – everything is up to you.
JetFormBuilder integrations help even more to automate the process via CRM, marketing tools, and Payment gateways.
Pros
Drag and drop visual builder
Dedicated dashboard and user-friendly interface
18+ form field types
Calculated content
Conditional visibility logic
Google reCAPTCHA support
Customize post-submit actions and custom messages
Form progress bar and multi-step forms
Payment gateways setup
AJAX load and page reload methods
Email marketing tools and CRM integrations.
Cons
Some features can be helpful for Advanced Gutenberg users only.
JetFormBuilder is free, but has Pro addons you may need. The price starts from $39 per year.
So, let's put it this Way…
The forms that we mentioned here are pretty close in performance when they are compared with one another. However, there are still some great WordPress form builder plugins that are yet to include in this article. Here is a sneak-peek of the user satisfaction of the forms mentioned here:
| | |
| --- | --- |
| Forms | Rating |
| weForms | 5/5 |
| WP Forms | 5/5 |
| Form Craft | 4.5 |
| Everest Forms | 5 |
| Formidable Forms | 4.5 |
| Contact Form 7 | 3 |
| Ninja Forms | 4.5 |
We can not say that a particular form-builder plugin is the best performer here. This is due to the preference and taste may vary from person to person. So, it's your call to find out the perfect fit for your own by using each of these plugins' demo version.
However, if you are a beginner level user, we recommend you use the weForms free version due to its blazingly fast drag and drop builder and simplicity to create and publish forms. If you are an intermediate or advanced WordPress user, you can rely on weForms Pro or any of the other from our list.
And our overall pick for the best WordPress contact form plugin is weForms.