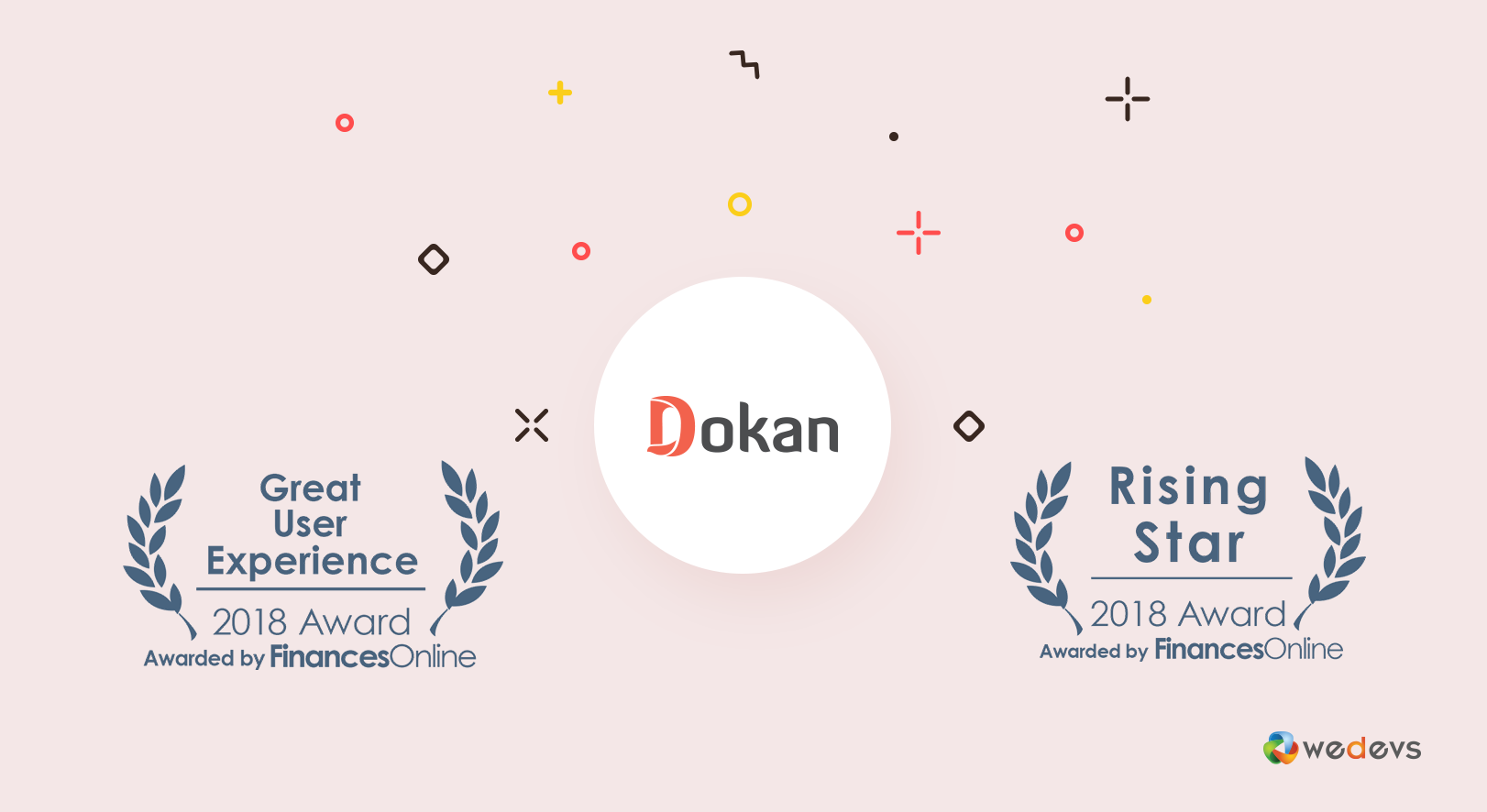 Dokan Nails Prestigious FinancesOnline Award 2018
Dokan Bags 2 Prestigious eCommerce Software Recognitions from a Leading Directory for Business Software – "Great user experience" and "Rising star". FinancesOnline has honored Dokan with this prestige. These are significant recognition as users satisfaction has always been Dokan's first concern. Dokan was also ranked as one of the top ecommerce platforms in the market.
How Prestigious the awards are
Positive customer reviews, successful implications, and praises from critics are real victories of Dokan. But it still feels good to have awards alongside recognition as one of the top solutions in FinancesOnline's ecommerce software research. The awards given by FinancesOnline indicate that we are on the right track and inspire us to provide a better experience to clients. Furthermore, FinancesOnline's awards are more than just inspiration here. Why?
They provide the most trustworthy reviews of products with a close observation of product quality and customer satisfaction. For instance, the team dissected each and every Dokan features and compared us against other solutions in the market. Their evaluation process is reliable and strives to provide a holistic analysis of a product. Customers value this the most, which is why receiving two industry awards from the review website is truly an outstanding achievement.
FinancesOnline gave Dokan an 8 overall score and a 99% satisfaction rating from the users.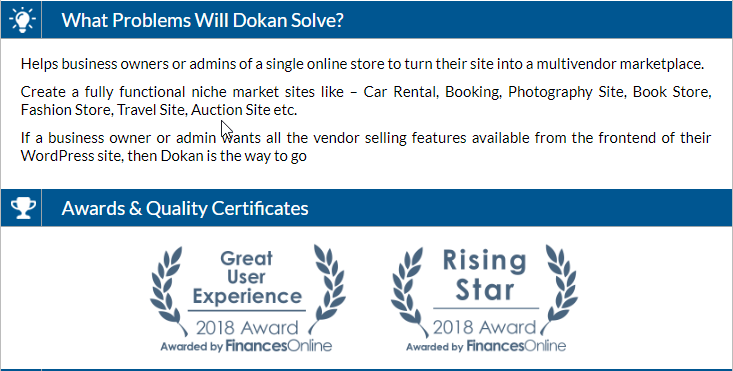 Why people liked Dokan
As mentioned before Dokan, is a system that turns your single store to a multi-vendor store. This is an important condition for e-commerce. E-commerce is a growing tradition all over the world. This tradition has its own pros and cons. Dokan is the best way to avoid cons.
We offer the users features to feel comfortable with. First of all, Dokan is easy to set. You do not need much technical knowledge to run a business with Dokan. This is also a requirement of growing e-commerce tradition. Because growth in the online transaction does not mean growth in technical knowledge.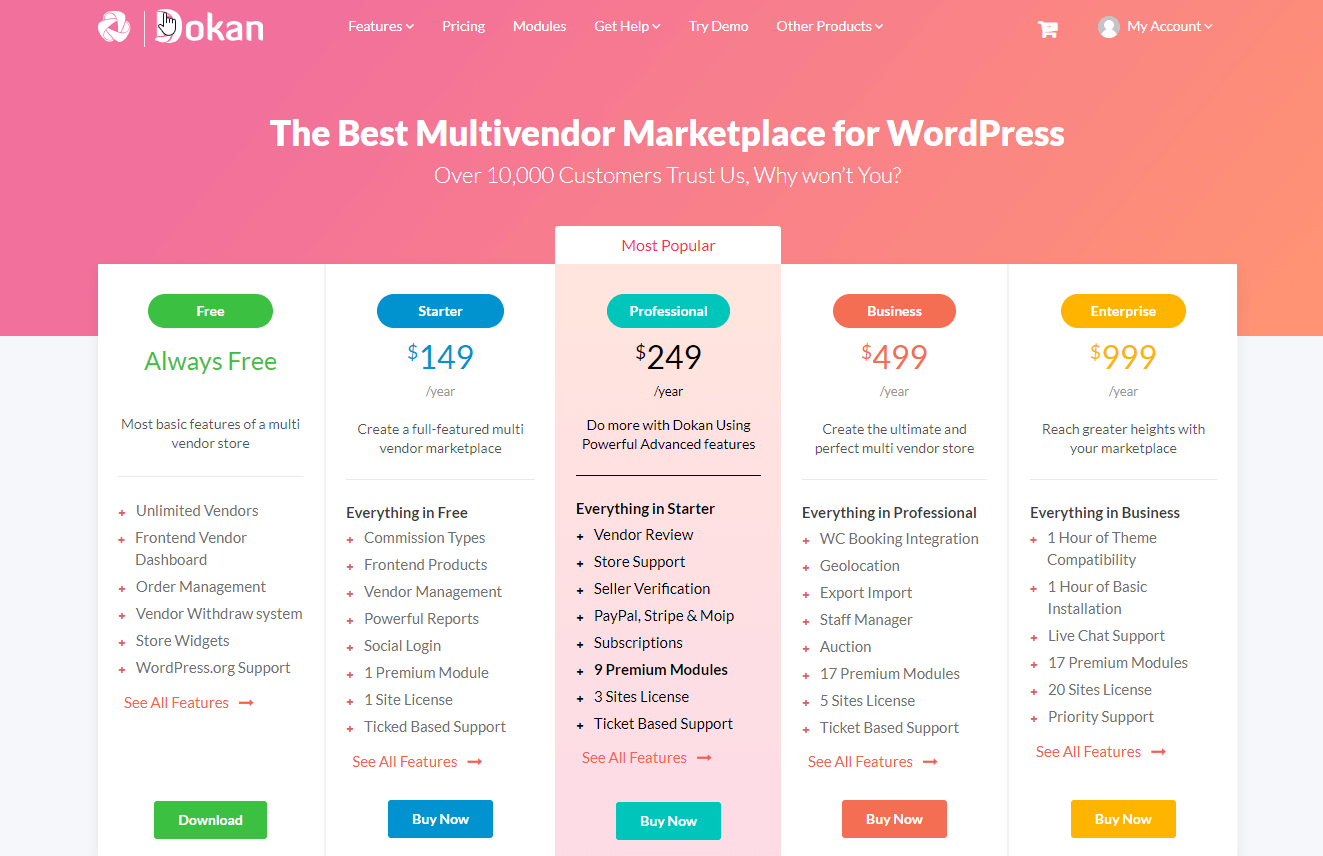 It is low of cost. Most multi-vendor plugins are paid. But Dokan has a lite version. It has a demo that users can try and decide they want to be with Dokan or not. Most of the times experience of using this version has converted users to go for pro version and switch to Dokan permanently.
Dokan has a refund scheme. If you face technical trouble that our support team is unable to resolve there is an opportunity for refund system. Within 14 days of purchasing, you can demand a refund. This refundable system enthralls customers.
Its amazing frontend design gives a self-righteousness to the vendors. The backend design comforts the admin. The system as a whole click to the customers.
Praised Features of Dokan
So far we only focused on known aspects of Dokan. Users already know what features Dokan allow us to have. Features like the facility of an independent store, multiple product types, lucrative themes are the common ones. But there are features that attract the critics.
Let's have a look into what FinancesOnline praised. It focused on those features that distinguish our Dokan from others.
1. First of all, Dokan is the first solution made with WordPress.
2. This solution can make your simple store into a marketplace.
3. Its dashboard has variation, filled with diverse options and well organized.
4. Dokan works in collaboration with Paypal and Stripe.
5. & Most amazingly, It is available in 25 languages.
Recognitions
Has it been the first time Dokan is recognized? The answer is no. This award is sure to be a milestone for us. But Dokan has been praised formerly too. Let's have a look on the occasions:
In 2016 Dokan was listed as one of top 5 plugins to create an online marketplace in Web Cusp.
Again in WBcom design wrote an article on Dokan this May. They reviewed and recommended Dokan to others.
Restraining on March 2018 has given Dokan a place in top ten multi-vendor solutions.
Implications
Success is not winning awards from organizations. Dokan becomes successful every time a customer benefits from the implication of this solution. As the awards reflect Dokan has 99% customer satisfaction. But other than customer reviews on the page it is time to share some stories of successful implications of Dokan.
Mash.ie is the first product that comes into mind speaking of Dokans success. Two Irish teachers Simon and Roze created this online platform for teachers. Here they can share their materials and together they can work on improving syllabus for kids. This platform earned trust quickly. Now they have 20000 subscribers.
Dokan was all in one for them with marketplace advantage and a beautiful frontend diagram.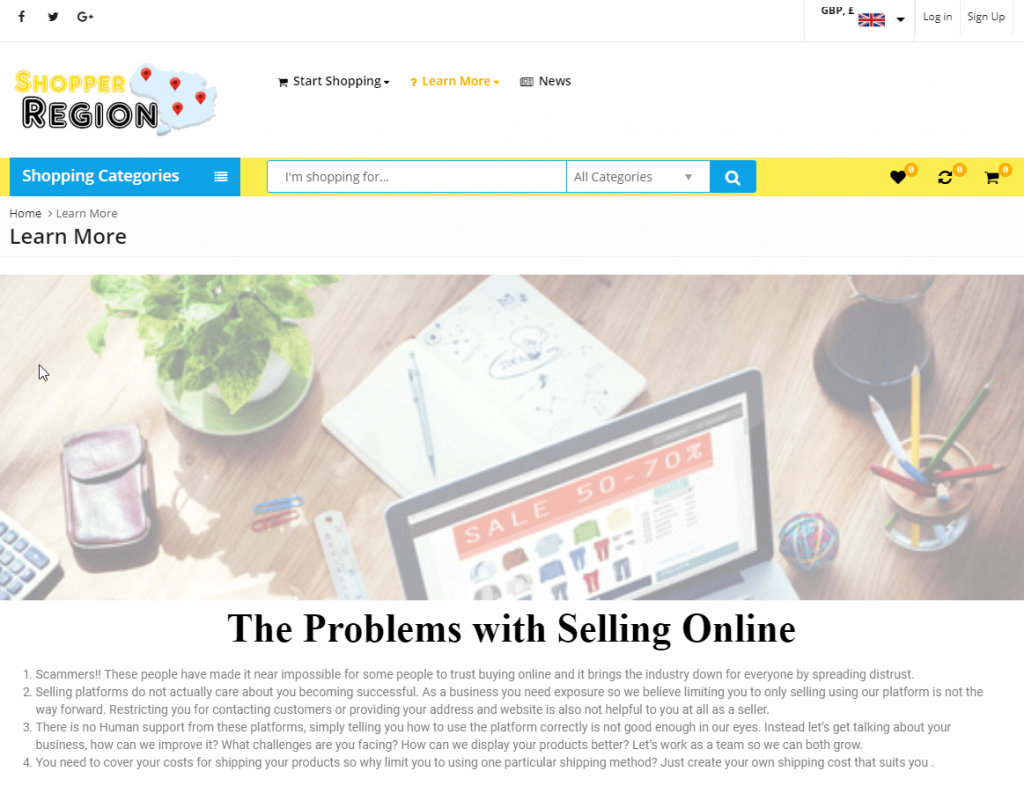 Recently an online marketplace "ShopperRegion" is doing rounds. Owner of this shop Michael Delaney spoke highly of Dokan. He said Dokan gave him what he was looking for, an opportunity to help the small business.
Dokan has provided a path to art and art enthusiasts to have a better connection. Online shop Play the Move also used Dokan as their solution.
What is Dokan Multivendor?
To know how Dokan made it this far, a short introduction of Dokan is essential. For beginners, Dokan is a plugin to make your online shop a marketplace. This is the first marketplace solution founded on WordPress.
You cannot use Dokan directly. Woocommerce is a prerequisite for Dokan.

Final Thoughts
Though Dokans design is minimal to make it easy for the customers. Awards have reminded Dokan how many improvements still are to be brought in the system. Customers have been our main concern. We thank all those who have been with us and ask for their suggestions to make it better to serve them better.