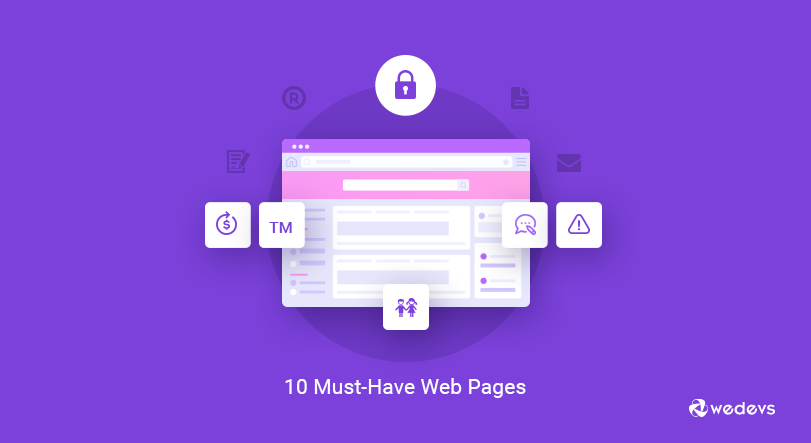 Protect Your Website with 10 Essential Legal Pages: A Guide for WordPress Users
Nowadays, having a website has become incredibly common. It's like having a storefront that showcases your brand to the world. But here's the catch: not all websites are created equal. Many people overlook the importance of having proper pages, especially legal ones.
And this oversight can lead to stunted business growth and unnecessary legal troubles.
Did you know that around 70% of websites fail to include important legal pages? That's a significant number, and it's time to make sure your website doesn't fall into that category.
If you're wondering what we mean by "legal pages," don't worry. we've got you covered. These are essential pages that every website should have in order to operate smoothly and stay on the right side of the law. And rely on us, it's not rocket science to figure out which pages you need.
In fact, if you're an online enthusiast, chances are you're already familiar with most of these crucial pages. But if legal jargon and complexities leave you scratching your head, fear not! We're here to simplify things for you.
Let's dive into the top 10 types of legal pages that your WordPress website should definitely have:
Privacy Policy
Terms & Conditions
Refund Policy
Comment Policy
Notice for Copyright
A Page for Disclaimers
Trademarks, Patents & Corporate Policies
Cookies Policy
Children's Online Privacy Protection Act (COPPA)
About Us
So, buckle up and get ready to enhance your website's functionality while keeping legal troubles at bay. Let's jump right into the details and make your website legally impeccable.
1. Privacy Policy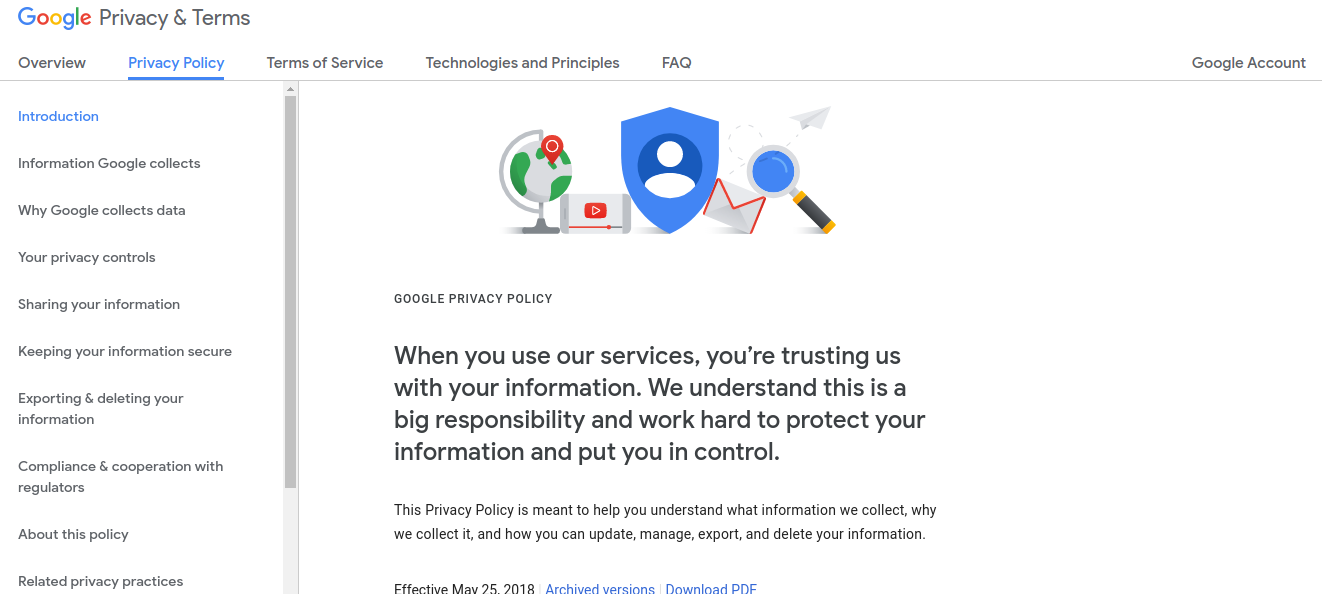 As you may already know, the privacy policy is one such page that helps establish long-lasting trust between your audience and your brand. With this policy, you could inform your visitors how exactly you are going to utilize their personal information upon collecting the data.
This step ensures there is transparency between both parties. Furthermore, having a privacy policy also assures your customers that your site is safe enough and trustworthy to transact from. Not just that, but in some countries, having a privacy policy is legally necessary as well.
Besides, getting a privacy policy generated isn't a tough task, either. If you are a WordPress user, it would be extremely easy for you as you can install a WordPress privacy policy plugin and enjoy the myriad of features that it provides.
2. Terms & Conditions
Moving further, another one of the most important legal pages for websites is the Terms & Conditions page. Legal terms that are included on this page are generally like a contract that you may make with your website visitors.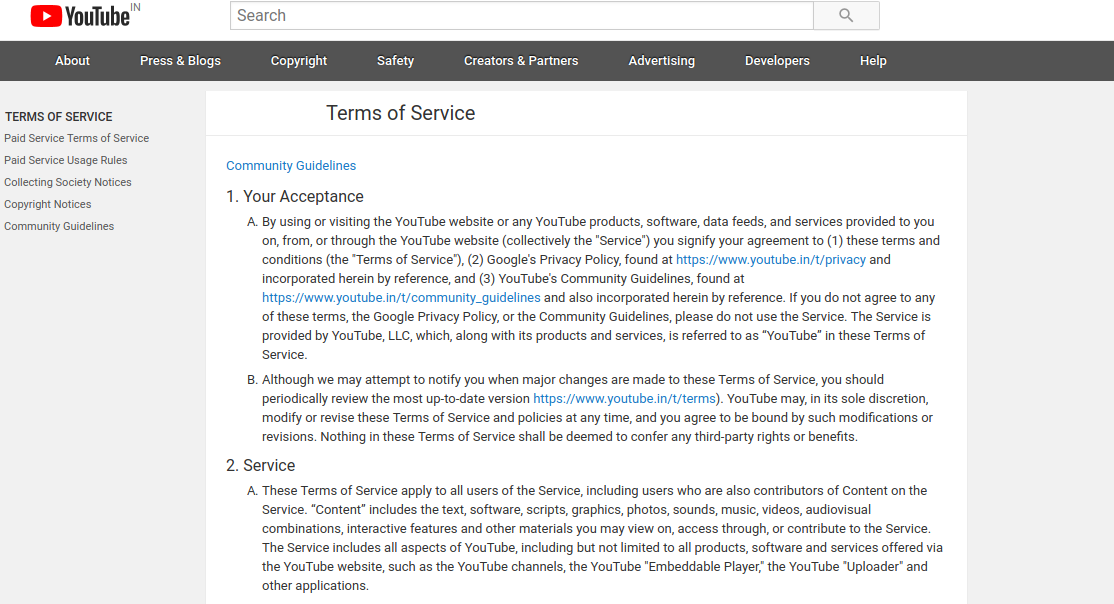 These terms & conditions are essential enough because they set the kind of behavior you are anticipating from your visitors. Not just that, but this page also describes what your visitors can expect from your end.
If you are wondering why you need this page, then you must know that having Terms & Conditions published on your website can prevent several problems. Not just this page can safeguard your intellectual property but can even help you restrict legal liabilities altogether.
3. Refund Policy
Though a Refund Policy can be a part of the Terms & Conditions page of your website, however, it might turn out to be a bit difficult for your visitors to locate this policy on that page. Hence, it would be better if you can have a different page altogether for the refund policy.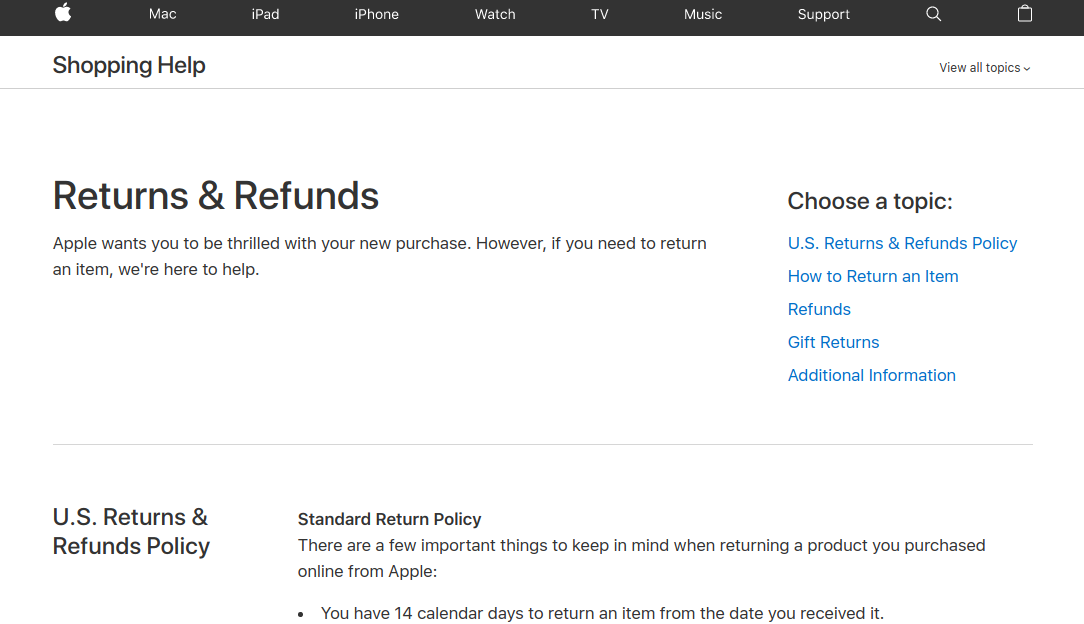 If you are cognizant of the digital commerce world, you'd know how refunds are an essential part of it. Therefore, publishing a crystal-clear refund policy would be recommended just to clear out obscurity from your customers' minds.
Whether your policy comprises refunding or not, it would be beneficial for your company to be straightforward beforehand. At the end of the day, the only important thing is that you are transparent about your refund policy, which will surely save you from legal issues.
Note: You can check weDevs Refund Policy to get a more clear idea on how a refund policy page should be designed.
4. Comment Policy
Another important aspect of your Terms & Conditions page is the Comment Policy. However, if you don't want your visitors to neglect the clauses mentioned in this policy, it's recommended that you create a different page altogether.
In simple words, this policy communicates your expectations to website visitors when it comes to handling comments. With such a policy, you would be able to easily regulate comments and prevent the chances of disrespecting anti-discrimination laws.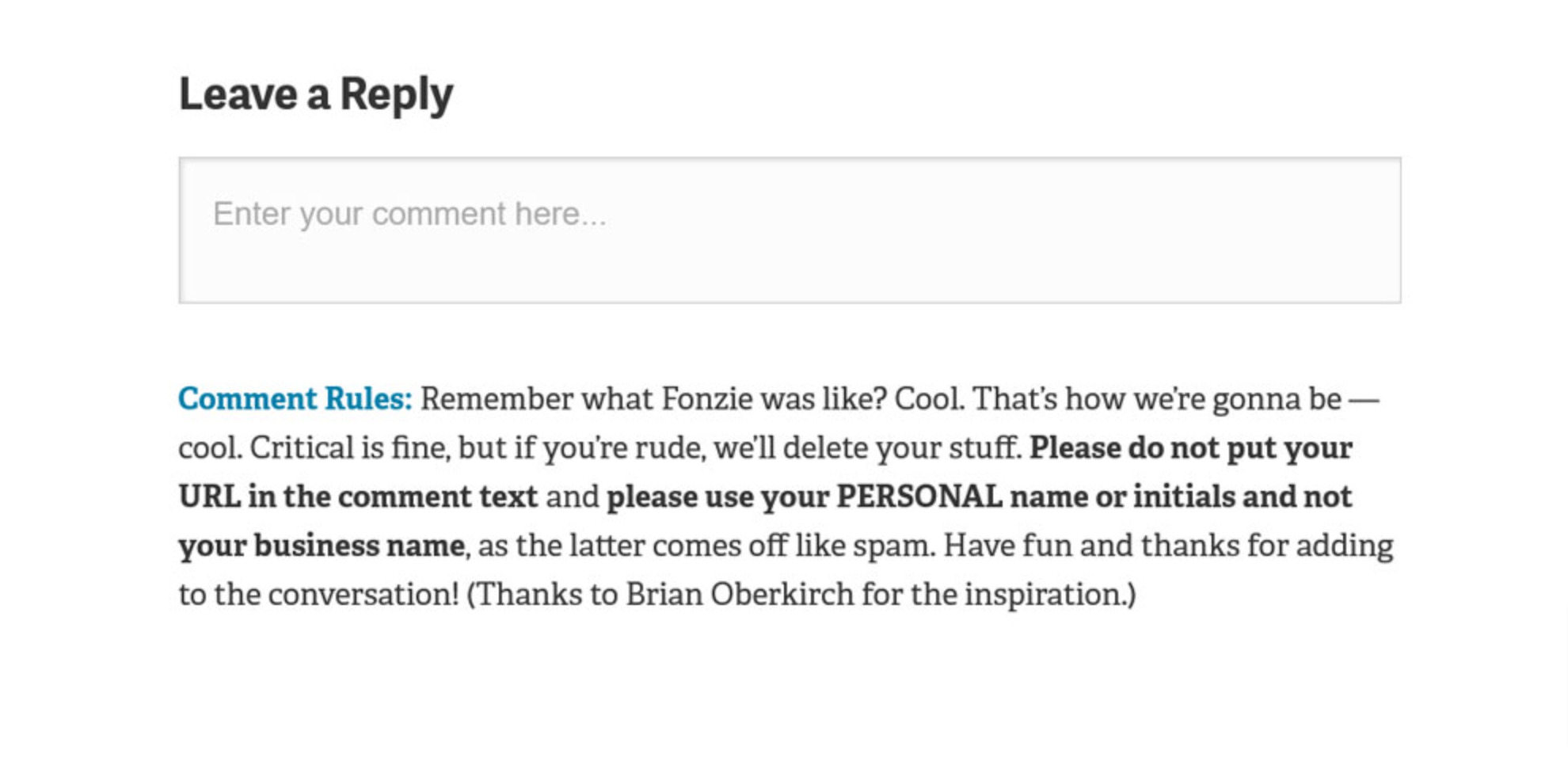 Generally, you can mention the types of comments you will be allowing and the kind you will be deleting. You can even add exceptions to this policy. Furthermore, you can mention who is going to judge comments when it comes to deleting or keeping them. Or, make it clear whether you want users to put an appeal for deleting certain comments or not.
5. Notice for Copyright
Once you have issued a copyright notice, it makes your visitors cautious that the content available on your website belongs to you legally and they cannot use it without taking your permission. Although this notice is not extremely important, however, it can still prevent your visitors from copying the material.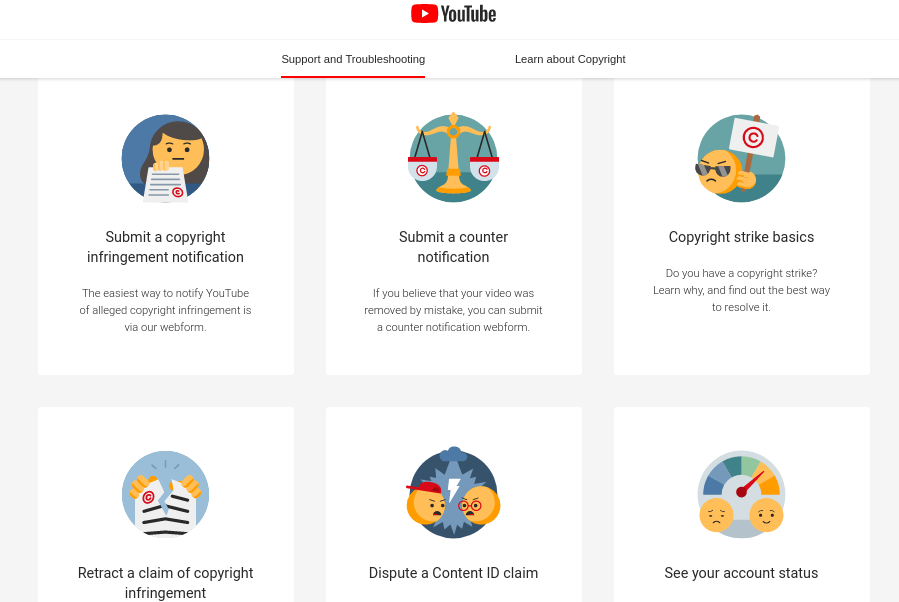 Furthermore, you can even clearly mention in the copyright notice how your visitors can or cannot use the content. It will surely save a lot of time and headaches in the long run. When it comes to what you should include in your copyright notice, then don't forget to put the symbol ©.
Moreover, the notice should also contain some general information, including the website year as well as the copyright holder's name. In addition to that, if you are willing to permit visitors to utilize specific aspects of your content, you can clearly mention that as well.
6. A Page for Disclaimers
A mere simplified variety of Terms & Conditions, Disclaimers are generally used on such sites that accept a massive quantity of user-submitted content or have a lot of external page links. If your website is one of them, it is essential for you to post disclaimers.


On top of that, it becomes more imperative if the content contributed to your website isn't moderated or edited by anyone. Basically, it is all about informing the visitors that you, as the owners of the site, won't be responsible for links or content available on the website.
7. Trademarks, Patents, & Corporate Policies
In such a massive world of online business, getting lost is not a big deal. Therefore, if you hold trademarks or patents that can make your website authentic and unique, you should create a different page altogether to showcase such things.
Not just that, but if you have some specific corporate policies and you want your users or visitors to get familiar with such policies, it would be recommended to create individual pages for them so that your visitors wouldn't get confused.
8. Cookies Policy
Basically, a cookies policy is kind of an agreement that lets your visitors know that your website is going to put specific cookies on the devices that they are using. Also, such a policy even informs them how exactly you will be using cookies.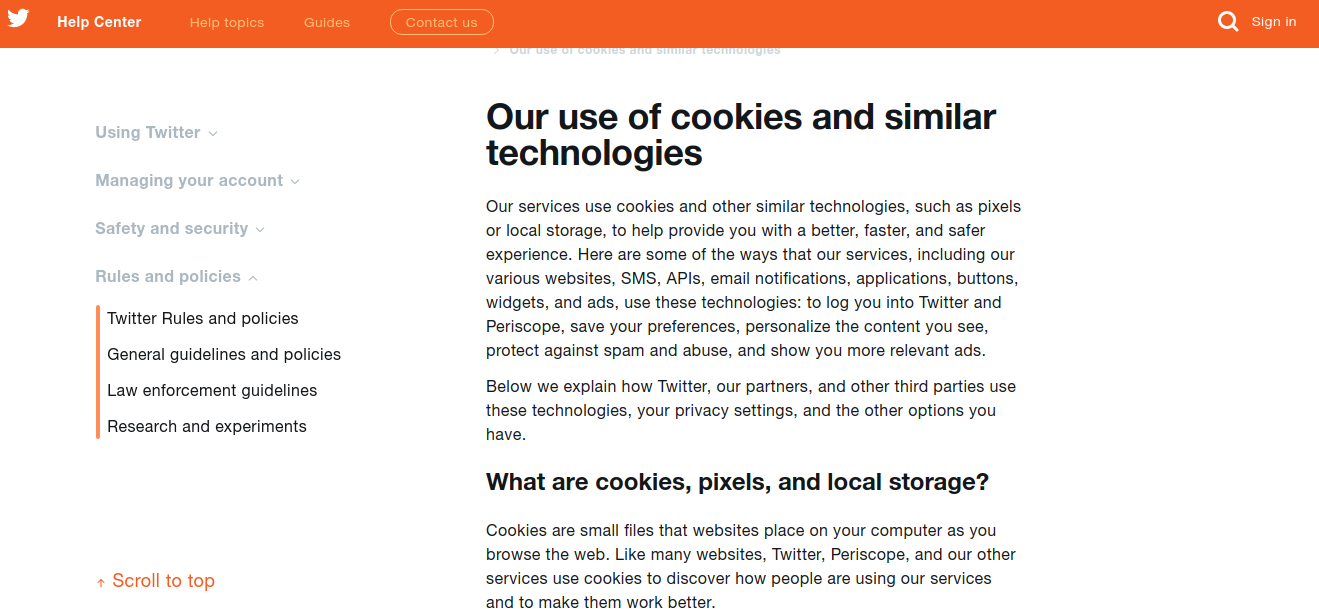 In certain countries, putting up a cookies policy page on the website is a necessity by law. Although not every website creates an individual page for the cookies policy and only adds it to the page of the privacy policy, however, it would be easier to bring it into the limelight by having a single different page.
Information that you are going to collect through cookies can be diversified as personally identifiable information. This means, if you are placing cookies on your visitors' devices, you could easily identify them. Hence, it becomes even more important to let them know about this. To add more to it, you can even ask for their consent regarding the same.
Note: Check how weDevs handles Cookies Policy to get inspiration.
9. Children's Online Privacy Protection Act (COPPA)
The COPPA Act is a law that is meant to safeguard children's privacy who are under 13 years of age. If children are using your website, then you must have this policy up and running on your website. It should clearly mention that parental consent is required to collect the personal information of your users.
Also, make sure that you are adding how your visitors should be using your site and what are their responsibilities regarding that. And then, don't forget to mention restrictions as well.
10. About Us
Last but not least, an About Us page is mandatory to have on your website. With this page, you must answer some essential information, including the owner of the business, the history of the company, what are you selling, and what makes your brand different from others.
To make it look unique, you must avoid the usage of generic statements. Also, you must keep in mind that you aren't copying this section from your competitors' sites and putting in your input. With an About Us page, you'd be able to tell your customers that you are authentic as well as trustworthy.
Most Common FAQs on Legal Pages for Websites
What is a legal page?
A legal page is a dedicated section on a website that contains important legal information, policies, and disclaimers. These pages are designed to inform visitors about their rights and obligations, outline the website owner's terms and conditions, and ensure legal compliance. Examples of legal pages include Privacy Policy, Terms & Conditions, Disclaimer, and Copyright Notice.
Why do I need legal pages on my WordPress website?
Legal pages serve multiple purposes. They establish trust with your visitors, disclose important information about your website's policies, protect your intellectual property, and ensure compliance with legal regulations.
What legal pages should a website have?
A website should have several essential legal pages to ensure compliance and protect both the website owner and users. These typically include a Privacy Policy, Terms & Conditions, Disclaimer, Copyright Notice, and possibly additional pages like a Refund Policy or Cookie Policy, depending on the nature of the website.
What is legally required on a website?
The legal requirements for a website can vary depending on the jurisdiction and the nature of the website. However, some common legal requirements include having a Privacy Policy that discloses how user data is collected, used, and protected, as well as complying with applicable laws such as data protection regulations, accessibility guidelines, and consumer protection laws.
What legal documents do I need on my website?
The specific legal documents required for a website depend on various factors, such as the nature of the website, the targeted audience, and applicable laws. However, common legal documents include a Privacy Policy, Terms & Conditions, Disclaimer, Copyright Notice, and potentially additional pages like a Refund Policy or Cookie Policy.
Include All The Required Legal Pages for Websites
So, here you have got it all. These are the top 10 major legal pages for websites you must have to establish trust and make your customers feel safer. Solutions like the WordPress privacy plugin can help you to create important legal pages for your website with ease.
Not just that, but you can also protect your brand and profits by posting the right and adequate legal language.
Do you have any further queries about legal pages for websites? Do use the comment section below!