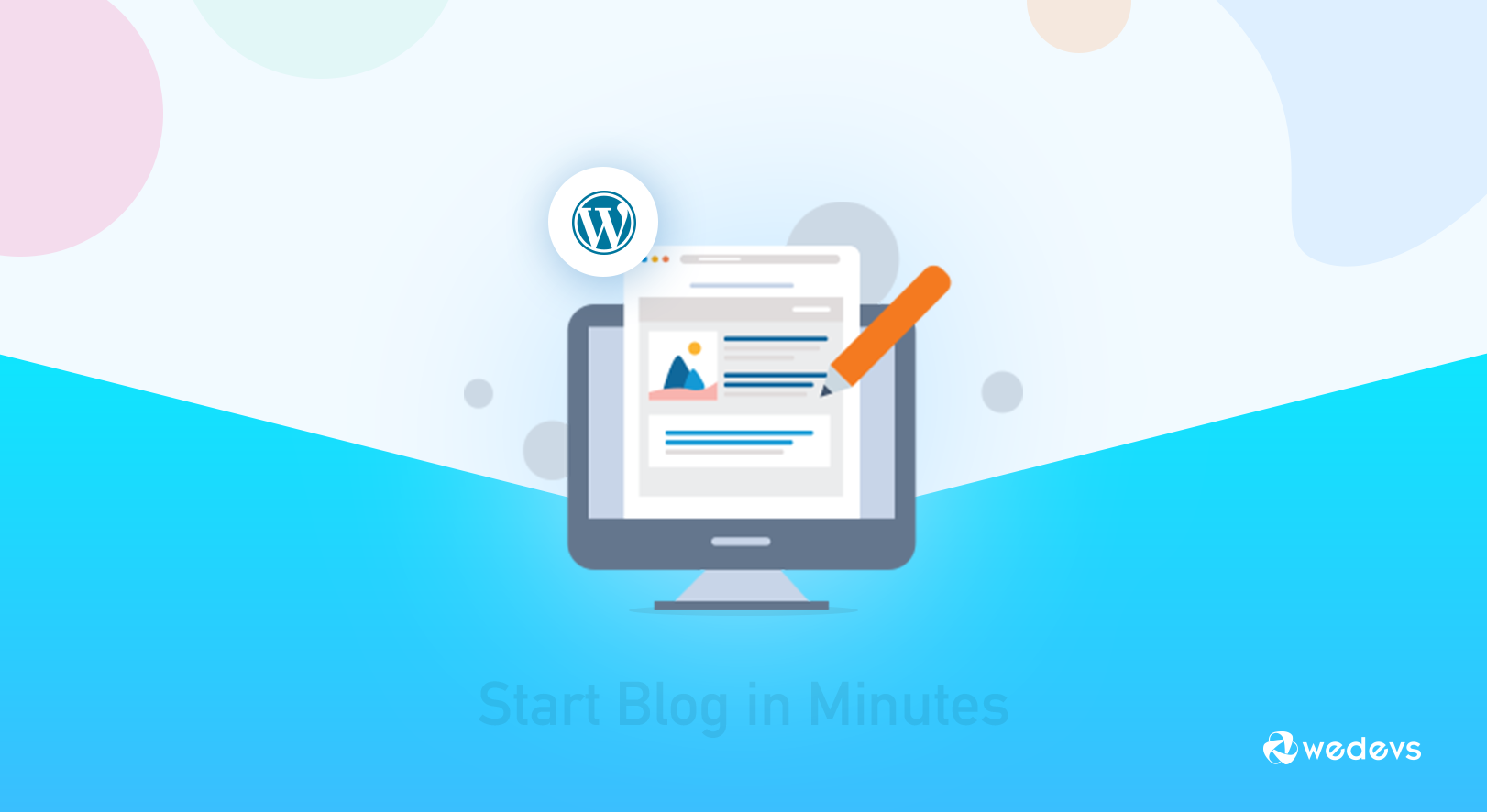 The A to Z of Creating A Blog Site: Start in Minutes
Writing for social media or blogs is fun. But having an own blog is much more than that. It means you get the entire control, the ability to show your creativity to the world, and the opportunity to increase your analytical ability. You can even earn from it. Most importantly, it's not too difficult to start a blog. All it takes is just 10 minutes (or even less).
Ways you can start a blog in minutes
'Setting up a blog online' may sound intimidating. But trust us, you can do it easily on your own. This post is a step-by-step guide with all the necessary images on how to start a blog. So, no matter how little or how much you know about creating a website, just follow this tutorial and you'll be able to start a blog right away.
Select a blogging platform
The first step on how to start blogging is choosing the right platform. There are lots of blogging platforms like WordPress, Blogger, Tumblr, etc. So, choosing the right platform may seem a bit confusing. But if we take some facts into account, it'll be clear which one is the best.
There are more than 82 million active users of WordPress. The reasons behind the huge popularity of WordPress mainly are –
It's free for everyone (you only need a web host & domain name)
Easily customizable with 13000+ themes (free & paid) and 60000+ free plugins

They have a quality support forum
The other blogging platforms (eg., Blogger, Tumblr, Blogspot) also let you create your blog for free, but there are some serious limitations as well.
You won't have full control over your own blog, the platform will have
Your web address will include the platform URL (eg., sampleblog.tumblr.com or sampleblog.blogspot.com)
You won't be allowed to advertise on your blog
Therefore, if you want your own blog without any limitations, a self-hosted WordPress site is the best option.
Pick a domain name
The domain name is the web address of your blog. For example, Google's domain name is www.google.com. You need to select a unique domain for your blog site. You can pick any domain name you like if it's available. But if you want to create a good impression on your blog, try to use the following tips:
Make it easy to remember and pronounce: If people can remember it, they'll talk about it. And you'll get the branding for free.
Choose a short and precise name: Short and precise address can go a long way for your site. A research from Gaebler magazine shows that the most popular websites – those in the Top 50 Websites List – have approximately 6 characters in their domain name.
Make it easy to type: Avoid using hyphens or numbers as far as possible.
Choose a web hosting plan
The hosting is the storage where the website's directory, files, contents are stored. Without a web host, your blog won't be online. So, if you want to start a blog, you need to sign up for a hosting. There are a lot of web hosts with various price plans. Namecheap, Bluehost – these are very popular and trusted all over the world. Since we are showing you the signing up for a hosting plan step-by-step, we are taking Bluehost as an example.
First, you need to go to www.bluehost.com. Click there Get Started Now button. Then, you'll be seeing the pricing plans. You can choose the basic plan to get started. Other plans are also available to upgrade later. After selecting a plan, you will see a page asking for your domain name. Enter the domain name you picked for your blog. If your first choice isn't available, try changing the extension from .com to .net, .org. and so on. You can choose them from the drop-down menu.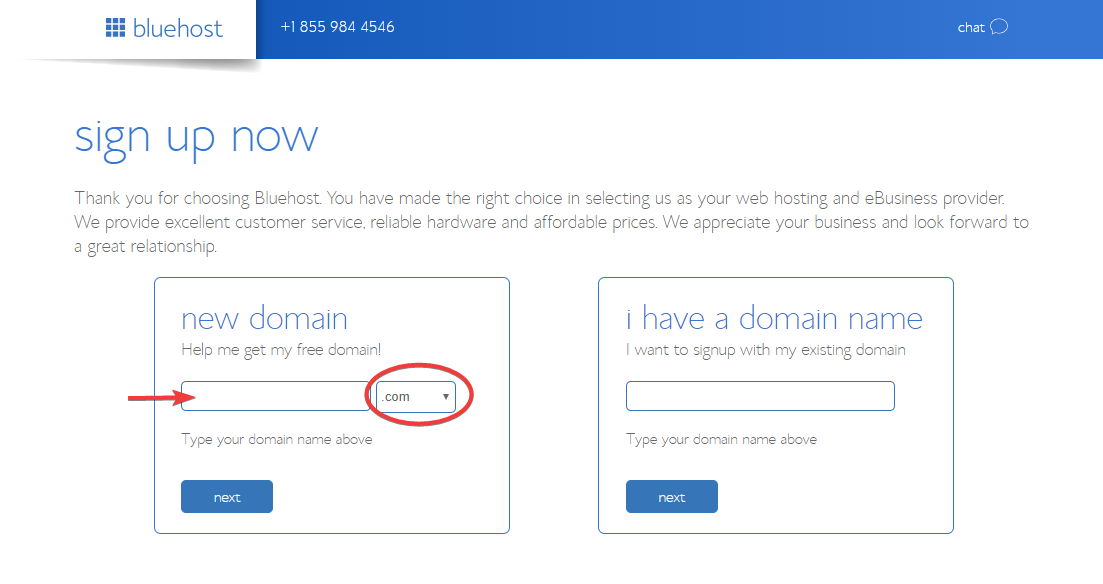 After entering the domain name, you'll need to pay for your hosting plan. Fill out your account information. Scroll down and check all the payment plans. The longer-term plan you choose, the cheaper it will be per month. Complete your payment.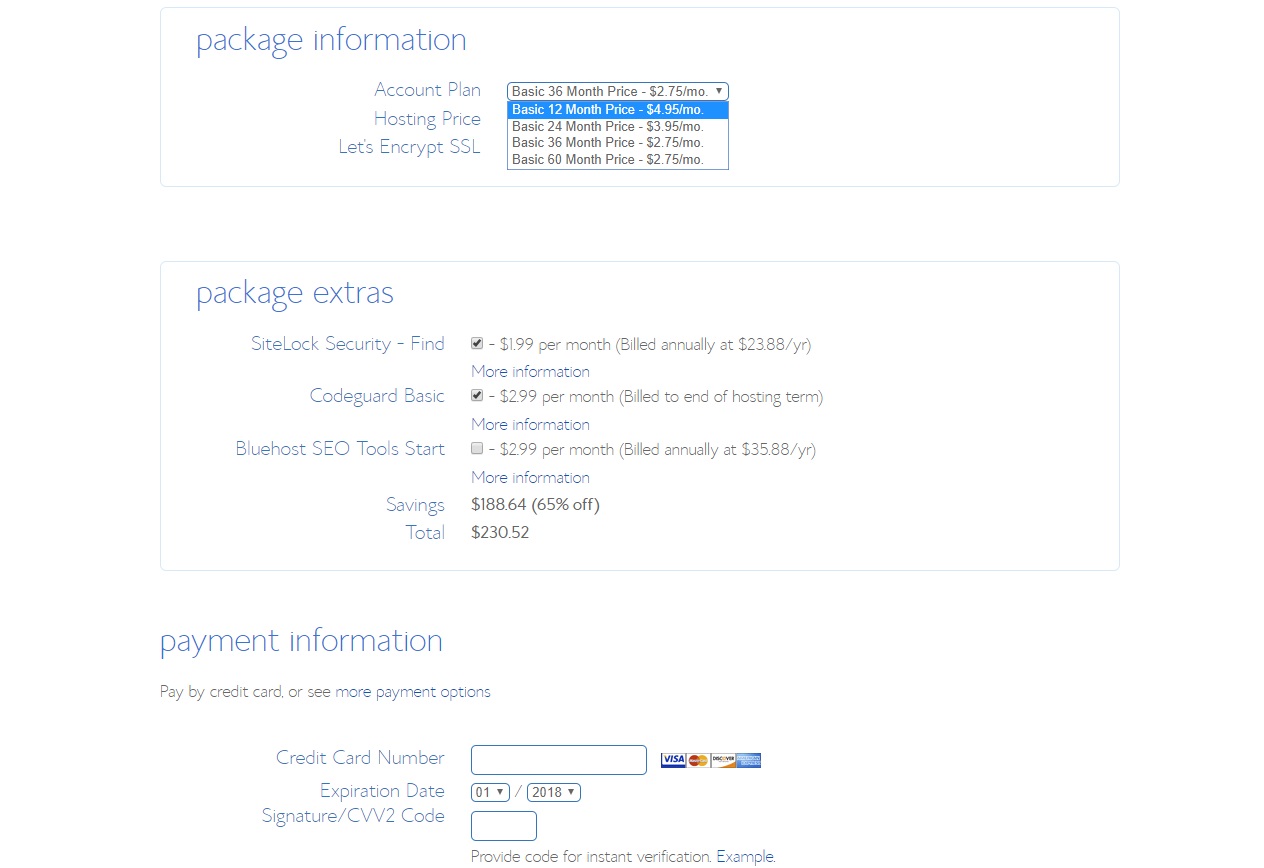 If you want to know more about the costs, you can read the post: How Much Does It Cost To Build A WordPress Website.
When your purchase is complete, you'll be asked to create a password for your Bluehost account. After doing so, you'll see a confirmation page. Congratulations, you have got web hosting for your site now. Now we are going to show how to start a blog on WordPress.
Install WordPress
So, you have your domain and hosting now. Your blog is already online. All you need is to install WordPress. We're showing two easy methods for installing WordPress on a website. This way you can create a blog for free (excluding domain and hosting expense).
Using Host's Control Panel (Recommended Method)
If you want to install WordPress in the easiest way, you can use Bluehost cPanel. Just log in to your Bluehost account. Click "Install WordPress" under the website panel.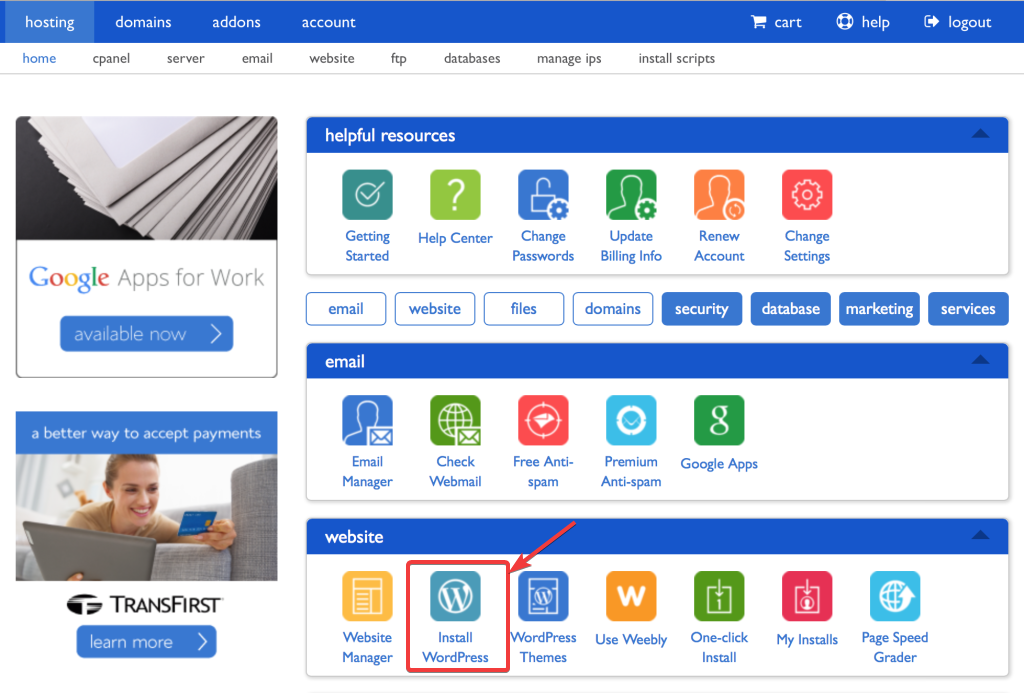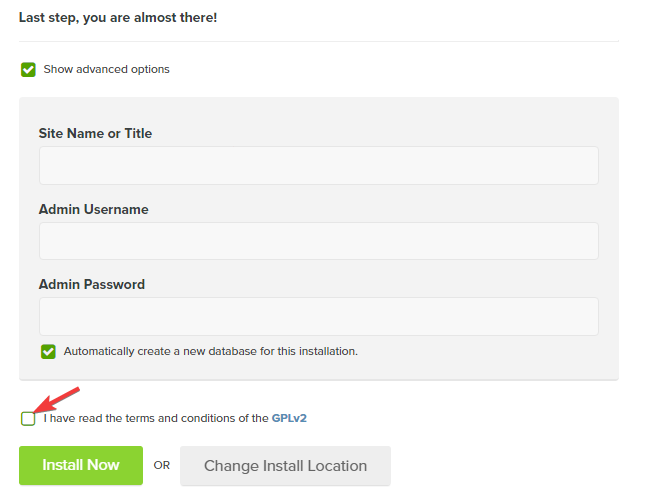 This will lead you to the next page. Enter your blog destination URL there. Tick the advanced options. Now you'll see the option to create your blog name or title, username, and password. Set these things up and remember them. You'll need this username and password to log in to your site. Mark the Automatically create a database for this installation button. A new database will be automatically created for your site. Finally, tick the item showed in the image and click Install Now. You are all set. The installation is underway. After it finishes installing, you'll be able to log in to your site.
Manual Installation (Alternative Method)
But if you want to install WordPress manually, or you want to use an existing database for your site, you can always do that on your own. But remember, this process is only for you when you have –
a standard database like MySQL.
an FTP client like FileZilla.
knowledge to configure WordPress to connect to your database.
If you fulfill all these prerequisites, then you can jump to the manual installation process.
At first, download the latest version of WordPress from wordpress.org.
Unzip the downloaded file and upload it to your web server using FTP. You can also use the cPanel file manager to upload.
Then go to wp-admin/setup-config.php to connect WordPress to your database. You'll see a page like this:
Write the name of your database in the Database Name field. Give the username, password, and database host of your database. Then hit the Submit button.
Now head over to your domain and you'll be prompted to install WordPress.
Write all the credentials here and press the Install WordPress button. If everything is right, WordPress should start installing on your web server.
Since you have full control of your blog now, let's talk about how to design and customize it.
Start with the blog homepage
Log in to your admin panel to customize the blog. Go to http://www.yourblog.com/wp-admin (replace "yourblog.com" with your domain name) to visit the admin panel.
You will be redirected to the WordPress dashboard,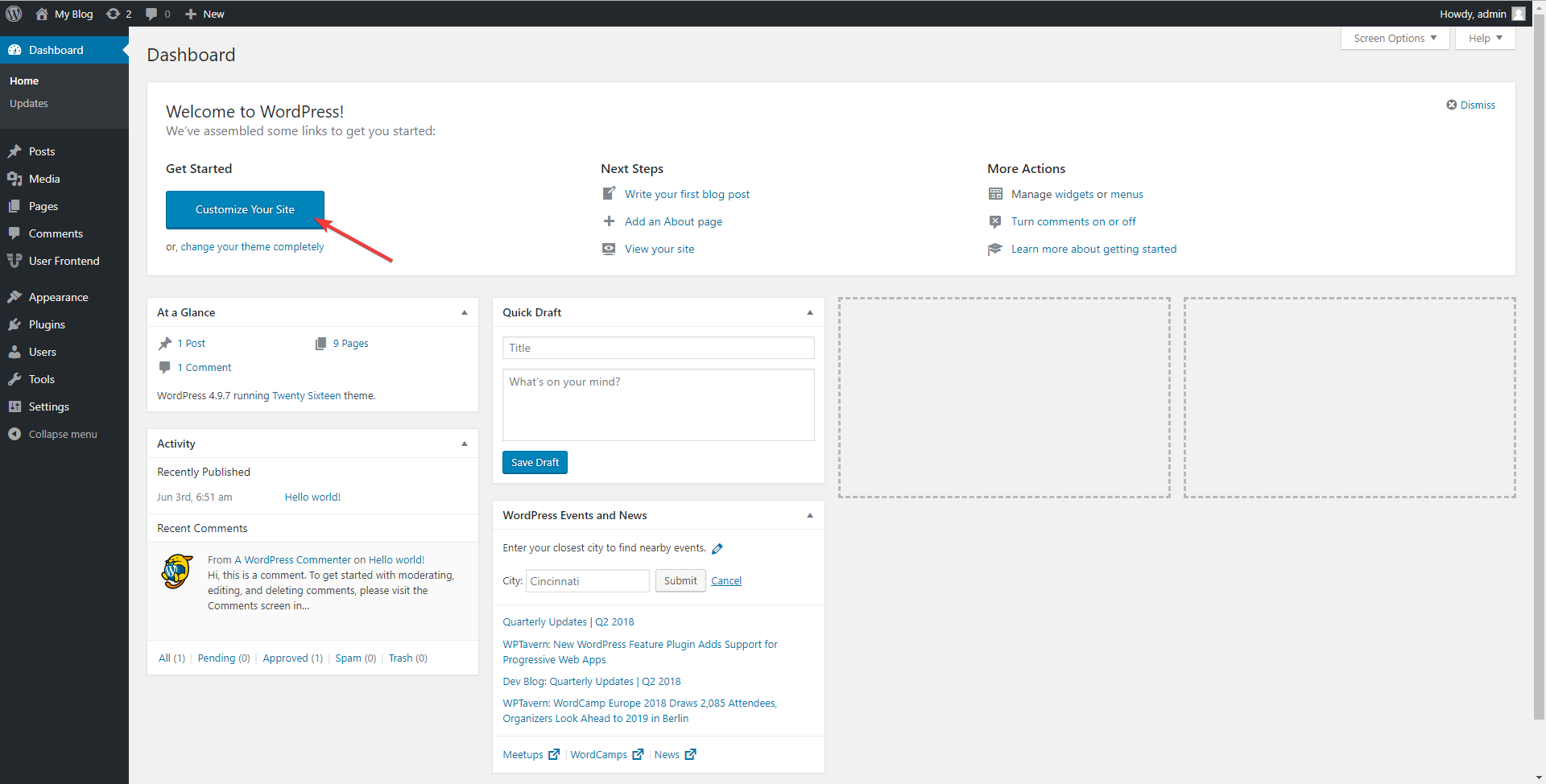 Insert your hosting credentials here and log in to see the dashboard. Admin dashboard is the place from where you can make any changes to your blog. Here, you should see a "Customize Your Site" button. Hit it to design your own site in your way.
Next, you can find all the customization options on the left side. You can click on Site Identity, Colors, Menus, and the other available options individually to modify them. Or simply just hit the pencil icon shown beside each section to modify it directly.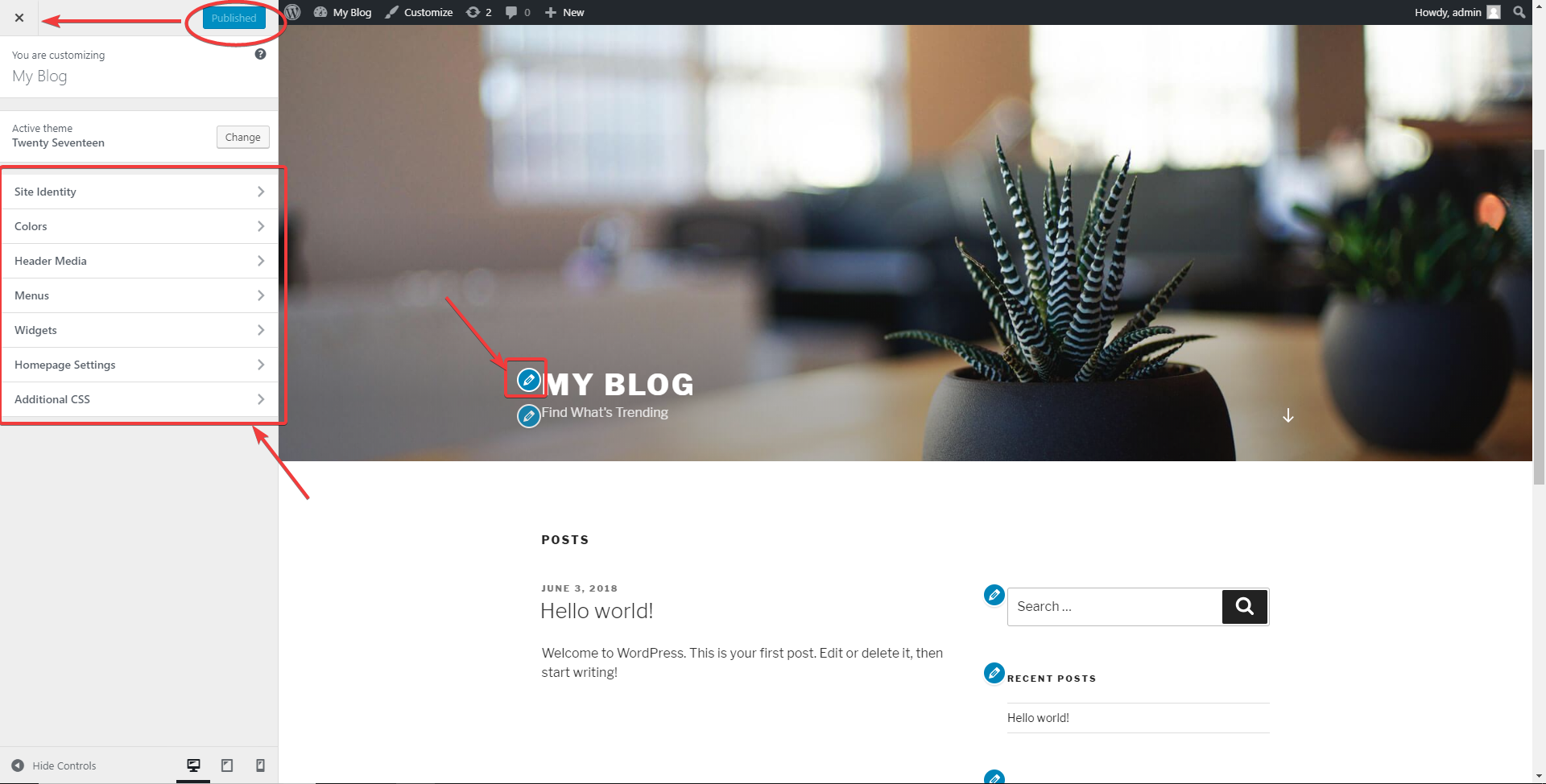 When you change something, you'll see the Publish button being active in the upper left side. Click it to save the changes you made and it'll show as Published. Press the "x" button beside it to get back to your dashboard.
To change the theme, go to Appearance > Themes on the left-hand side menu. You may find some pre-installed themes there. In our example, you've seen that the active theme is "Twenty Seventeen". However, you can always select any theme from thousands of free options. Just click the Add New button.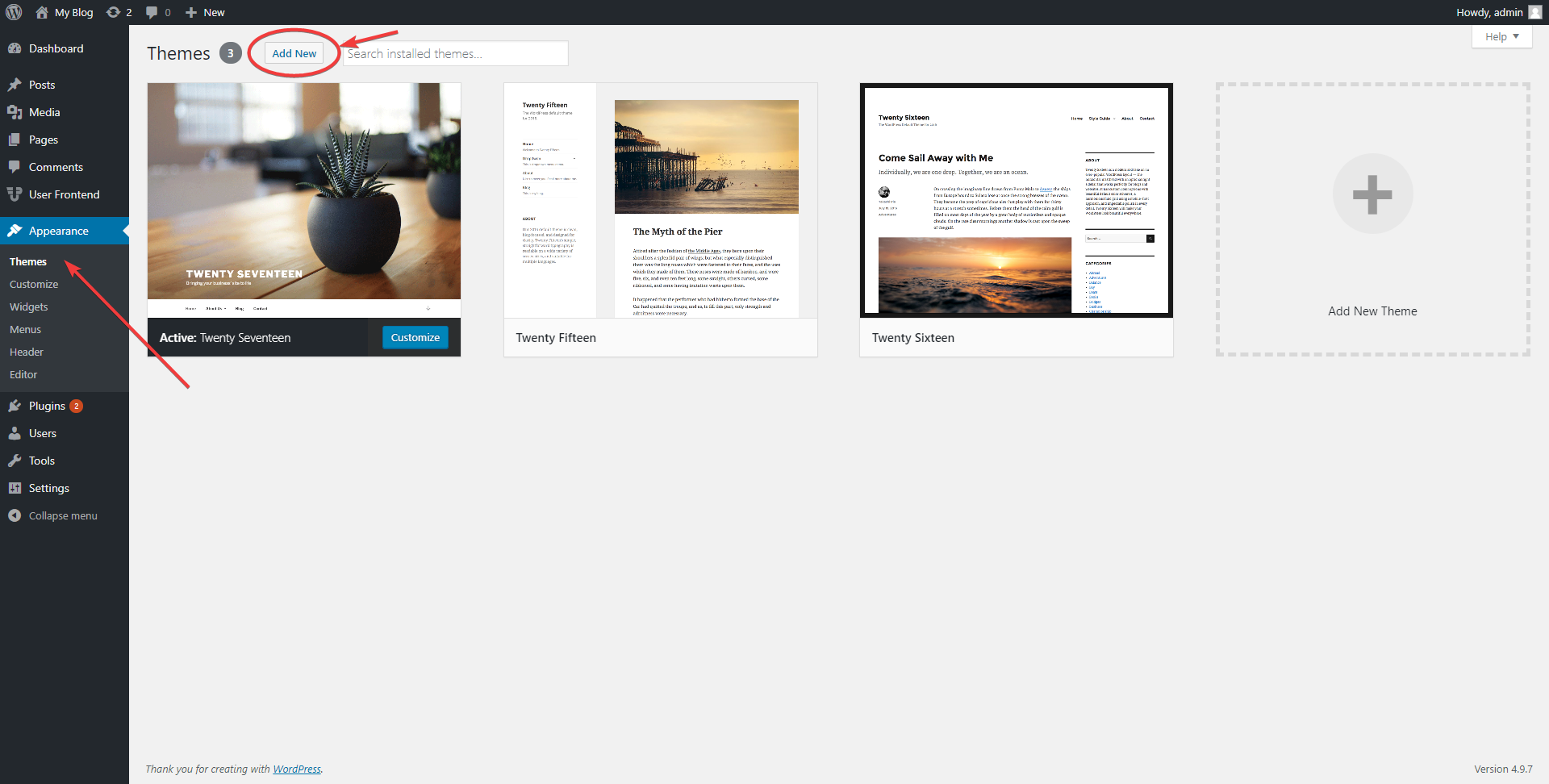 You'll find thousands of great themes here. You can sort them by clicking on Popular, Latest or the other available options. Besides, you can search for themes by any name. You just need to type in the Search panel.
To install any theme, simply click on the Install button shown on it. Once the theme is installed, all that's left to do is click the Activate button. The Preview button is for taking a look at a theme without installing it.
Create Your First Blog Post
As everything is set now, it's time to write the first post for the blog. Go to Posts>All Posts from the left side menu to see the status of your posts. You can modify them anytime from here too. To add a new post, click on Add New. You'll see an editor screen like this:

You can add the title of your post in the upper panel. The text panel below is for the main content. You can save your Draft, Preview it or Publish it. All these options are available in the upper right panel.
In addition, you can add pictures, audio or video files, links, blockquotes, and many other features to your post. To add a media file, just click on the Add Media button. Then, click Select Files to upload a file from your computer.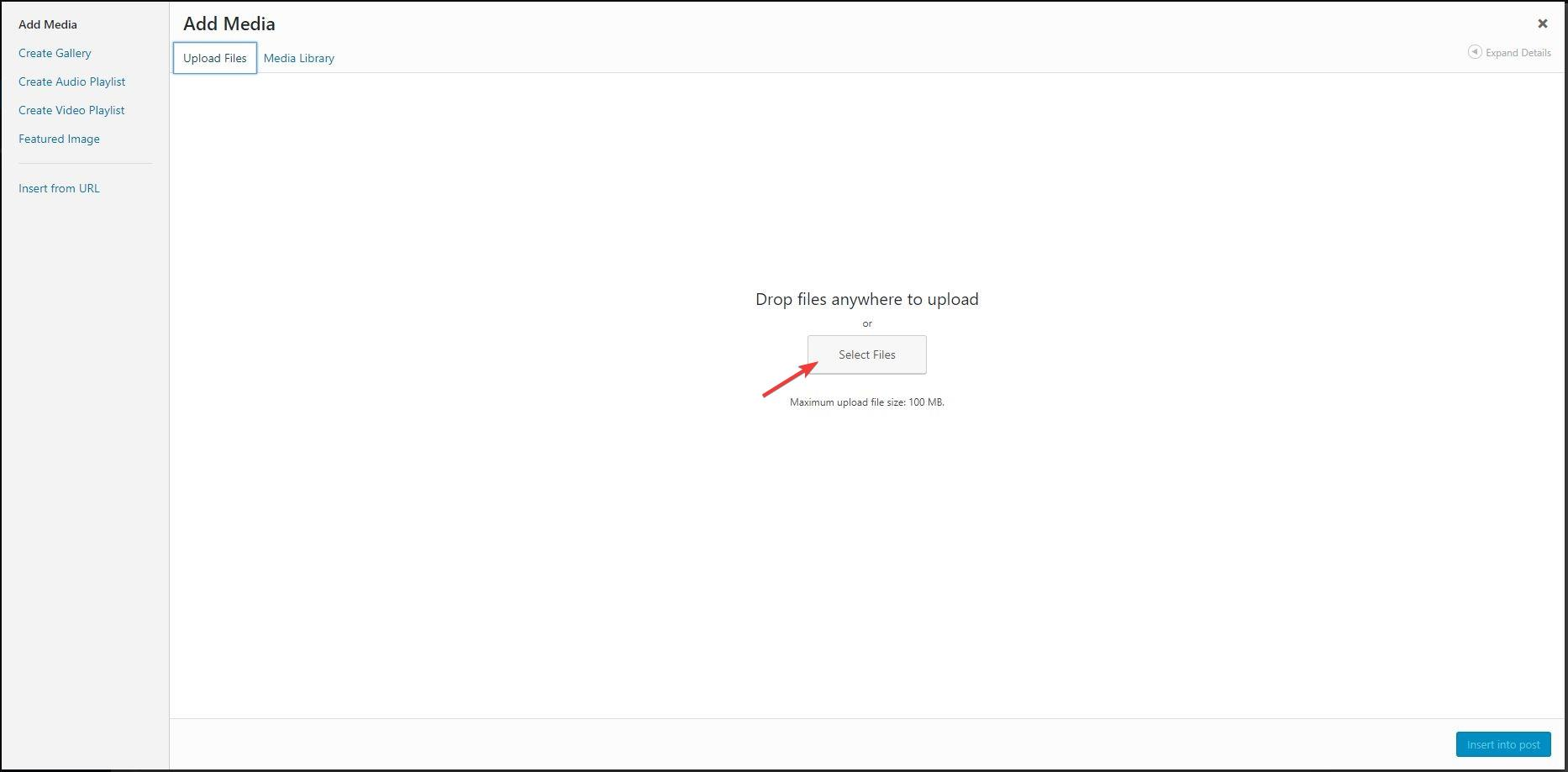 After uploading the file, click insert into post. You should see the file in your post now.
Well, this is it! We think it's time to publish your first post. After pressing the Publish button, you can hover the mouse on the home icon of the top left corner and click on Visit Site. See how your homepage looks like. Or, you can simply type your domain name in the browser to see it.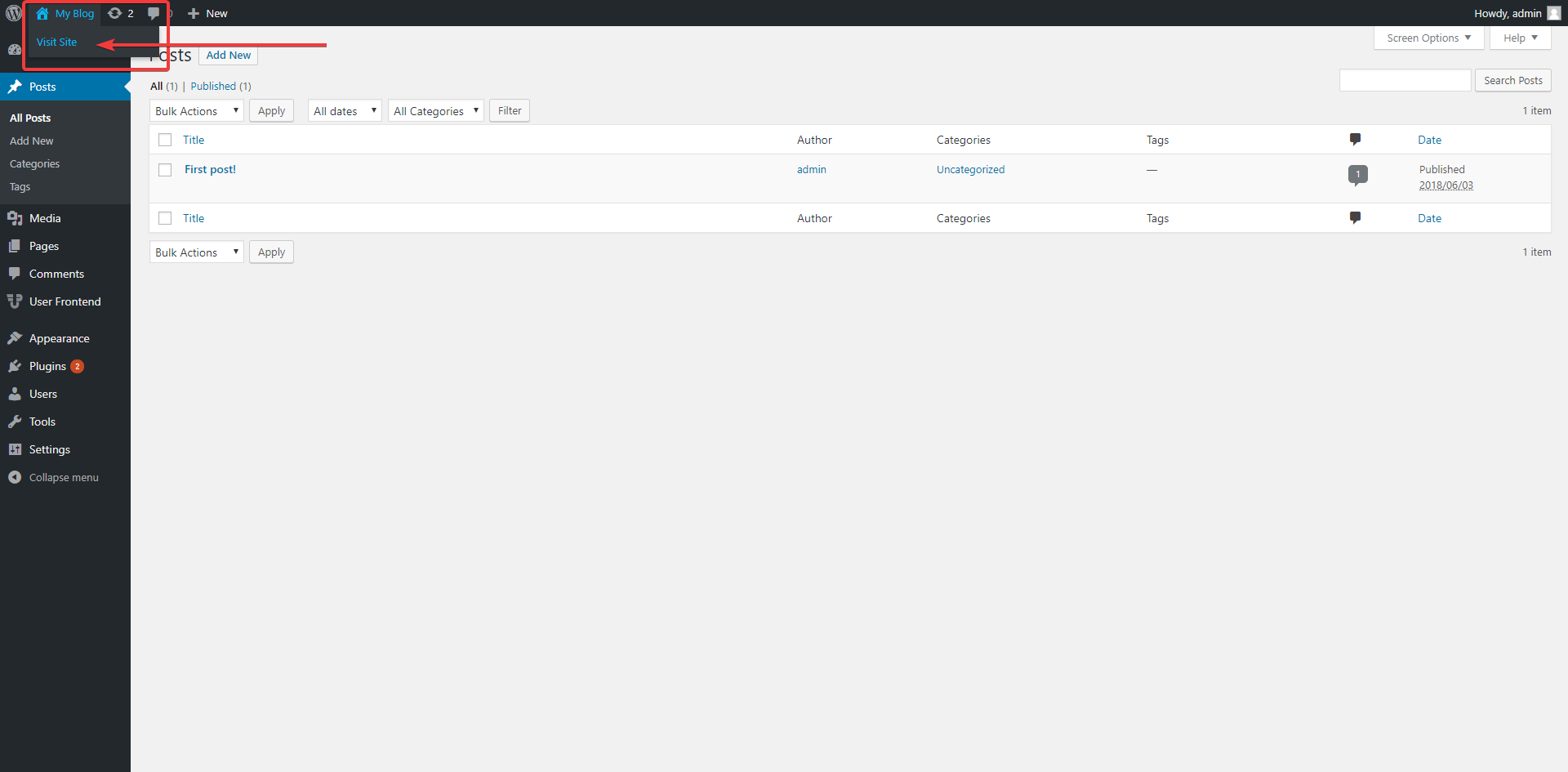 Here's a snapshot of the published posts on our weDevs blog.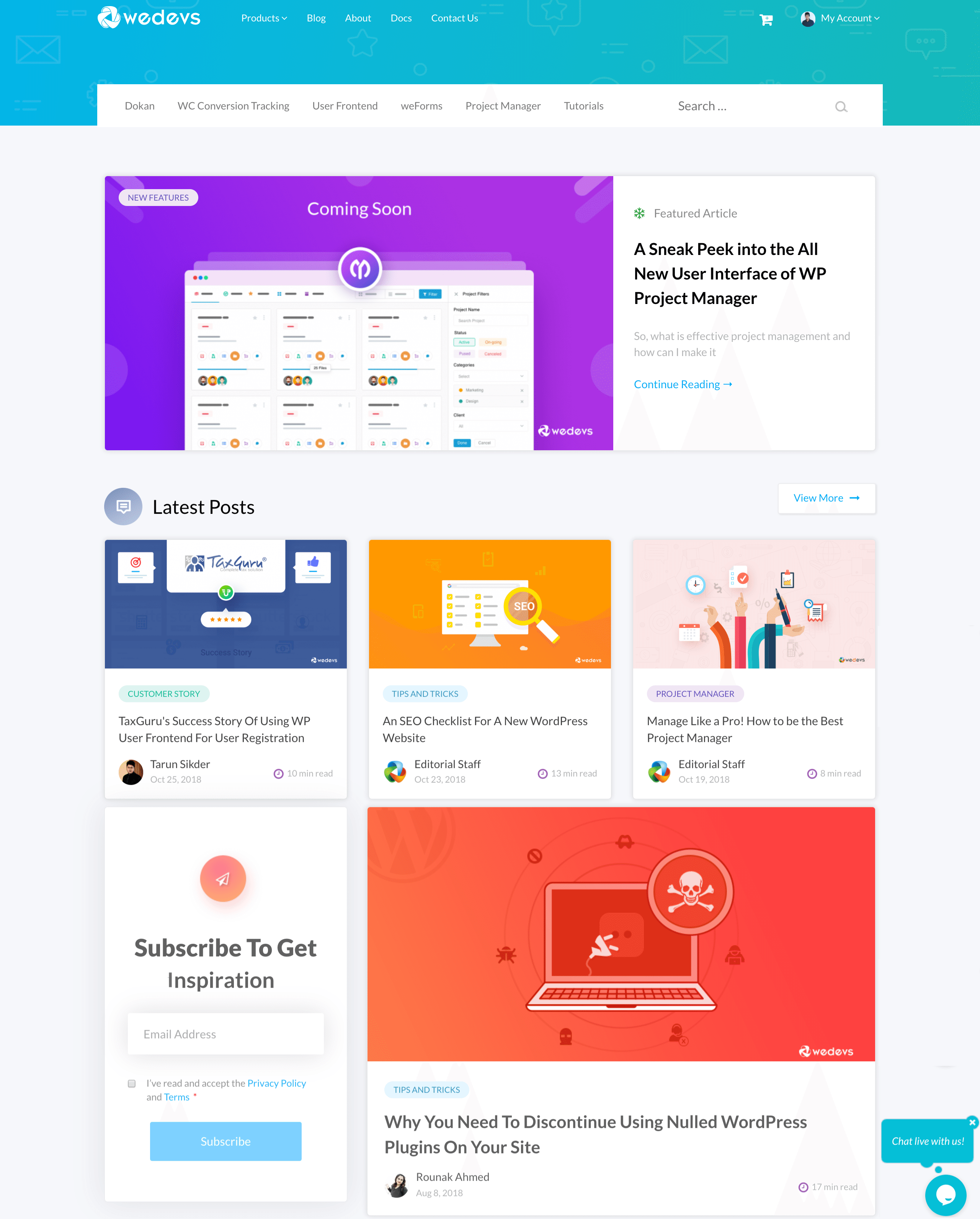 The look of the page depends on the theme you select. So, find a theme that suits your site best. You can customize it according to your demand as well.
Hope your blog looks pretty cool by now. Let us know about it in the comment section 🙂
Bonus tips
Now that you know how to start a blog, we hope you'd share your knowledge and ideas with the world through your own blog. To make your blog successful, here are some tips you can follow –
Try to optimize your posts for search engines.
Spread words among your friends about your site.
Make interesting posts on a regular basis.
Share them on social media.
Try avoiding plagiarism, write in your own way.
Use an interactive contact form and let your audiences subscribe, give opinions, participate in surveys, or perform other necessary actions.
A contact form can add great value to your blog or website. You can follow these 4 easy steps to create a form with WordPress Form Builder. It'll help you to engage more audiences and make a positive impact on them.
Long story short, quality, and quantity both are important. If you create quality posts, you'll surely grow your audience over time. Besides that, people love writings that are easily understandable. So, keep writing and have a great journey with your blog 🙂