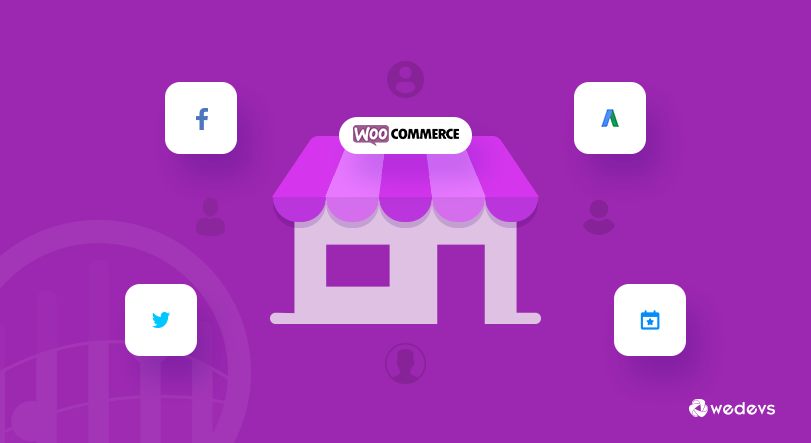 WooCommerce Conversion Optimization Strategies To Boost Sales
If you own a WooCommerce store, optimizing conversion rates with retargeting platforms is the thing you should be looking for. Why?
Because it can help you boost your sales volume and build up credibility with your customers alike. Here is an interesting data about retargeting given by CMO,
Retargeting can boost ad response up to 400 percent.
There are a number of ways you can increase the conversion rates for your WooCommerce store. Retargeting your lost potentials is one of the ways you can use to increase the conversion rates with the help of most popular retargeting platforms like Facebook, Google AdWords, Twitter, Perfect Audience.
Having said that, in this article, we will walk you through the way you can use these 4 strategies with WooCommerce Conversion Tracking as a medium to increase your WooCommerce store's conversion rates. Now, let's jump right on to the topic.
What is Conversion?
Conversion refers to the number of unique visitors who take actions to become a customer or lead among all the unique visitors on your WooCommerce website during a certain period of time. Here are two examples to make things clear for you:
Example:1
Assume that on a particular day, 1200 unique visitors have visited your WooCommerce website but only 30 unique visitors have made purchases.
In this case, the conversion rate for purchase action or event will be (the number of visitors purchasing ÷ total number of visitors) * 100 = (30÷1200) * 100 = 2.5%.
Example: 2
Your WooCommerce website has managed to bring 1500 unique traffic on a particular day but only 50 unique visitors registered on your site.
So, the conversion rate for registration action or event will be (50 ÷ 1500) * 100 = 3.33%.
Note: You can use these data in real-life to retarget the customers by tracking them who didn't do anything valuable on your website.
What is WooCommerce Conversion Tracking?
It is a WordPress plugin that can be coupled with WooCommerce to track and monitor visitor behaviors within your WooCommerce store. Pairing with retargeting platforms such as Facebook, Twitter, Google AdWords, Perfect Audience you can track a whole slew of things such as how many visitors have signed up on your website, how many have clicked on a particular product, how many have checked out your products and so on. A nifty tool for WooCommerce e-commerce tracking purpose, indeed.
According to the statistical data of Baymard,
Nearly 69.23% of customers who checks out your product will abandon it during the process.
It becomes clear from the above statistical data that how much it is important to remarket these potential customers who abandon purchase during the checkout process.
How is WooCommerce Conversion Tracking Useful?
Here is another statistical data provided by CMO,
Web site visitors who are retargeted with display ads are 70 percent more likely to convert on your Web site.
Fortunately, WooCommerce Conversion Tracking works with the retargeting platforms in tandem to fetch you any customer behavior data you are looking for. On this data-driven world, you can not make a decision mere with your gut feeling. If you want to retarget your customers based on customer behavior data or want to do split tests for your website then you can consider WooCommerce Conversion Tracking as the right option to do it.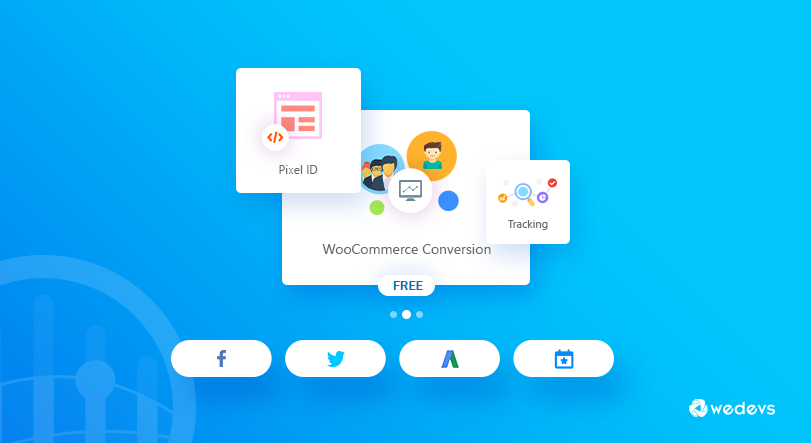 Here are the things that you can do with WooCommerce Conversion Tracking:
get customer behavior data by tracking events
retarget your lost customers
track any events or actions your customer triggers
compatible with any retargeting platforms
use the data to do A/B testing, SEO  or anything you want.
Optimize WooCommerce eCommerce Tracking with 4 Retargeting Strategies
In online marketing, retargeting or remarketing can dramatically improve both conversion rates and ROI (Return on Investment). Because your past site visitors are more likely to complete a valuable option on your site than those who are visiting your site for the first time. Only 2% of first-time site visits are going to convert on your website. That means that 98% of your traffic won't buy from you.>Adroll has found that:
Only 2% of first-time site visits are going to convert on your website. That means that 98% of your traffic won't buy from you.
WooCommerce Conversion Tracking will help you with four essential strategies that can give you an edge over your competitors:
Facebook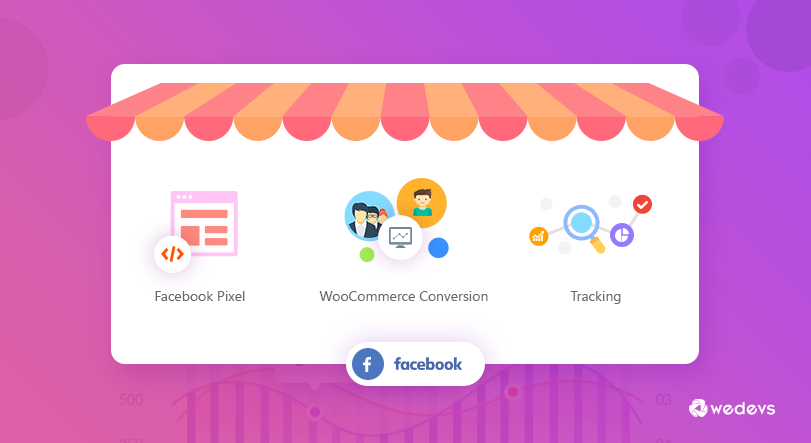 Retargeting with Facebook has been the gold standard since you will get nearly endless customization options to tap into. Being world's most popular social networking site, Facebook is the most useful platform for remarketing your lost potential or customers. Unique to Facebook, you will be able to track most of the events with this platform. Using a Facebook pixel ID, you can easily track the following events in WooCommerce Conversion Tracking:
Add to Cart
Initiate Checkout
Purchase
Complete Registration
View Product
View Product Category
Search Product
Add To Wishlist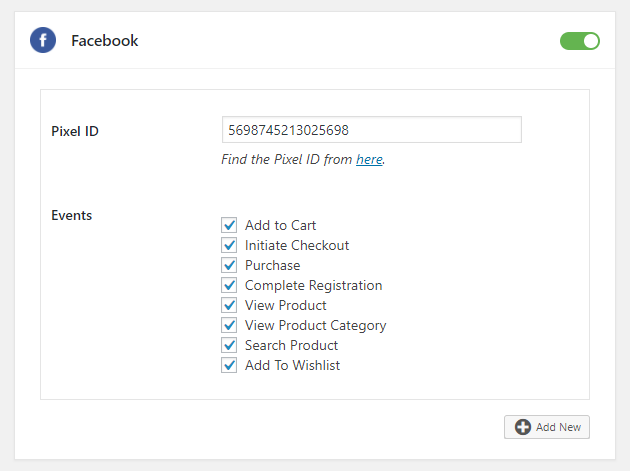 To know more about these Facebook events, you can read this article.
Google AdWords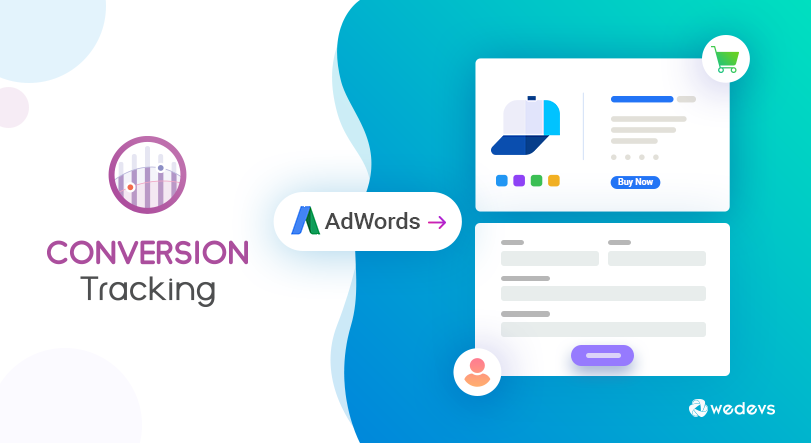 It is a remarketing tool in the form of online advertising enabling sites to show targeted ads to the visitors who have visited your site already. Interestingly, you will be able to show your lucrative remarketing ads to your lost customers while they are watching YouTube videos, browsing the web, reading news sites etc. You can track the following events with WooCommerce Conversion Tracking and Google AdWords Account ID.
Purchase
Complete Registration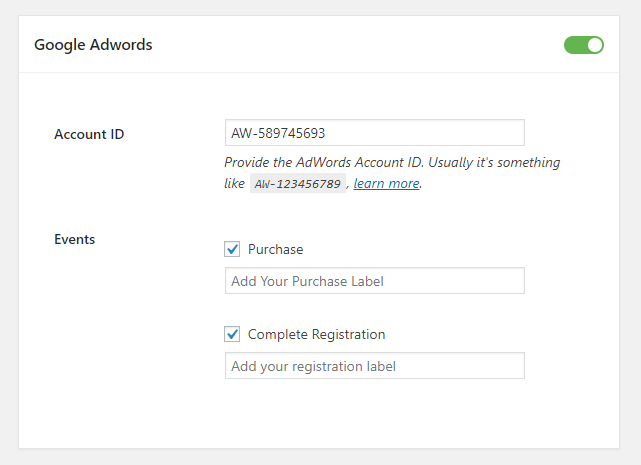 To know more about these Google AdWords events how they work in WooCommerce Conversion Tracking, you can read this article.
Twitter
Twitter ads allow your online business to target the lost leads with a bunch of options – geographic, interest and follower targeting and much more. The followings are the events that you can track with the help of WooCommerce Conversion Tracking along with Twitter ads Tag ID:
Purchase
Add to Cart
Registration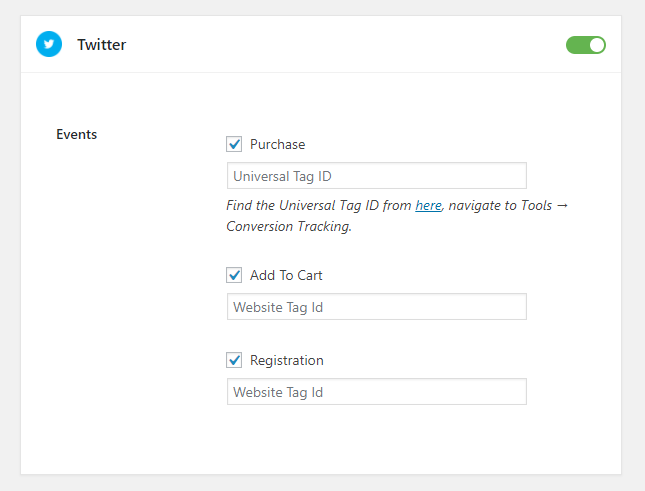 To know more about these Twitter events how they work in WooCommerce Conversion Tracking, you can read this article.
Perfect Audience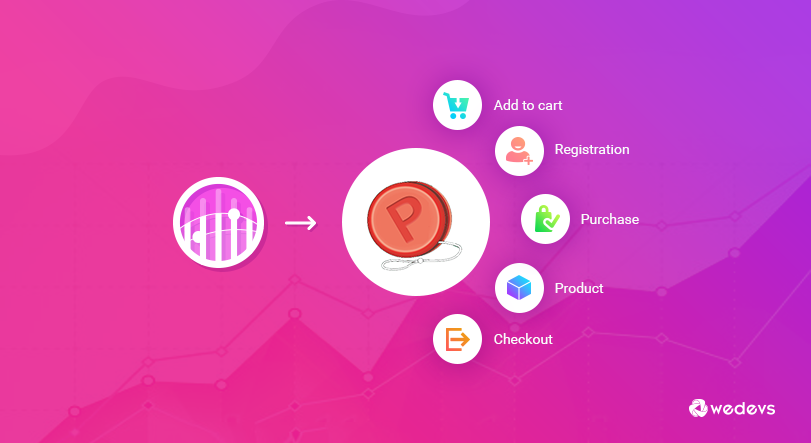 Perfect Audience will help you reach your remarketing ads to your customers who have visited your site but did not buy anything. You can avail this feature in WooCommerce Conversion Tracking using the Perfect Audience's Advertiser ID code.
View Product
Add to Cart
Initiate Checkout
Purchase
Complete Registration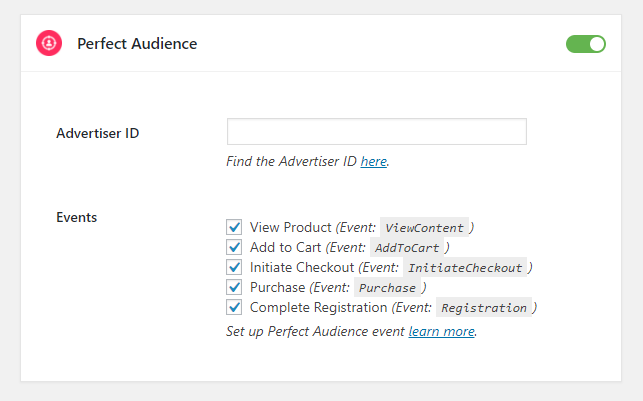 To know more about these Perfect Audience events, you can read this article.
How do You Measure Conversion Rates?
A typical WooCommerce website has a conversion rate of 2-3 %. Though it depends on how much you are investing money in the remarketing ads and SEO, the followings are the determiner you can use to measure your store's conversion:
0-1%: Your conversion rate is very weak. You need to use the data given by WooCommerce Conversion Tracking more carefully. Take help from an expert if it is necessary.
1-2%: Your conversion rate is below average. You need to check your incoming traffic and your site to find the pitfalls.
2-3%: You have an average conversion rate. You still need to work on increasing the rate.
3-5%: Your site is performing exceedingly well. Try to retain the conversion rate here.
Above 5%: Such a rate is an icon for the others!  Keep up doing even better.
Credit: The above figures are suggested by Soma Toth.
N.B. You must calculate these conversion percentages based on the average of the events calculated by WooCommerce Conversion Tracking.
The Big Picture
Running remarketing campaigns on the aforementioned platforms is easy but showing the remarketing contents to the most appropriate audience is difficult. Moreover, it requires a good amount of coding know-how to do it. But, hey, don't be worried! We love to things make easier for you with the WooCommerce Conversion Tracking as it will pave you the way to do it on its own.
The most exciting news is that our developers have made a free version for you! With it, you can do the important basic tasks.
So what are you waiting for? Give it a try now and let us know your stance. Cheers. 🙂