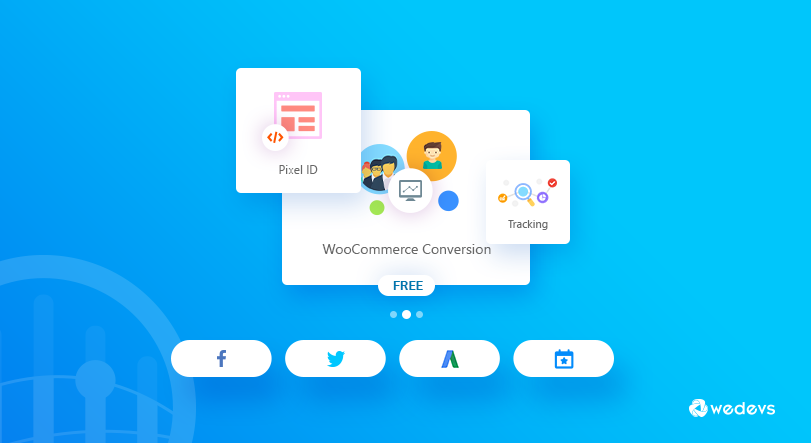 Get Extra WooCommerce Conversion Data Absolutely Free
Are you struggling to know how you can get that customer back who just abandoned their cart full of products? Or even why?

One of the biggest advantages of doing business in the information age is the sheer amount of data you can collect from your users. And yes it should be according to consent. In an e-commerce environment, if you want to provide a better service, you need your customers' data.  And not just how many people bought your product but what they did in your store.
There are multiple ways to implement a process of collecting that information. But sadly most of them are complicated even for the basic users to get started with. Luckily for you, there is WordPress and it's army of plugins to make things much simple. And one of them is WooCommerce Conversion Tracking plugin.
What is WooCommerce Conversion Tracking?
WooCommerce Conversion Tracking is exactly what the name suggests. It helps the marketplace owner to track certain events that he/she enabled from the plugin. And send those event data to their desired platform. It is a completely FREE to install plugin that you can find in the WordPress.org plugin's store.
It supports some of the most popular Ad platforms out there.
Facebook: The most popular social network in the business. No matter what people might say, almost all your customers are on Facebook. With WooCommerce Conversion Tracking you will be able to gather data about who viewed a product, added one or many products from your store to their cart, viewed product category, searched for a product and much more
Twitter: Track people who have purchased a product or more from your store and also who registered in your marketplace.
Google AdWords: Use conversion data sets with the search engine giants own platform.
Perfect Audience: Popular retargeting platform Perfect Audience combined with the conversion tracking data from your WooCommerce store.
There is even a custom field option to put your own Javascript tracking scripts.
WooCommerce Conversion Tracking also supports Facebook Product Catalog and has permission settings different user roles (Editor, Author, Contributor, Subscriber).
Please note, some of these features are only available in the PRO version of the plugin. But most of them are available in the FREE version. You can learn more about the plugin from here.
Get Those Extra WooCommerce Conversion Data For FREE
You might realize already WooCommerce Conversion Tracking is completely FREE to get started with. Thus, you can collect extra conversion data using this powerful plugin right now.
Just head over to the WordPress plugins store from the backend of your website (your web address → wp-admin).
Search for WooCommerce Conversion Tracking in the plugin directory and install it. You need to have WooCommerce previously installed.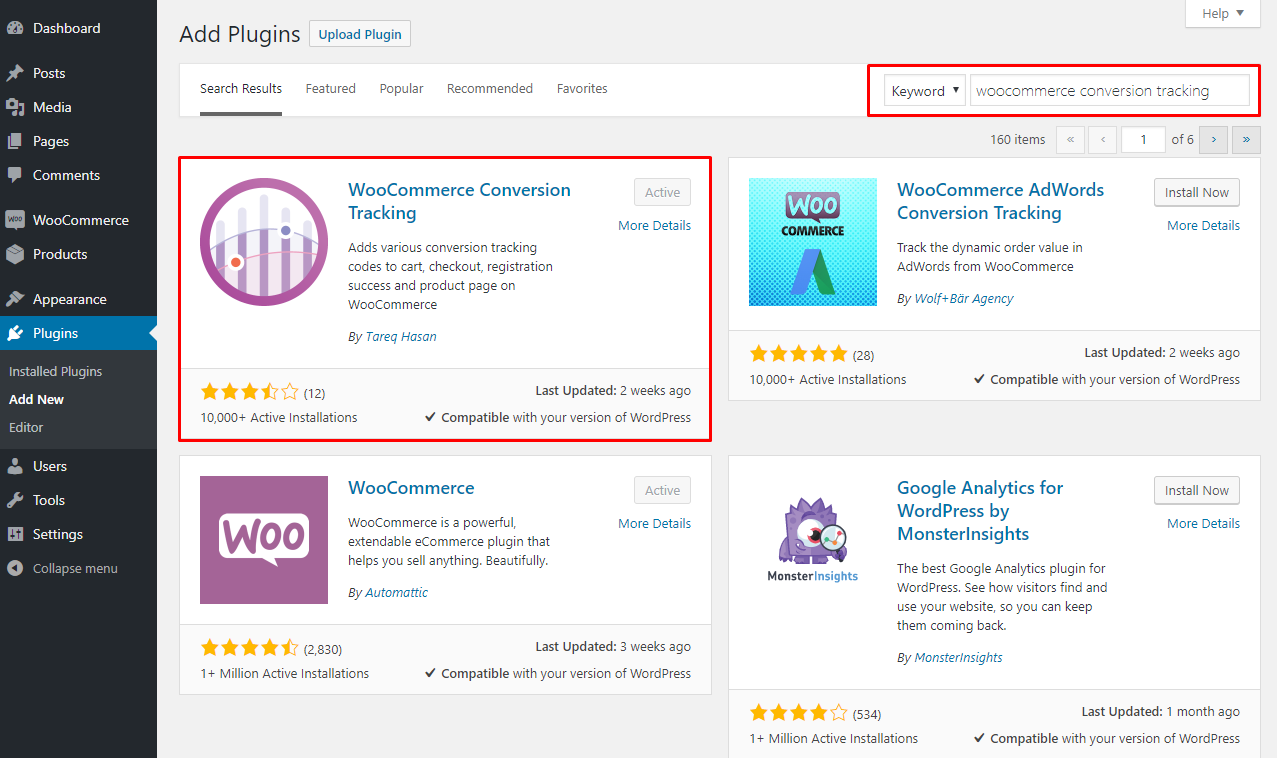 After successful installation, you will see a new menu added to your WooCommerce section named Conversion Tracking. Click there to see all your options for selecting the events and fields for placing Pixel IDs. Just select the events you want to track and insert your Pixel ID for that platform.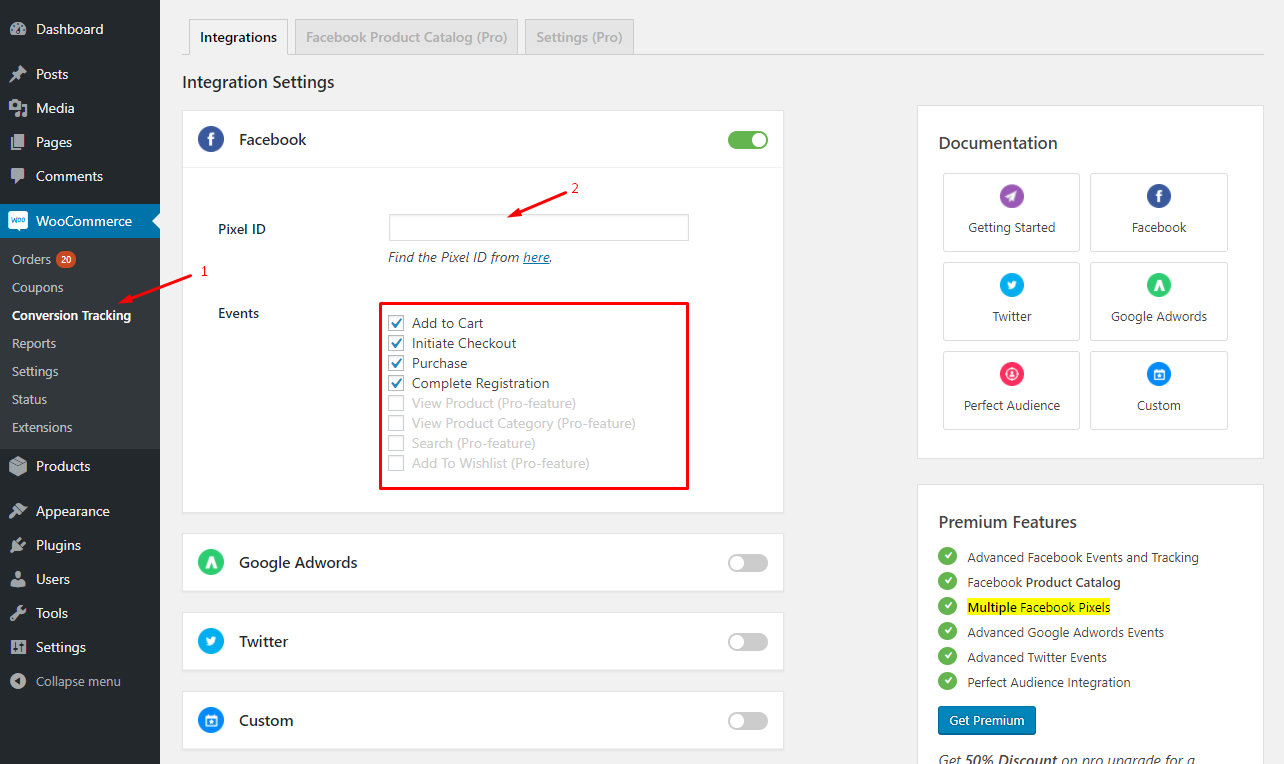 Use It In Any Way You Like
With the WooCommerce Conversion Tracking plugin installed, you will be able to track people who bought a product from your store, initiated the checkout but didn't go through with the process, purchased a product and much more without being limited to a single platform alone.
Suppose you are selling a new product to your store. You want to market that product to the specific category of the target audience that it falls to.
If you already have the information about who was the people that bought those similar types of product using WooCommerce Conversion Tracking your job would be much easier.
Simply use those data by sending them to your Ad platforms and remarket to them. Whether it be Facebook, Google AdWords, Twitter or any other platform. Customers who have bought from you once are the most promising when it comes to buying from you again (if they are satisfied with their previous purchase).
WooCommerce Conversion Tracking plugin is most useful when you want to –
launch a new product,
cross-sell,
seasonal product selling,
reduce the rate of your web site's shopping cart abandonment
and much more.
Because it helps you to collect information most beneficial to that objective and remarket to the right audience.
Brainstorm ideas with your team members to see what innovative ways you can use those data you get using our plugin. We are sure you will find one.
Final Words
If you are not using WooCommerce Conversion Tracking plugin for your eCommerce business, then you are missing out. After all, it is completely free to install and you will be getting more conversion data without any kind of price to pay.
P.S there is also a PRO version of this plugin with more platforms/events support, ability to add multiple pixels and more. If you are interested you can learn more from here.