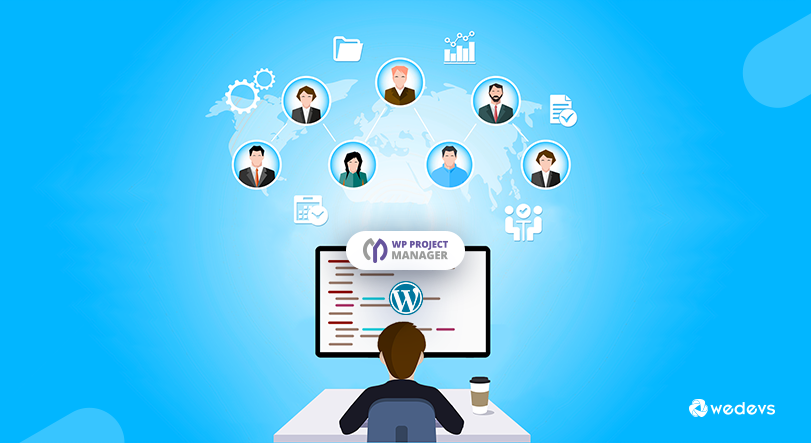 Manage Your Website Project Management on WordPress With Success
Juggling numerous projects, plans, communicating with countless clients, getting bombarded with many uncertainties and demands for change, and then coordinating billing – who understands this better than someone overlooking web development projects? All these uncertainties and complexities make many clueless on how to handle the entire website project management in a coordinated manner.
Keeping in mind the changing nature of web development projects, you would want to have as much less paperwork to handle as possible. Apart from the drawings you do for web-designs, nothing should be on paper!
You also need something that lets you manage communications with multiple clients while at the same time ensuring a smooth flow of the web development process.
So how do you ensure a smooth automated process that lets you BE both the Developer and the Project Manager? For this to happen, you need a fast, user-interactive, and cost-effective project management solution.
You need something uniform that lets you manage it all from a single dashboard.
Manage Your Web Development Projects With WP Project Manager
Web development projects don't simply start with coding and end when the website is launched. The pre-, post-, and during the development process affects how the entire project eventually unfolds. And it's a continuous process of improvements and updates, and that's how a website developer and manager should prepare:
Your project should be agile and flexible enough to have a possibility to change your website according to users' feedback or spirit of the time. – XB Software
With web development, you constantly need to record clients' requirements, comments, observations, and change requests. And implement accordingly.
WP Project Manager lets you take care of these fluctuations and inconsistencies with no sweat. It's dynamic and feature-rich interface is intuitive enough for anyone to get started with. WP Project Manager is the only all-in-one solution on WordPress for your website project management needs. It lets you manage teamwork timely, collaborate efficiently, and obtain advanced reporting, making it the ultimate solution for your daily deliverables.
With WP Project Manager you are able to seamlessly manage your web development projects taking into considerations sudden and continuous adaptations in the project. It also lets you streamline client communication making it more easy for you to keep the entire work process transparent to your customers. When you are working with projects that require you to interact with several different people, add anyone to any project with any role and time, you need something robust enough.
WP Project Manager has a minimalistic interface yet ensures that you meet your needs both as a developer and a project manager. The perfect companion for your web development business: it's fast, feature-rich, beginner-friendly, reliable and cost-effective.
Create Task Lists & To-Dos

Web developers deal with countless projects and clients. So you need something that allows you add an unlimited number of projects, tasks, and people with different types of roles.
With WP Project Manager's Task Lists, you can do that exactly! Add unlimited projects and tasks as you like with unlimited users. Add titles and descriptions, see a progress bar, add comments, mark as complete, and even set the start and end dates.
You can also set private tasks, task lists, and milestones.
With Milestones, create a lifecycle of your web projects and make coordinating with co-workers even easier. Time mark the different development stages so that team members can aim for a date to complete the project timely according to those stages/steps.
Everything's easy, segmentized, and time-saving!
Time Tracker
With all the many deadlines you get thrown at, how do you stay on track? You can do this best with the Time Tracker module.
This cool tool lets you start, pause, and stop your tasks anytime you want! Keep logs every time you pause. And have a total calculated time at your record after you finish the task.
Think about the efficiency it can help bring in your projects. A time tracker is essential not just to help you time yourself, but also to keep a tab on how much time you spend on a particular task.
If you bill your clients hourly, you can show exactly where and how you spent your time in your invoices at the end of your web project.
Gantt Chart
This is the most essential feature in WP Project Manager for a web development project. This priceless feature will allow you to add the whole development process, set deadlines, and ensure a smooth project implementation.
See the progress of each task in every project in the form of bar charts in percentages. Lengthen or reduce the deadlines conveniently by dragging the bars. Get a bird's eye view of how long each task is scheduled to be and everything else within a particular project. Instantly create new tasks under the main Task Lists whenever you want right from your Gantt Chart.
You can click on each task: it will take you to the details of that on the Task Lists tab from where you can add new sub-tasks, edit description, leave comments, mark tasks as complete, and much more. As new implementations and change requests keep coming in, include them in your Gantt Chart without any worry of losing track.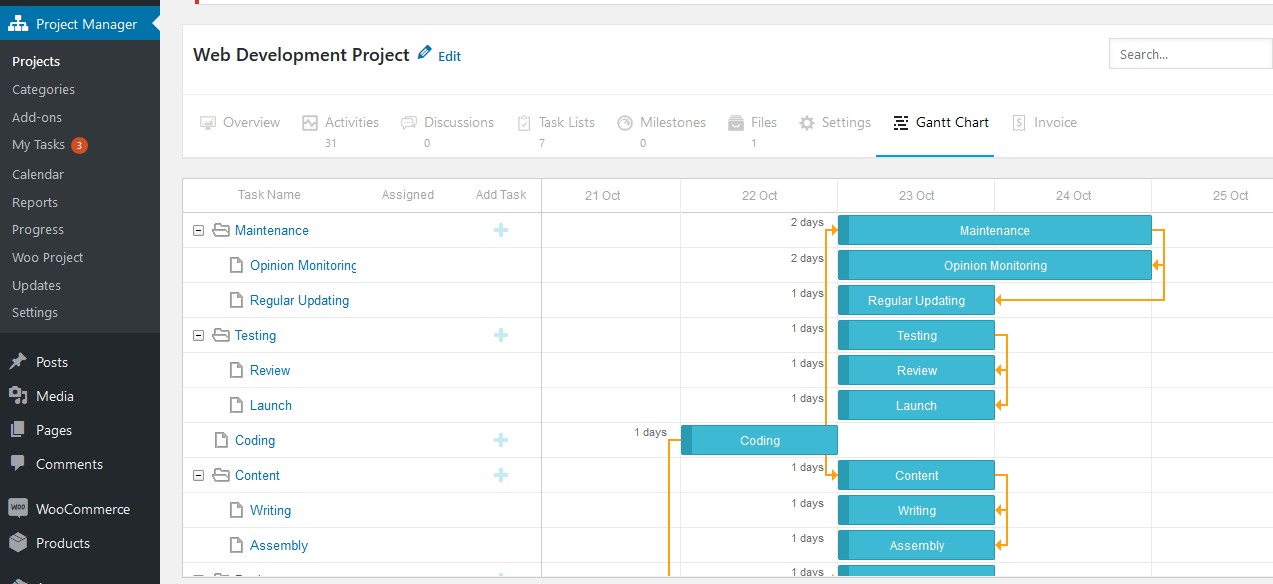 All in one dashboard!
Clients & Discussions
When you create a new project for a new client, you can add their roles as Clients. What's more! You can add as many clients as you want in one project!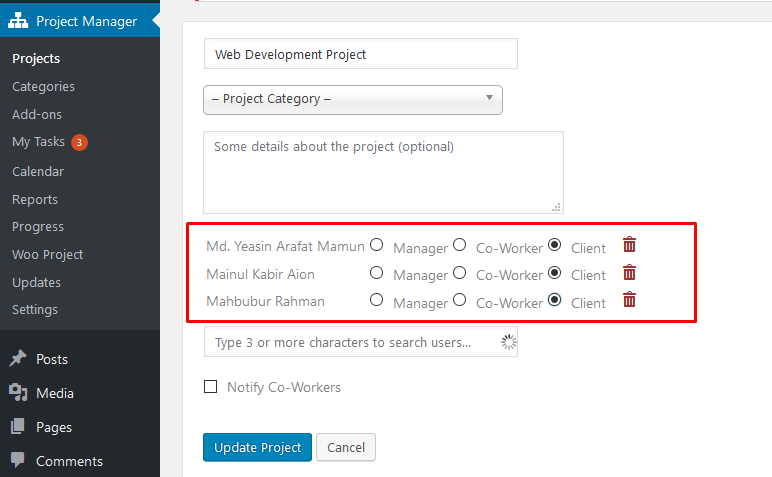 Want to chat privately with a client? WP Project Manager comes with a built-in messenger where you can choose to have a personal chat with your clients.

Add your clients and team members to the relevant projects. With this feature, you can also send emails to all clients and team members, edit and stylize your messages, add attachments to messages, and comments.
Frontend Compatible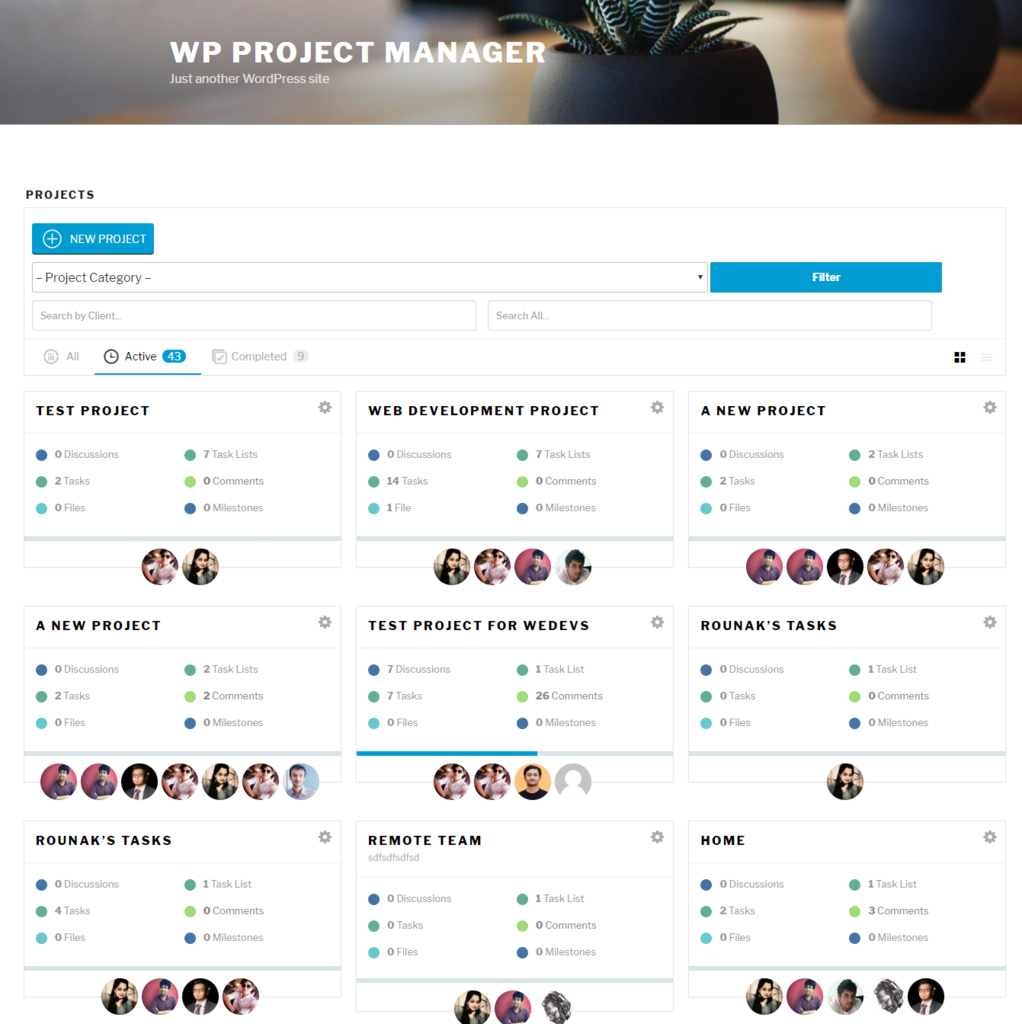 With WP Project Manager, bring your projects to the front of your site, and work just like you do from the backend. Your clients can edit and view everything on projects and tasks from the front.
This feature is great if you don't want to do give backend access to a client but want to allow a user to view and edit. Have more control over your projects and customers with WP Project Manager.
Manage All Files

The files manager allows you to upload as many files as you like, and organize it project-wise. You can even navigate to linked messages with the files. Besides that, you can also create folders, make private files, and upload files on messages and comments. Search a document, image or file any time you need amongst the numerous without worrying about becoming lost.
Go paperless! Store all your web designs, planning and goals, client proposals, content writing, and reviews securely in the Files Manager.
Coordinate Billing With Invoices
With invoice, you can bill your clients and send it directly to your clients right from within the project. Do you want to bill your clients hourly, weekly, or monthly? Or ensure you give some clear discounts to your loyal clients? WP Project Manager has all mechanisms to make it easy for you to charge your clients the way you like. You can also download your invoices as PDFs and send your clients by email from your dashboard.
When you finish your project, create an invoice that will be automatically formatted based on your input. Clients can pay against your invoice. The amount you have charged will be added to your account and the invoice will be automatically marked as paid!
Comprehensive Reports
Get 2 types of much-needed reports: progress and insights.
With Progress Report you get to see all the updates and activities of team members across the company site. As the admin, you will have a watch over every projects' activities.
With Insights Report, you can check detailed reports on completed, incomplete, overdue, and user activity. You can even see reports project-wise. These reports are detailed enough so you can get a quick glance and understanding of all the tasks and who they were assigned to, assigned, due, and completion dates, time taken to complete the task and also its status. You can filter each report in terms of task, time, and co-workers.
Why Choose WP Project Manager For Your Website Project Management
Work better in tandem with your clients with WP Project. You can simply hand over the login details to your project manager without them having to separately install the software. Thus saving you so much time, money, and energy in teaching or convincing clients to use the software.
Prioritize saving time, because time is invaluable. And automation makes things free of mistakes than manual human efforts. WP Project Manager makes your project management automated and impactful, and your communication more streamlined.
Everything happens and stays in the right place, properly departmentalized. So you never have to worry where your important conversations are or how your tasks are going. Hack the way you manage and deal with clients. Create your next landmark with WP Project Manager.
Manage Your Next Web Development Project With WP Project Manager NOW!