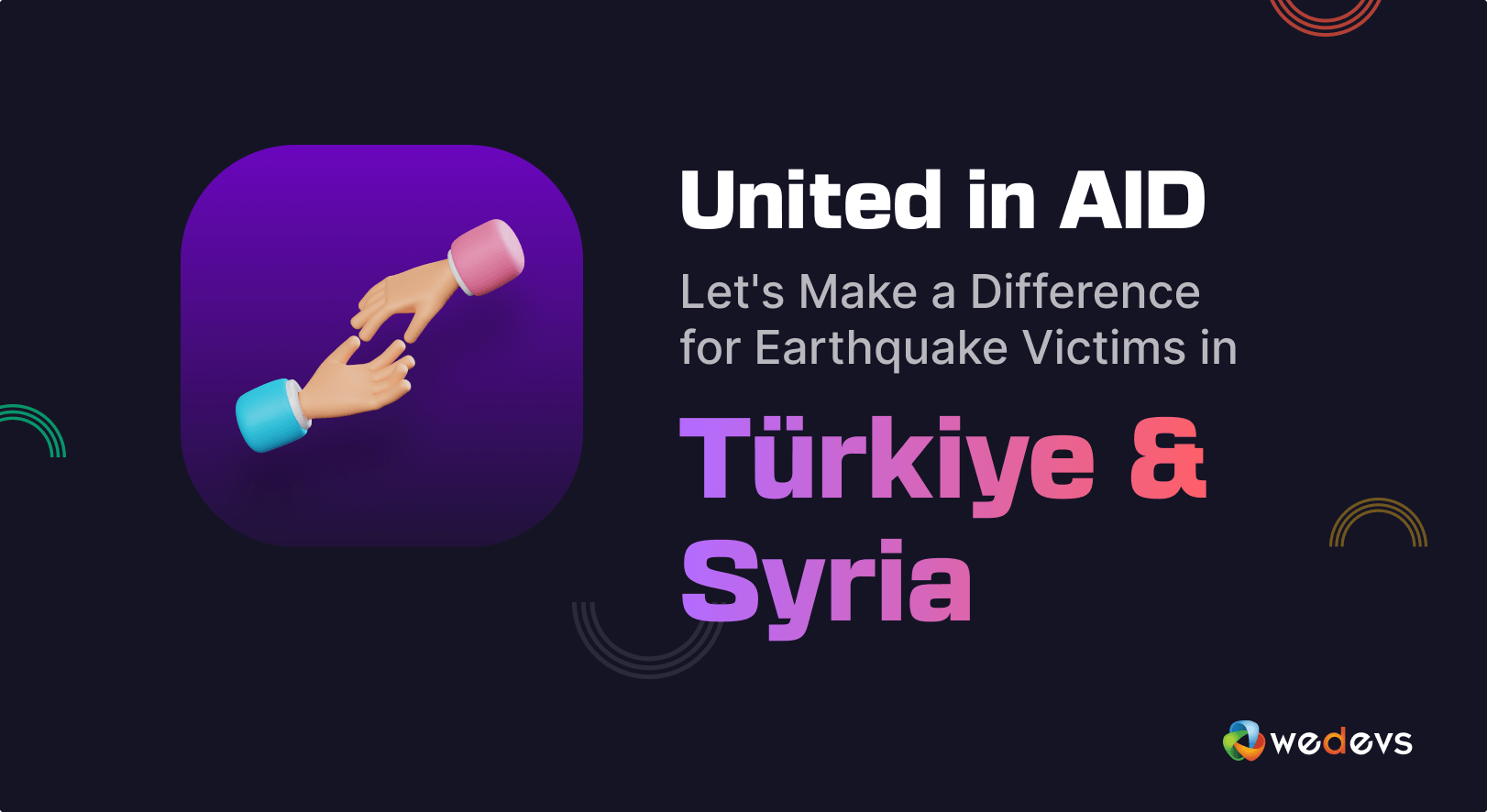 United in Aid: Let's Extend a Helping Hand Toward the Earthquake Victims in Türkiye and Syria
Hi, this is Nizam Uddin, CEO and co-founder of weDevs. I am writing this to inform you that weDevs expresses its profound sorrow over the tragic deaths and devastation caused by the earthquakes in Türkiye and Syria. We extend our condolences to the afflicted families and are considering all of our available options for a thorough and quick response. Our thoughts and prayers are with all the victims and their families.
The devastating earthquakes have resulted in extensive destruction and fatalities. The death toll already exceeds 30,000 and is expected to rise. We are all deeply saddened at weDevs and are ready to help the victims.
I have pledged to donate three days' worth of weDevs sales to support relief efforts, and I am calling on each of you to join us.
Within the next three days, every purchase made through weDevs will directly benefit the earthquake victims and survivors.
I'm urging you to join us and tell your acquaintances and networks to contribute to the relief efforts as well.
So, What Actually Happened and Why Should We Take It Seriously?
On February 6, 2023, a magnitude 7.8 earthquake struck the Turkish province of Kahramanmaras near the Syrian border, followed by a 7.5-magnitude aftershock nine hours later.
It has had a devastating impact on the affected regions. With thousands of lives lost, tens of thousands injured, and countless more displaced from their homes The magnitude 7.8 earthquake was one of the strongest to hit the area in over a century. Homes, businesses, and infrastructure have been destroyed. It leaves hundreds of thousands of people struggling to recover.
The impact of this earthquake will be felt for years to come. The response and recovery efforts from this disaster require the support of not just the local authorities but also the international community.
The International Federation of Red Cross and Red Crescent Societies (IFRC) has already launched immediate cash assistance to aid relief efforts in both Türkiye and Syria. Additionally, many other organizations are on the ground, providing aid and support to those in need.
It's important to take this catastrophe seriously and offer the required assistance because it serves as a reminder of how fleeting our lives and the communities we live in are. Natural disasters such as earthquakes can strike anywhere and at any moment. And it is crucial that we come together as a global community to support those affected and help them in their hour of need.
We can help by donating to disaster relief organizations, spreading awareness about the situation, and keeping those affected in our thoughts and prayers.
weDevs Donating Three Days' Worth of Sales (Buy More to Help More)
weDevs is taking proactive measures to aid the Syrian and Turkish earthquake victims. Our company firmly believes that it is our duty to give back to the community and contribute positively whenever we can.
In order to achieve this, I am happy to announce that we will donate three days' worth of revenue. This implies that every purchase you make via weDevs will help earthquake victims and survivors directly.
We urge you to seize this chance to contribute to improving the lives of individuals impacted by this tragedy. From WordPress plugins to specialized SaaS applications, our product line offers a broad choice of creative and high-quality products. Here is a list of our top offerings, along with links:
Additionally, we urge you to spread this word among your professional networks and friends. The more assistance we get, the more assistance we can give to individuals in need.
Your small gesture of purchasing from us can go a long way toward supporting the earthquake survivors and their families.
Together, we can make a difference and give those affected by this terrible disaster the help they need.
Join us and Help The Earthquake Victims in Türkiye and Syria
As you are undoubtedly aware, the earthquake that struck Türkiye and Syria has had a devastating impact on numerous lives. Even if weDevs has pledged to offer three days' worth of its revenue, much more needs to be done. Supporting relief operations on the ground can have a direct impact if you're able to do so.
Making a donation to the groups operating in the impacted areas would help. No matter how little you contribute, it will help a lot.
You can quickly donate any amount you want to help the earthquake victims by using the dedicated donation button that we have added to this post.
But it's not just about donating; spreading the word and encouraging others to support the relief efforts are also essential parts of the solution. Share this blog with your friends, family, and industry connections, and inspire them to make a difference. Together, we can show the world the power of unity and compassion in times of need.
Let's come together as a global community and support those impacted by the earthquake. Every little bit counts, and together we can make a significant difference for the earthquake victims in Türkiye and Syria.
This is weDevs: We Take Pride in Watching out for Others and Giving back to The Community
weDevs firmly believes in the value of a strong sense of community and the positive changes we can bring about when we work together to assist one another. That's why we are proud to be a part of the efforts to aid the earthquake victims in Türkiye and Syria.
As a business committed to offering cutting-edge WordPress products and SaaS services that empower people, we feel it is our responsibility to support individuals in need during trying times.
We are committed to being a part of the solution, whether it be through philanthropic contributions or by providing our assistance in any manner we can.
We appreciate your help and hope you'll join us in helping the victims.