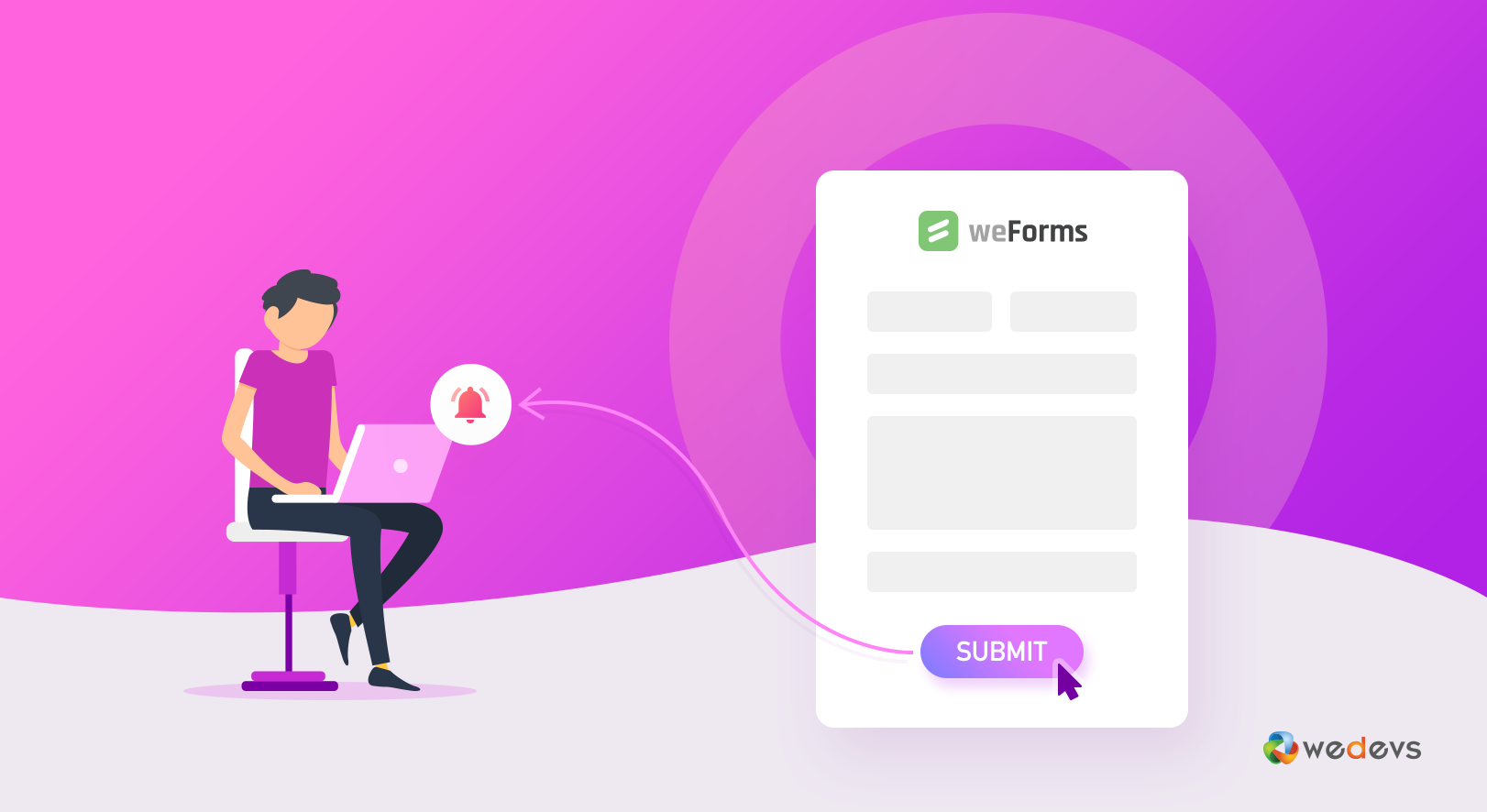 Creating Multiple Form Notifications Using WordPress Forms
Suppose you want to send multiple form notifications for your submitted forms in your WordPress, wouldn't it be inconvenient for you if you are not able to do so with your WordPress forms? It would be, isn't it? But now with weForms you will be able to send multiple form notifications to your email hassle-free.
So this tutorial post will be all about how you can enable and configure multiple form notifications using WordPress forms.
Importance Of Multiple Form Notifications
Well, when you are able to send multiple email notifications from a single form, this obviously means you get to save a lot of time and keep everything on time and check. With this automation process of multiple form notifications. you would no longer require your visitors to fill out multiple forms or pass forward the information yourself. This is indeed a very useful feature to keep things organized inside the company.
You can do a lot more with this feature of multiple form notifications, such as:
Sending "Thank You" message to a newly signed up user or any client that asked for support or reported a bug to the developer.
Emailing the invoice of the purchased receipt of the service or product.
Event booking or registration confirmation message.
Instant notification to the person that filled out the form as well as to any colleagues.
and some more essential notification messages via email.
So now let's get on with the steps to follow in order to enable all these above features.
Step By Step Process Of Form Notification Configuration
It is really easy and simple to enable multiple forms notifications when you have weForms installed in your WordPress, so therefore the first step of getting this done requires you to install and activate weForms. And here are detailed steps below for installing/activating weForms and configuring the form notifications setup.
Step 1: Installing & activating weForms
In order to install weForms, like installing any other WordPress plugin, you will need to go to the dashboard and click on the plugin tab to add a new plugin. Search for weForms from the search bar there. And follow the rest of the steps from the video below.
Step 2: Setting up form notifications using weForms
Once you have a form saved, you will simply require to get to the Notification tab of the form to enable the multiple form notification.

Toggle on the round button beside the admin notification to enable the notification for customization.
Adding Multiple Form Notifications

To enable form notification for multiple users, you can easily duplicate the default admin notification panel by clicking on the duplicate button and customize it according to your requirements.

Here is an example of multiple form notification for two different user group 'Admin Notification' & 'User Notification'
Customize Multiple Form Notifications
Now when you press on the tab of Admin Notification, you get to customize the available notification customization options.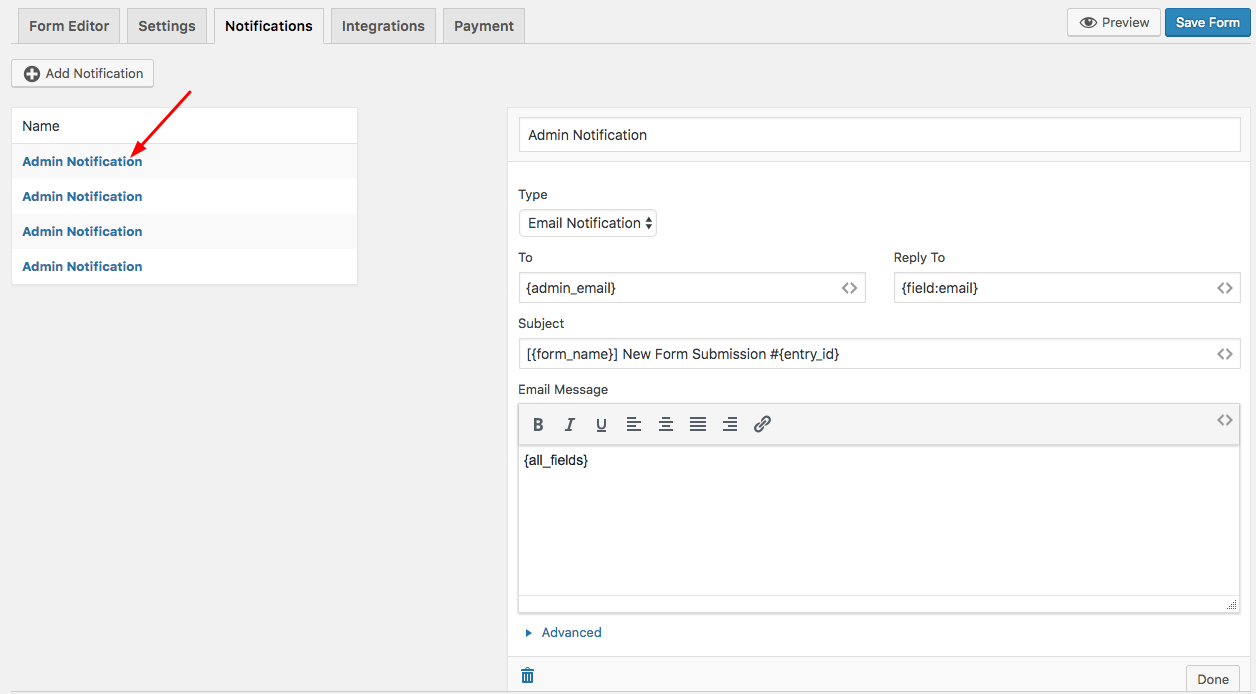 You can customize any notification form by updating its email notification type, email address, email subject, email message.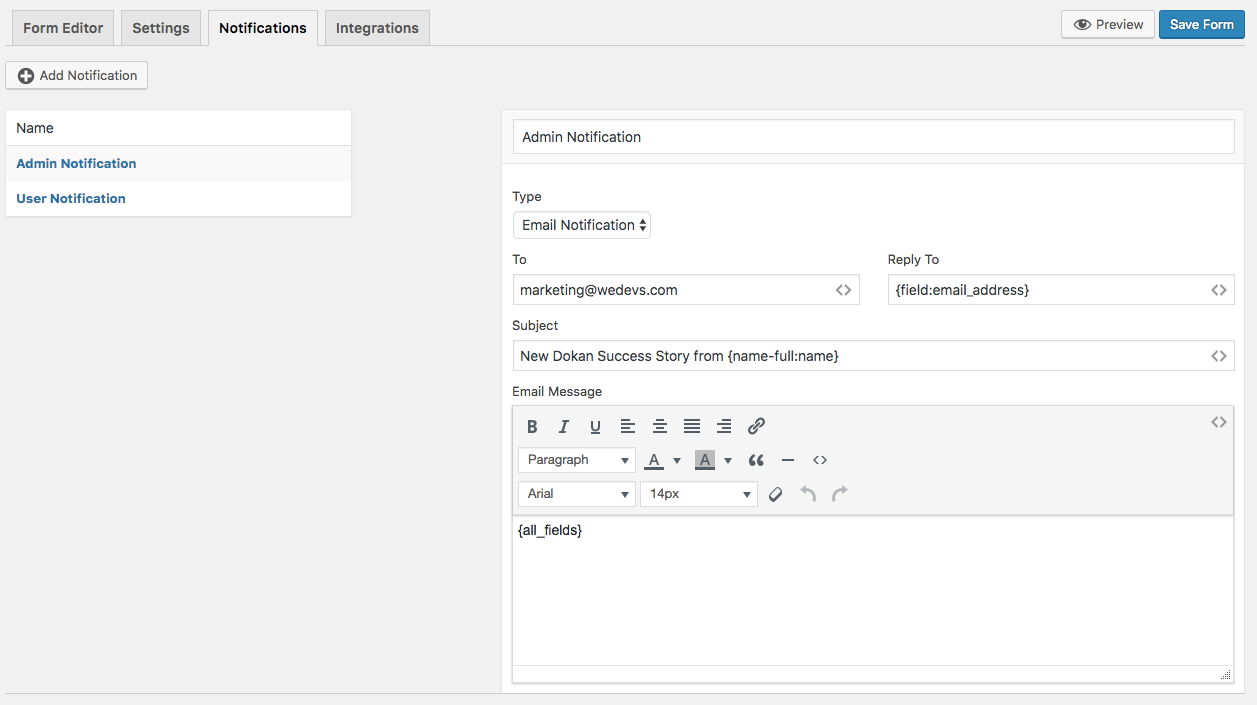 Above is the sample of one of the edited & updated form notifications for admin.
Advanced settings of multiple form notifications
For multiple form notifications, there is also an advanced settings option. You can update the advanced settings for the form from here.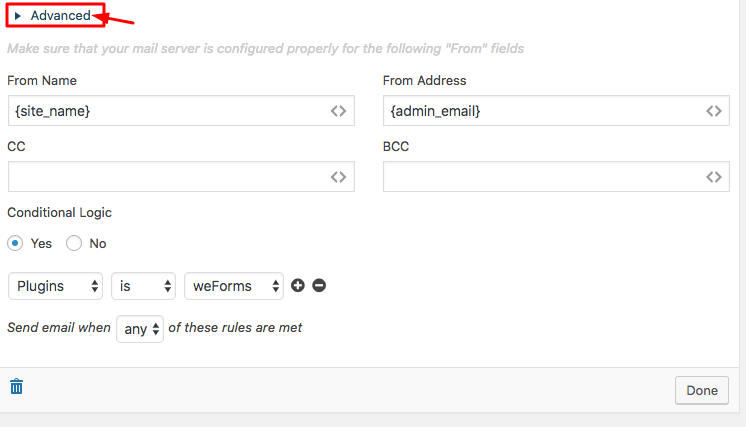 The advanced settings also have the conditional logic feature that based on certain conditions met will perform different actions. In this case, an email notification will only be sent when the plugin is weForms.
Once you update all the form customization options simply click on Done.
Automate The Form Notifications Process Your Way
So there you go, now you have configured and automated the form notification feature of your WordPress form builder weForms. We hope this post has helped you with the idea of setting up your multiple form notification in your WordPress.
If you are still confused about adding the email notifications then check out this detailed documentation here.
And if you are still not a user of weForms, then you may want to check out its awesome features from the link below.
If you have any queries or suggestions related to weForms or any of our products then feel free to let us know in the comments below.