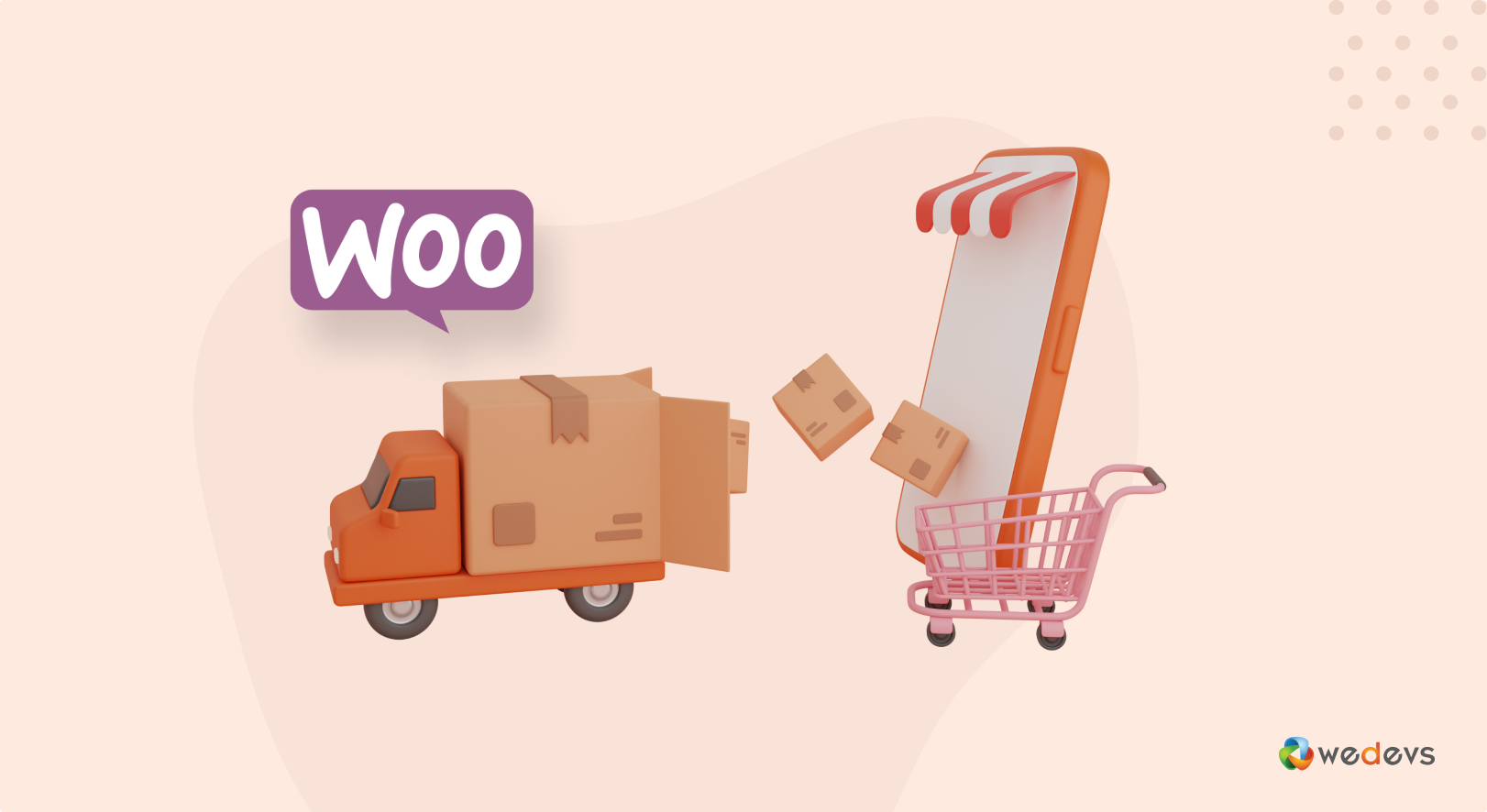 WooCommerce Shipping Plugins For Dokan Multivendor Marketplace [Updated]
Shipping is one of the essential factors in completing an order from a WooCoomerce e-store. It is the free shipping that attracts the customer the most. In many cases, the price attached to the shipping deal affects the decision of the customer buying that product. If the cost of shipping is higher then it normally discourages a customer to get that product from that particular site.
So, therefore, every site requires a firm and convenient shipping policy. And to maintain that policy, you need to have a comprehensive WooCommerce shipping plugin that would effectively deal with your shipping regularities better. This would make the customer come to your site over and over again.
Don't you want to improve the WooCommerce shipping service of your e-store?
The answer should be easy right? So here are some of the most efficient WooCommerce shipping plugins for Dokan that can effectively enhance the shipping service.
1. Table Rate Shipping Method for WooCommerce
Table Rate Shipping Method for WooCommerce is a highly useful plugin for eCommerce websites built on WooCommerce. It provides advanced shipping options and flexibility, allowing store owners to set up complex shipping rules based on various factors such as destination, weight, quantity, or price.
This plugin is particularly beneficial for businesses that deal with diverse shipping scenarios and want to offer customized shipping rates to their customers.
How It Works
The Table Rate Shipping Method plugin extends the default shipping functionality of WooCommerce by introducing a table-based approach. It enables you to create a matrix of shipping rules and corresponding rates based on specific conditions.
You can define these conditions using a combination of variables such as destination, weight, quantity, price range, and more.
Once installed and activated, the plugin integrates seamlessly into the WooCommerce settings. It adds a new shipping method option called "Table Rate," which can be configured according to your specific shipping requirements. You can create multiple tables with different rules, and each table can have its own set of conditions and rates.
Some Exclusive Features
Advanced shipping rules
Custom rates for different shipping scenarios
Supports multi-dimensional shipping matrices
Allows you to apply conditional logic to the shipping rules
User-friendly interface for easy setup and management
Whether you need tiered pricing, international shipping rates, or complex shipping matrices, this plugin provides the necessary tools to handle your shipping requirements effectively.
Check this article to explore how to optimize your WooCommerce marketplace shipping capabilities using table rate shipping.
2. Advanced Shipment Tracking for WooCommerce
Advanced Shipment Tracking for WooCommerce is a powerful tool that enhances the shipment tracking experience for both store owners and customers. It simplifies the process of tracking shipments and keeps customers informed throughout the delivery journey. This plugin has seamless integration with many popular shipping carriers and provides centralized tracking management within WooCommerce.
By using its customization options and multi-carrier support you can optimize your shipping operations and improve customer experience on your online store as well as marketplace.
How It Works
The plugin supports an intuitive interface for managing shipment tracking. Once installed and activated, it adds a dedicated section to the WooCommerce settings, allowing you to configure and customize various aspects of shipment tracking.
The plugin supports integration with popular shipping carriers, such as UPS, FedEx, USPS, DHL, and more. You can connect your WooCommerce store with the desired carriers by providing the necessary API credentials or account details.
When processing an order, you can input the tracking details directly into the WooCommerce order management system. This includes the carrier name, tracking number, shipping date, and any additional notes or comments.
Once the tracking information is added, the plugin generates a tracking link that can be sent to customers via email notifications or made available on the order details page. Customers can then click on the link to track their shipments in real-time, directly from your website.
Some Exclusive Features
Centralized shipment tracking system
Email notifications to share shipping status
Options for tracking page optimization
Supports tracking analytics and reporting
Shipments tracking from multiple carriers.
Advanced Shipment Tracking for WooCommerce gives you the flexibility to customize the tracking page layout, colors & fonts, and add custom order status messages. Thereby, it will provide personalized tracking updates.
3. WooCommerce Weight-Based Shipping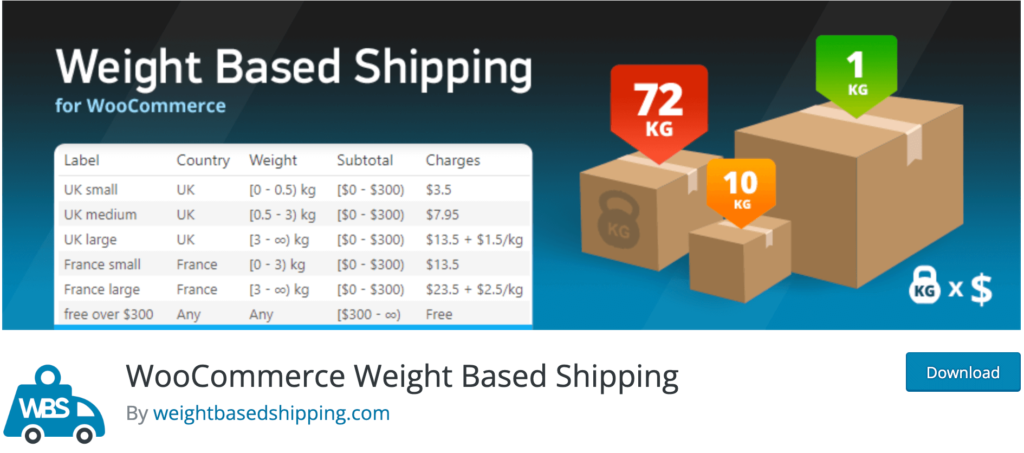 The WooCommerce Weight-Based Shipping plugin is a valuable tool for eCommerce businesses powered by WooCommerce. The plugin seamlessly integrates into WooCommerce and extends its shipping functionality by introducing weight-based shipping rules. It offers flexible and accurate shipping rates based on the weight of products.
This plugin allows store owners to set up weight-based shipping rules. It enables them to provide more precise shipping calculations and accommodate different shipping scenarios.
How It Works
After installing and activating the plugin, you can access its settings within the WooCommerce dashboard. You can define weight ranges and corresponding shipping rates based on your specific requirements.
The plugin allows you to create multiple weight-based shipping rules. Each rule consists of a weight range and the associated shipping rate. For example, you can set up a rule where orders weighing 0-5 lbs have a shipping cost of $10, and orders weighing 5-10 lbs have a shipping cost of $15.
Moreover, you can prioritize the order in which the shipping rules are applied. This flexibility allows you to define specific rules for different weight ranges and ensure the correct shipping rate is calculated for each order.
The plugin provides the option to add additional conditions to the weight-based rules. You can include factors like destination, product dimensions, or order subtotal to further refine the shipping calculations.
It also works seamlessly with the existing shipping methods in WooCommerce, such as flat rate or free shipping. You can combine weight-based rules with other shipping methods to offer customers a variety of options during checkout.
Some Exclusive Features
Weight-based shipping rules for accurate rate calculations
Multiple shipping rules for different weight ranges
Calculation prioritization for accurate rate application
Additional conditions for refined shipping calculations
Compatibility with existing WooCommerce shipping methods.
This plugin is particularly useful for businesses that sell products with varying weights and want to offer transparent shipping options to their customers.
Key Features to Consider When Choosing a WooCommerce Shipping Plugin
When selecting a WooCommerce shipping plugin for your eCommerce business, it's important to consider the key features that will best meet your needs. Here are some features to look out for:
Integration with major shipping carriers: Ensure that the plugin integrates with popular shipping carriers such as UPS, FedEx, and USPS, so you can easily generate labels and provide real-time shipping rates to your customers.
Automation: Look for plugins that offer automated features such as label generation, tracking updates, and shipping rules. Automation can save you time and reduce the chances of errors.
Customization options: Consider plugins that allow you to set up shipping rules based on specific criteria, offer personalized shipping options, and set dynamic shipping rates.
Support and documentation: Choose a plugin that provides comprehensive support and documentation, so you can easily set up and troubleshoot any issues that may arise.
Cost-effectiveness: Evaluate the pricing structure of the plugin and consider the overall value it provides in terms of features, integrations, and support.
By carefully evaluating these key features, you can choose the right WooCommerce shipping plugin that aligns with your business goals and enhances your shipping strategy.
Read More: A Guide To Multi Vendor Shipping With Dokan.
Observations
If you are selling physical goods then shipping is one of the necessities in your business plan. Keeping the cost of shipping at a reasonable range would boost your conversion for sure.
Not just that it would also change the perception of your e-store if you momentarily take off the burden of shipping costs from customers. It will increase the number of orders from your e-shop.
Check this article to easily set up WooCommerce shipping on your multiVendor marketplace.
Concluding Words on WooCommerce Shipping Plugins
If you are using WooCommerce with Dokan then you will find this post useful. Our sole intention in this write-up was to inform you about the necessity and use case of a powerful shipping plugin for Dokan to improve your WooCommerce website performance.
So we hope you have enjoyed this post and found the use case of these valid WooCoommece shipping plugins for Dokan useful in some way.
And if you are using WordPress and thinking about starting up a multivendor store on your own, then you may want to –
Do leave a comment if you have any queries regarding these shipping plugins for Dokan. We would be more than happy to assist you in any way possible.