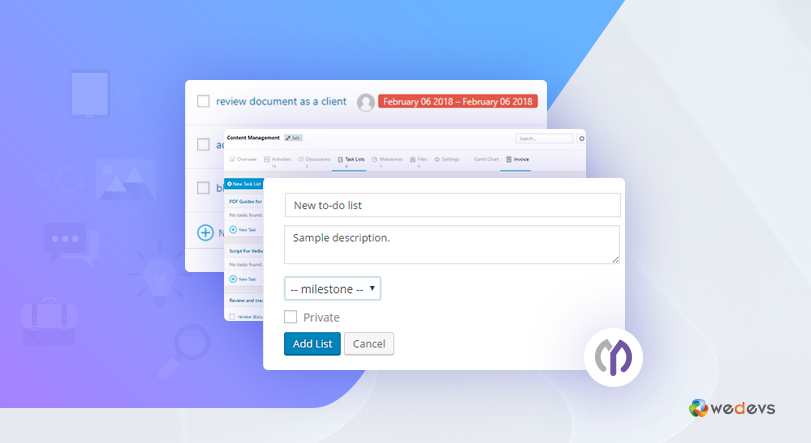 Improve Your Project Management Using Task Lists Within WordPress
Each day we find new ways to use WordPress in our lives. A complete project manager inside WordPress website for your day to day organizational life is one of them.
Keeping all of this in mind, WP Project Manager gives you the best experience when it comes to this.
It is a free plugin that is available to download from the WordPress plugin store. It helps to organize any project that you currently have or any future prospect in a more streamlined manner.
Today you will learn how you can create a simple yet very effective to-do list for achieving your project goals using WP Project Manager plugin.
Why Use A WordPress Project Plugin Anyway?
Who doesn't like convenience!
A simple project management tool that you can use from anywhere. That's the beauty of having WP Project Manager on your WordPress site. You can access it from anywhere around the globe, no matter where you are.
And no! You don't need to sacrifice any benefits while doing so.
In a simpler more general overview, WP Project Manager helps you to –
see a complete bird's eye view of how all your projects are going
create a project, assign tasks, add discussions and to-do lists right from one page
upload files to an individual project
create permission hierarchy for projects
add milestones that you need to achieve
and much more
See the feature page to
Learn More
Project Manager Combined With Task List
Even the greatest of project managers fall short when you try to create many projects without creating an individual task list. WP Project Manager doesn't fall into that trap.
One of the most key selling points for WP Project Manager is Task and Subtask list for each project that you start. You can
start a discussion inside task list
create subtasks(pro extension feature)
upload files directly to the task list
and more features to divide your projects to a more manageable state
How Do You Create A To-Do List For Your Project?
For a WordPress project management plugin, it doesn't get any simpler than this.
Just when you log-in to your dashboard you will be greeted with the overview of all your active projects.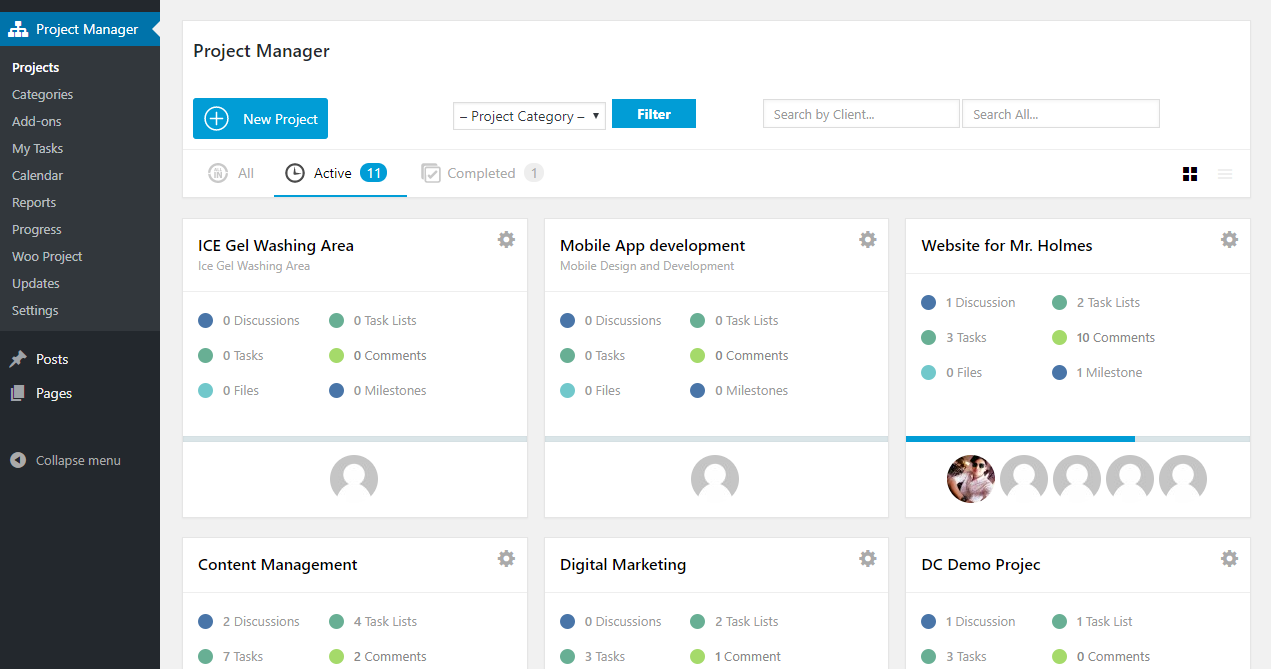 When you create a new project you will see multiple tabs of options to edit, like activities, discussions, tasks list, milestones, files, settings and more.


In the Task List tab, a New Task Button will appear.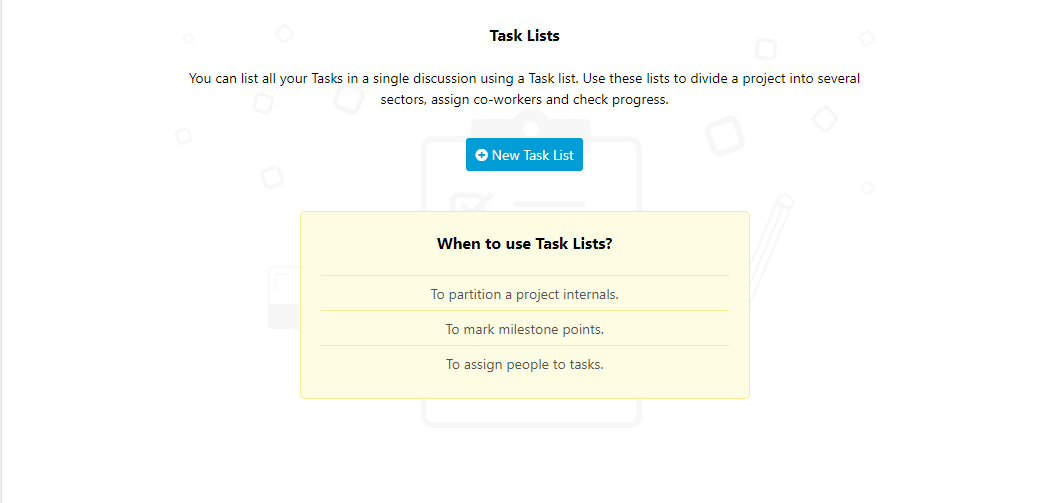 You can set a task name, details for that task, set that task to be connected to a milestone. You can even set the task to be private so that people who have permission can only see it.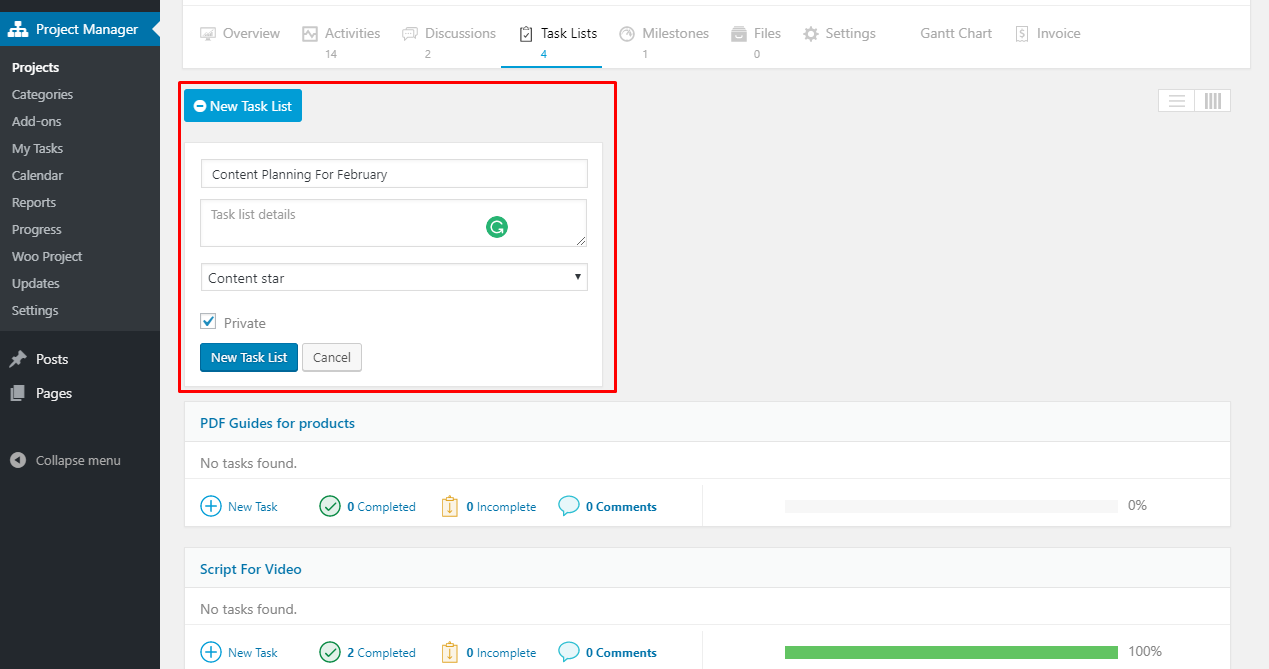 After creating a task it will be shown on the list. On each task, you can –
create a subtask list
get a number of how many subtasks have been completed for that task
incomplete number of subtask
number of overall comments that have been made inside that task
the due date for each subtask
number of comments for each subtask
Subtasks make managing your task a lot easier. You can use it divide a long task into multiple small subtasks. It is a premium extension of WP Project Manager that provides a lot more than you are paying for.
Check Out Sub Task
In the subtask section, you can re-arrange the list by dragging & dropping it any way you like.
When you click on the task you will see a more in-detailed information. You will see
Incomplete Tasks list
Completed Tasks list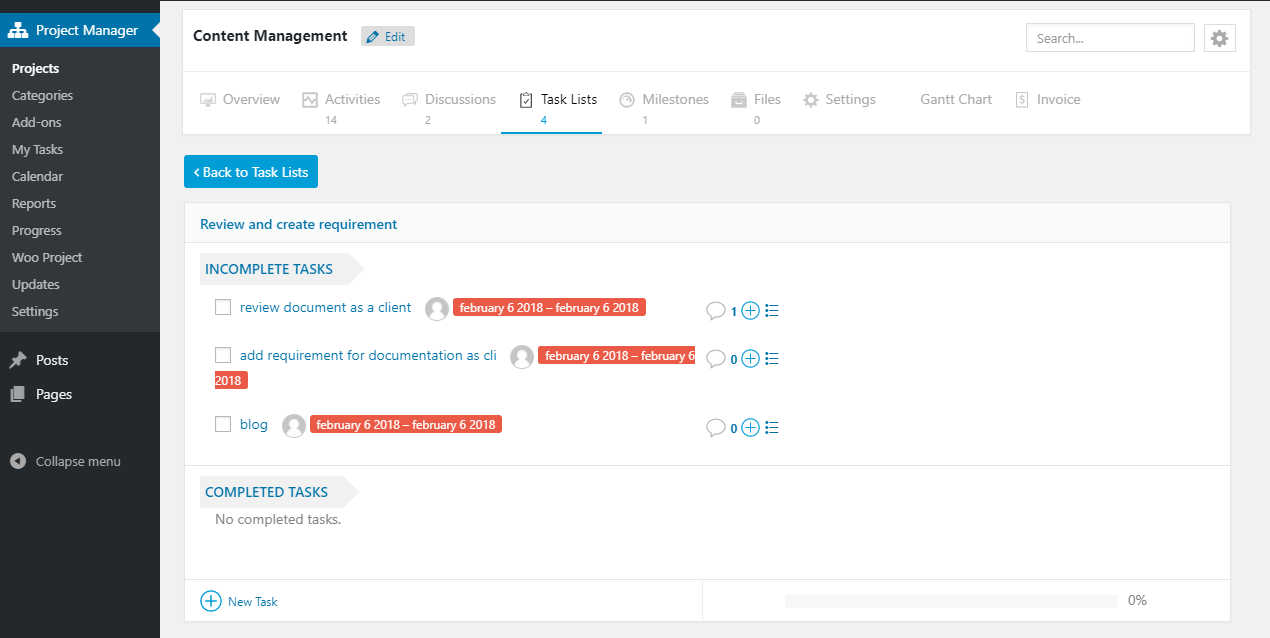 You can even open a discussion with your teammates right from the task list. There is even an option to notify someone individually or you can notify everyone.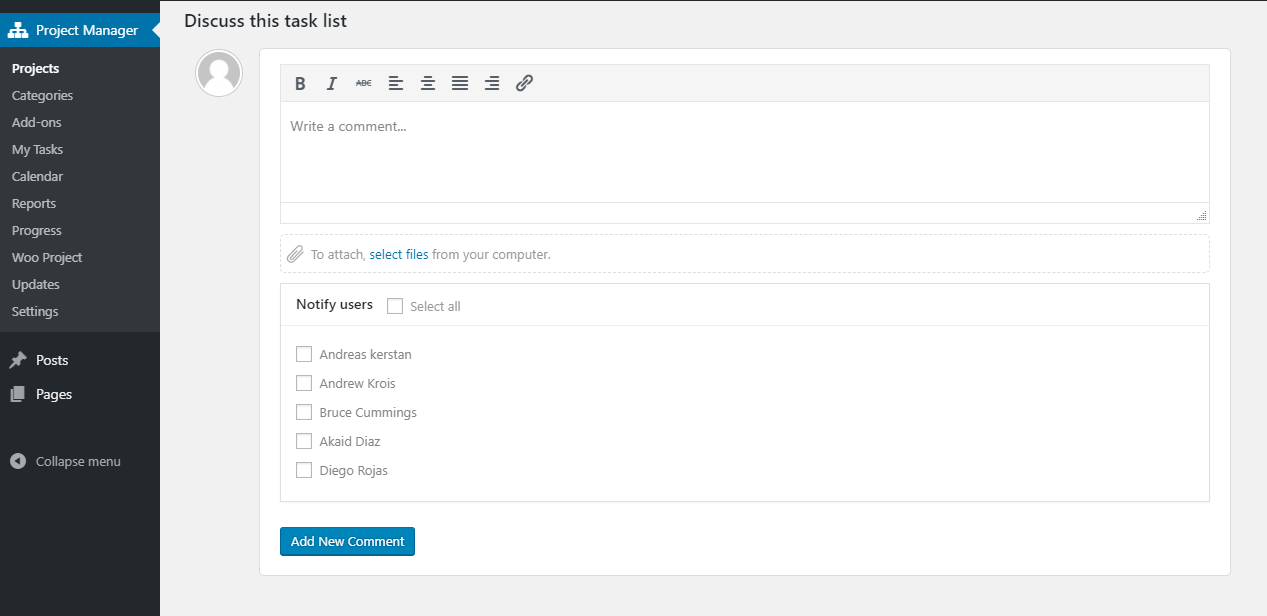 When you go into a subtask you can see it's due date, comment section, description for that subtask. A lock button will appear after the subtask name. You can choose to make the subtask private by clicking on it.
You can even attach a file for a subtask which will be available to everyone assigned for that task.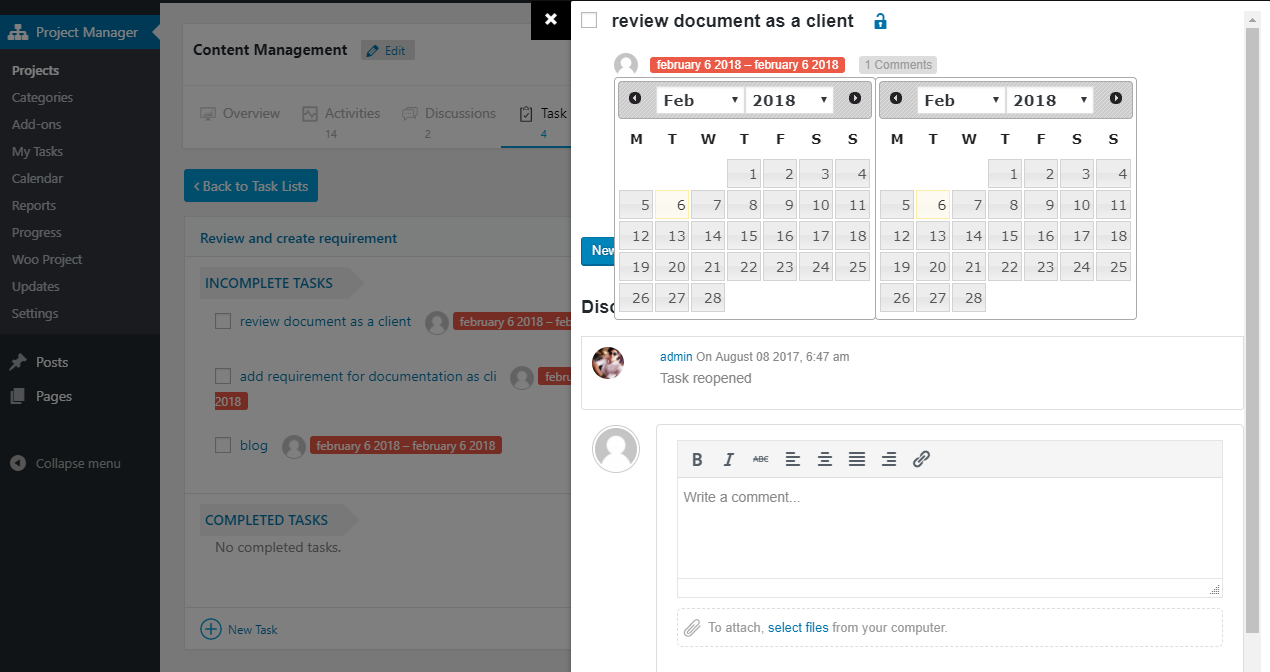 Interested To Learn More?
A Todo list is a great way to know what you need to do in achieving something long term. It helps you to keep in focus on what's important for growth. Also, you will find very few project manager inside WordPress that are as functional as this.
WP Project Manager gives you the best experience when it comes to achieving project milestones. Also, it is completely FREE to get started. Simply download it from the WordPress store and get started.
You can even get a hands-on experience form our official demo.