Drag and Drop Builder
With drag & drop builder it has become very easy to create post, registration or WooCommerce product forms. You can simply select a field, drag it to the builder and drop where you want it to be.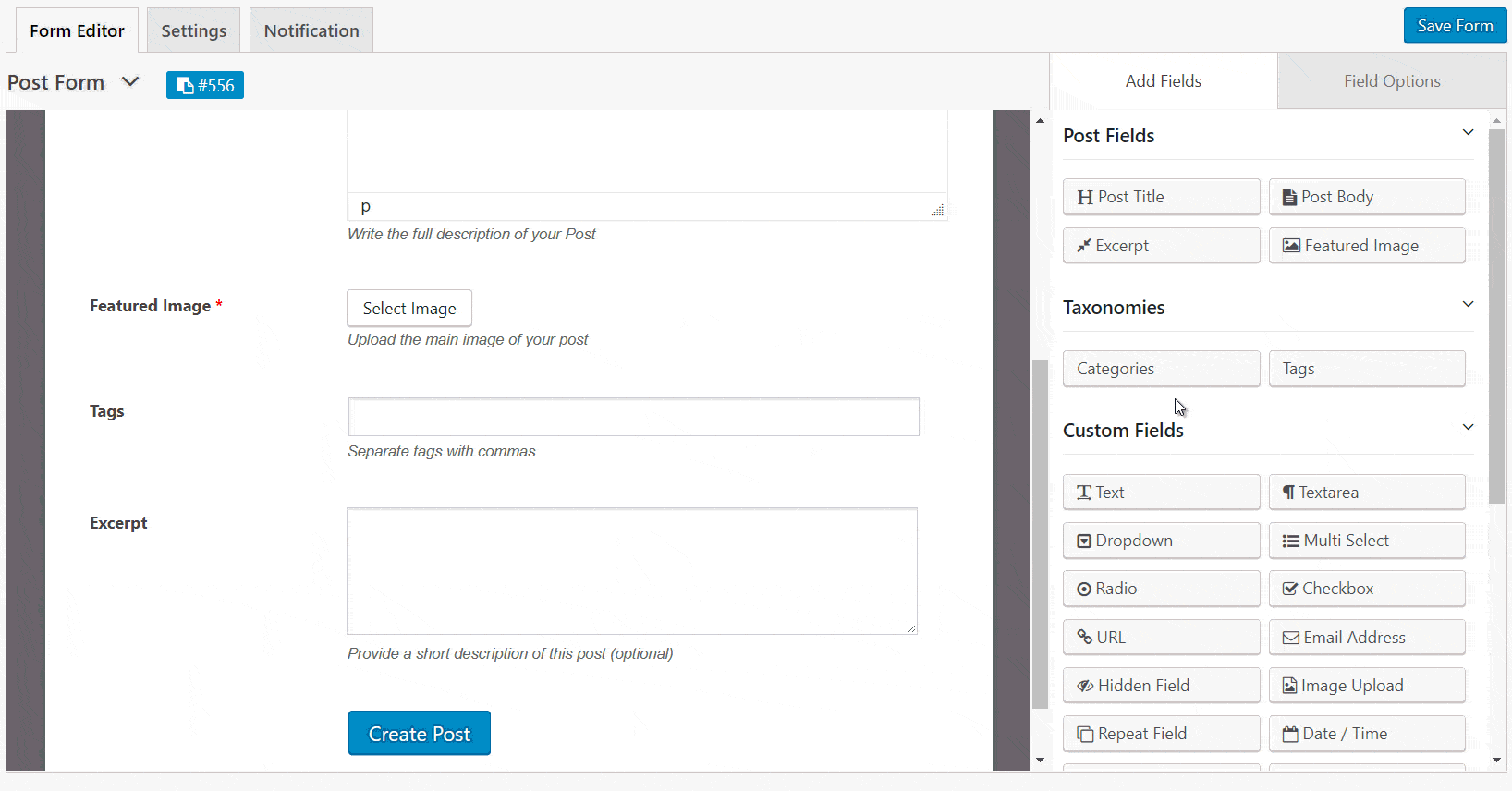 Live Preview
WP User Frontend Pro has live preview feature for all of its supported forms. You can create the custom form you want and edit it on go to view how it looks.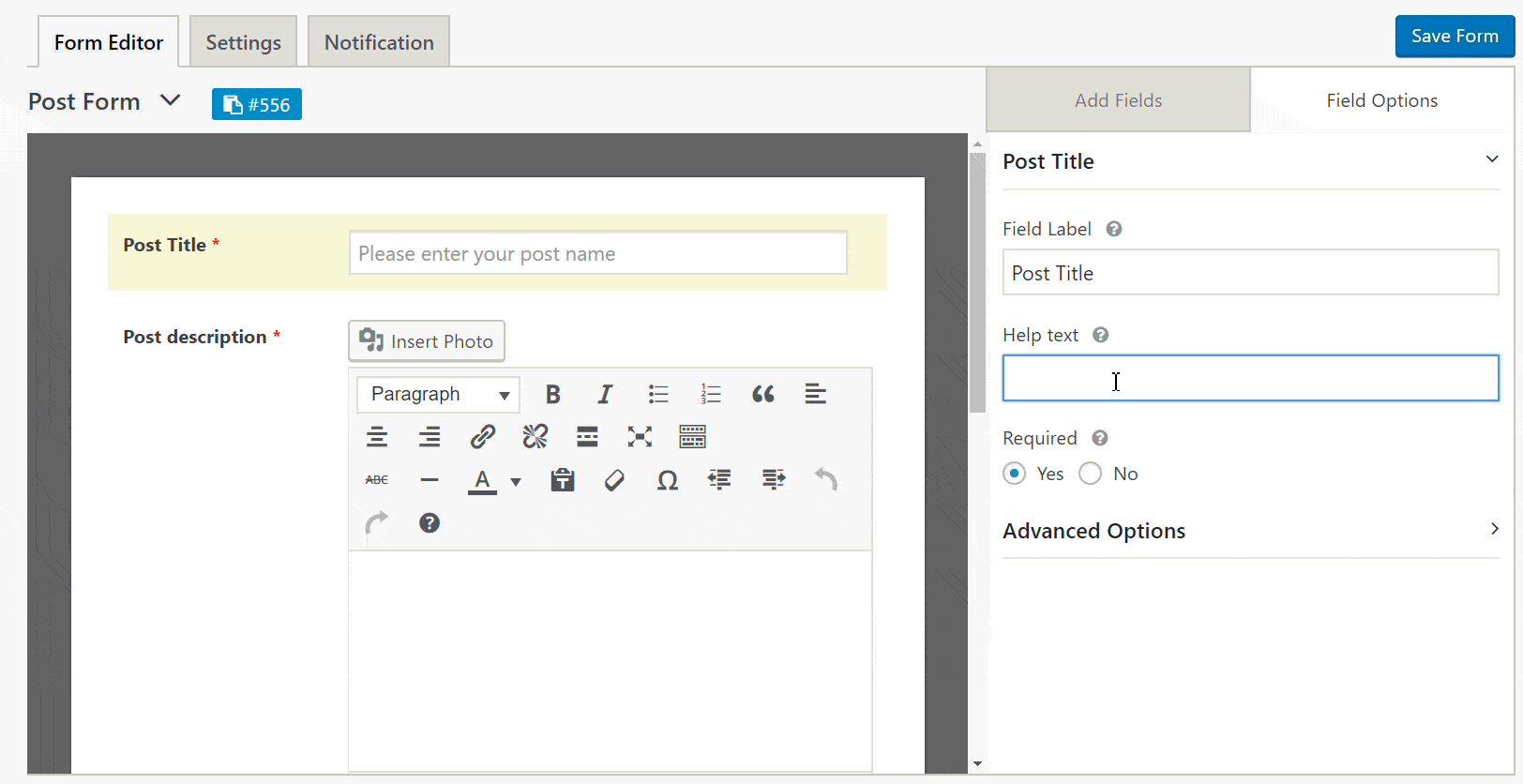 Custom Fields
Create as many custom fields your form needs. Choose your custom fields from our 17 predefined field types. WP User frontend can also capture the custom fields from other installed plugins as well!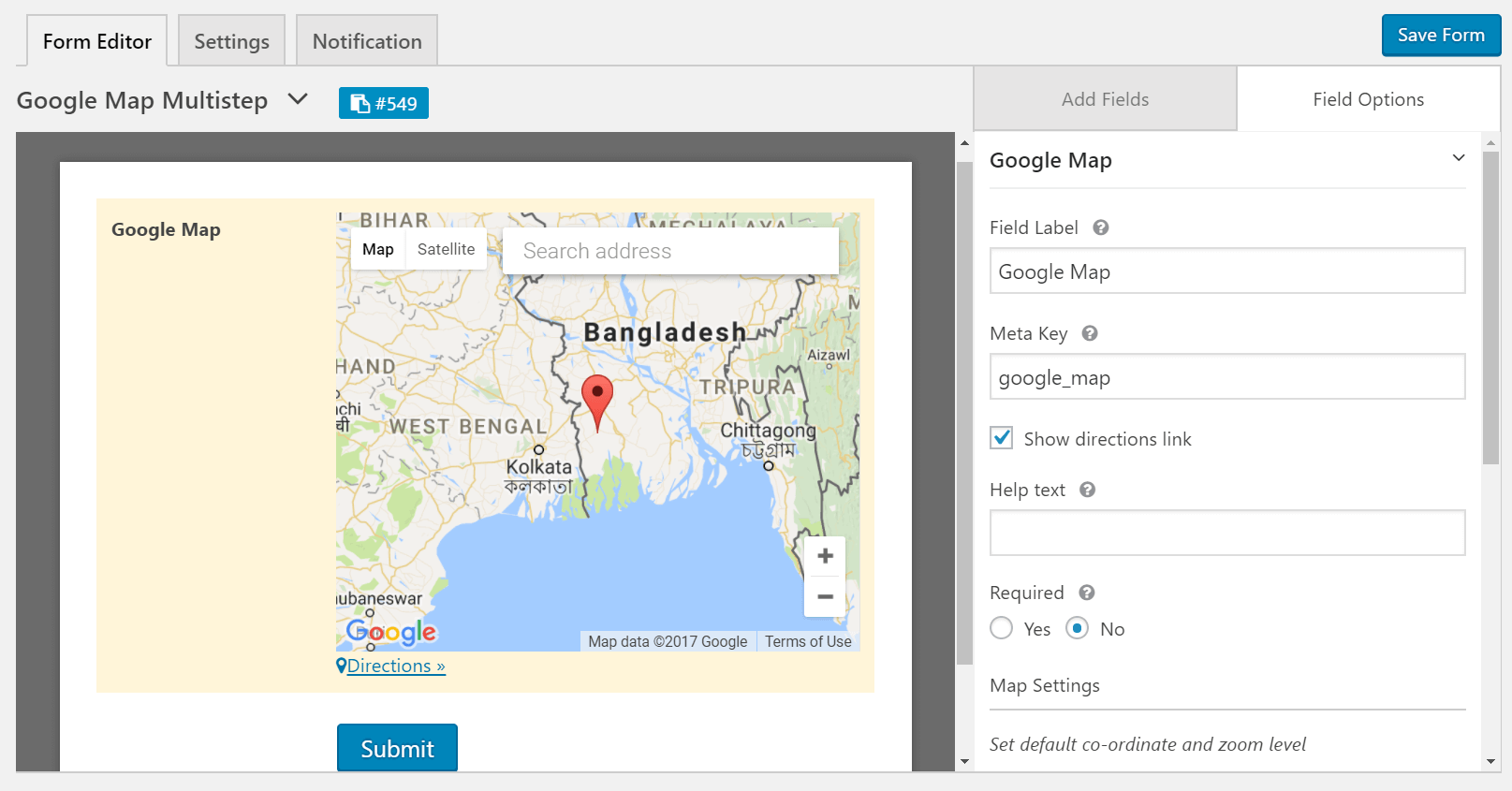 Custom Taxonomies
Add custom taxonomies to your form. Use them as drop-down, multi select or check-box list.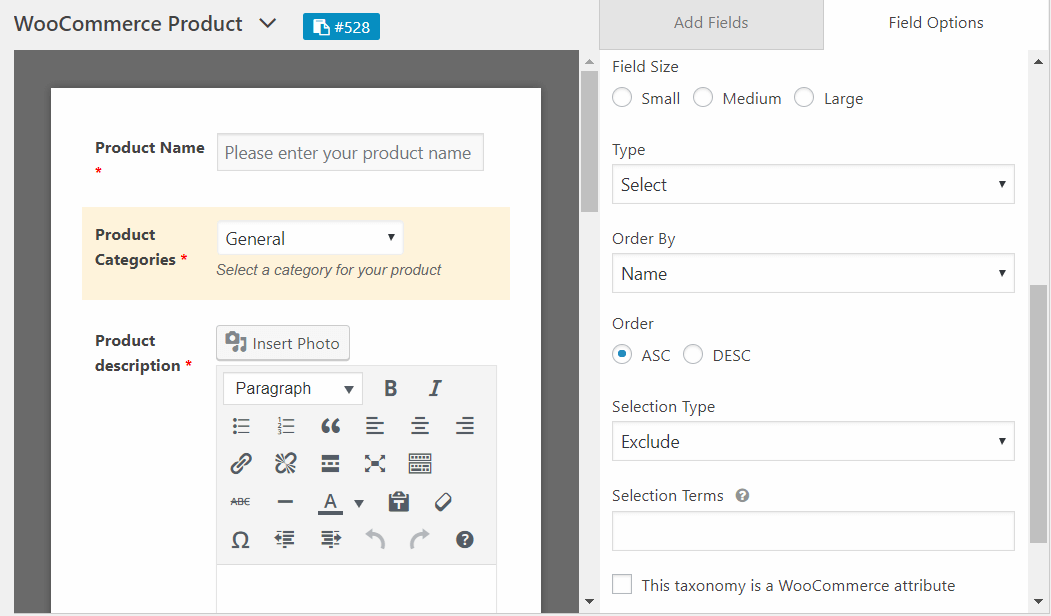 Custom Post Type Support
WP User Frontend supports custom post types. So, with it you can create any types of posts/pages/custom post types on the fly from the frontend.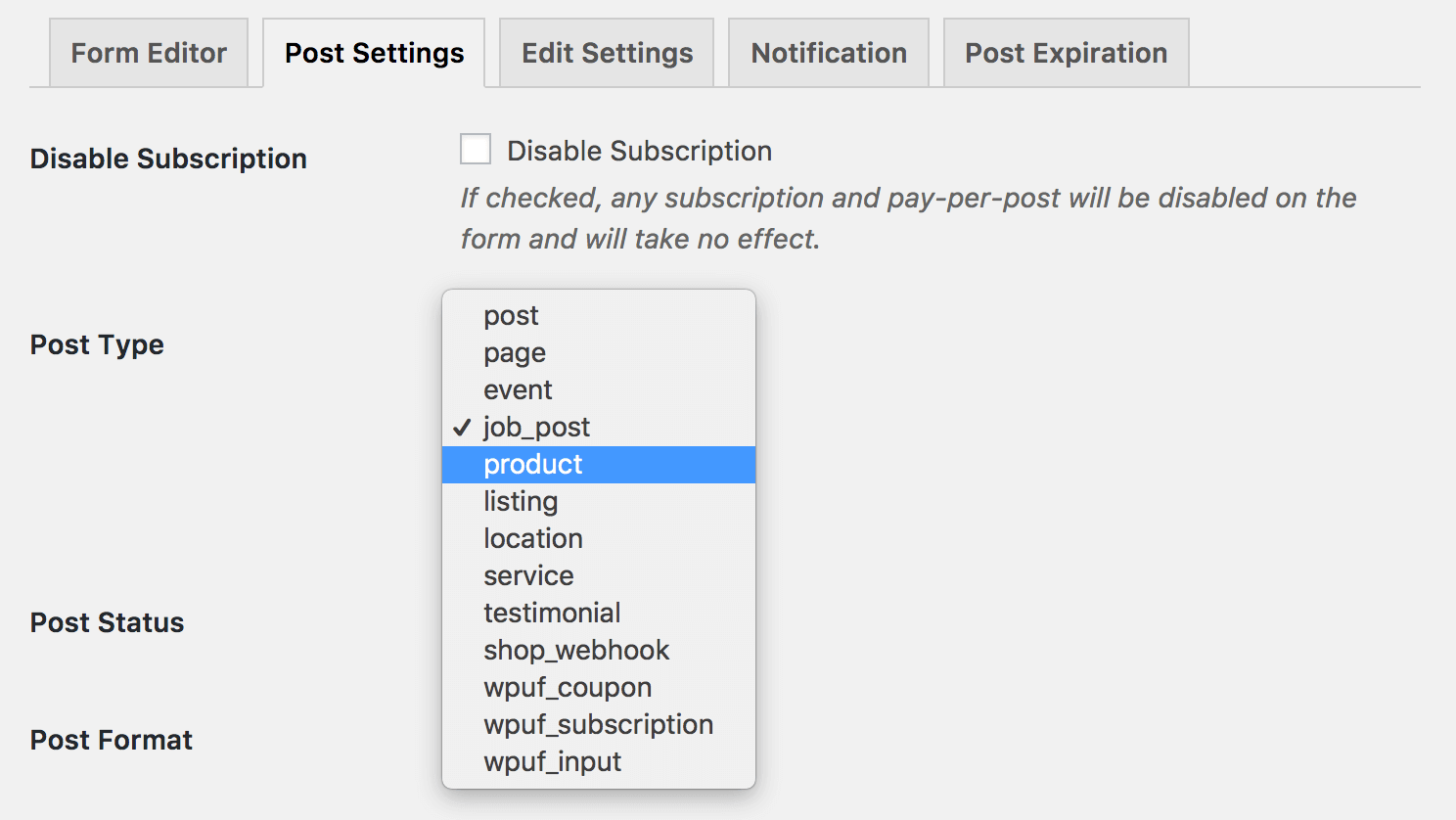 Unlimited Forms
Build unlimited forms. Create as many variations you want, customize them and unleash your creativity.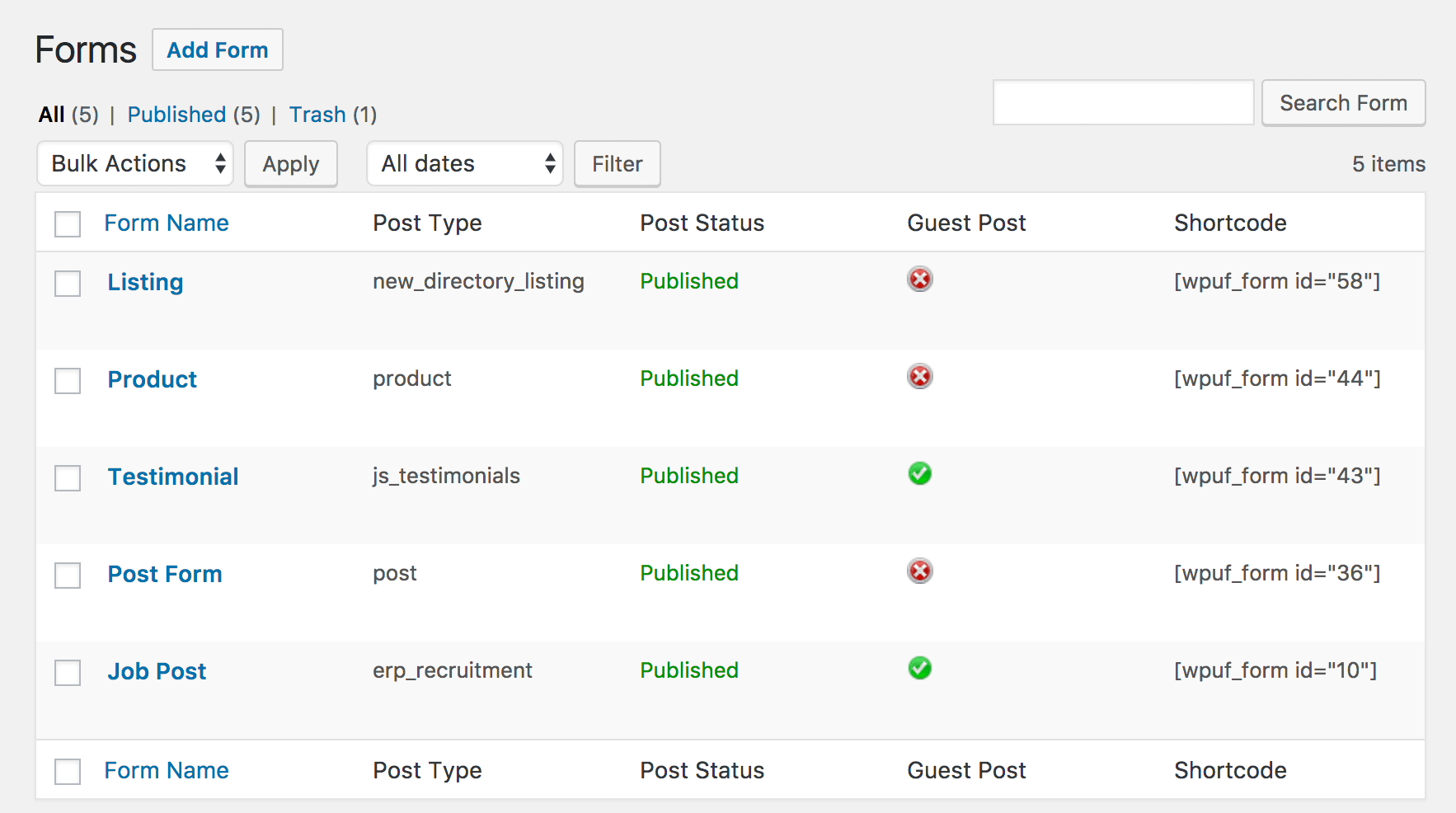 Guest Posting Support
With WP User Frontend, users can post on your site without needing to register. It can also be configured to auto register the guests by their provided name and email address.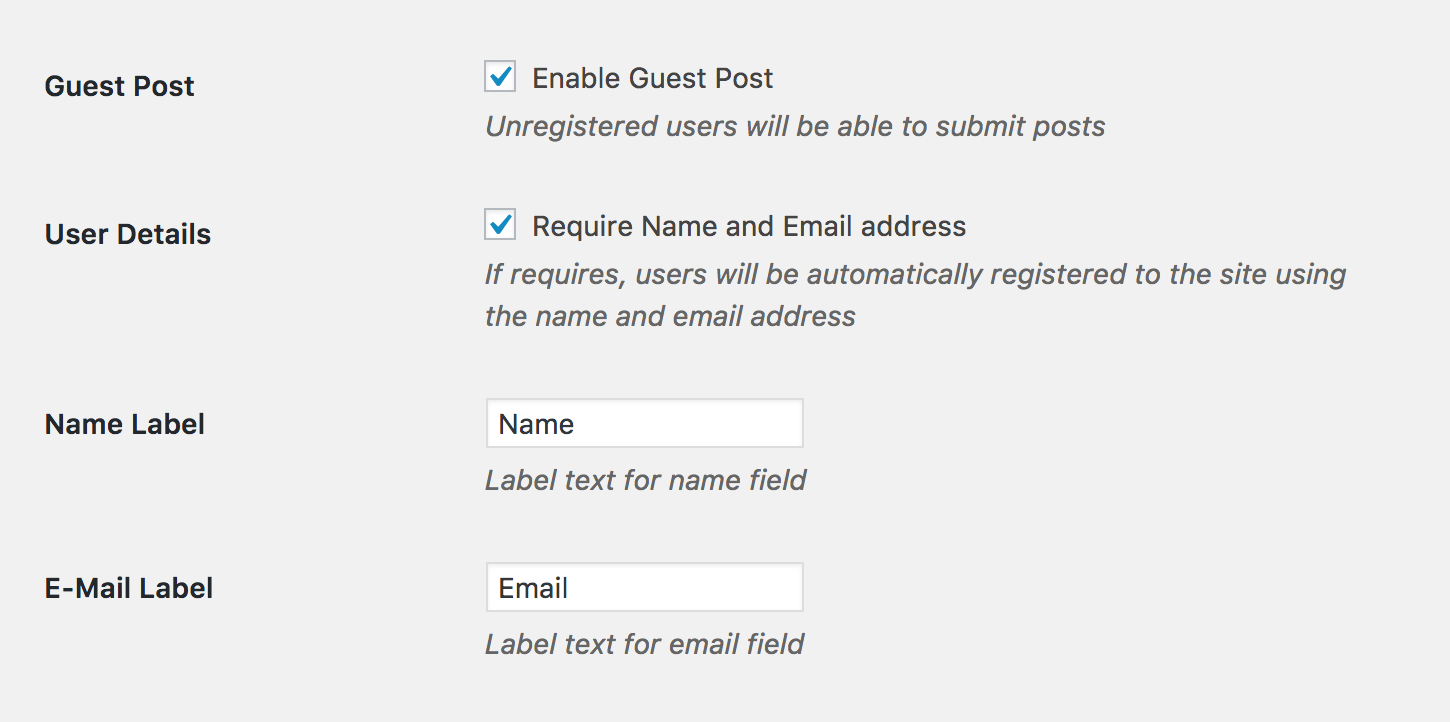 WooCommerce Support
Users can create products directly from the frontend using the WooCommerce supported frontend form.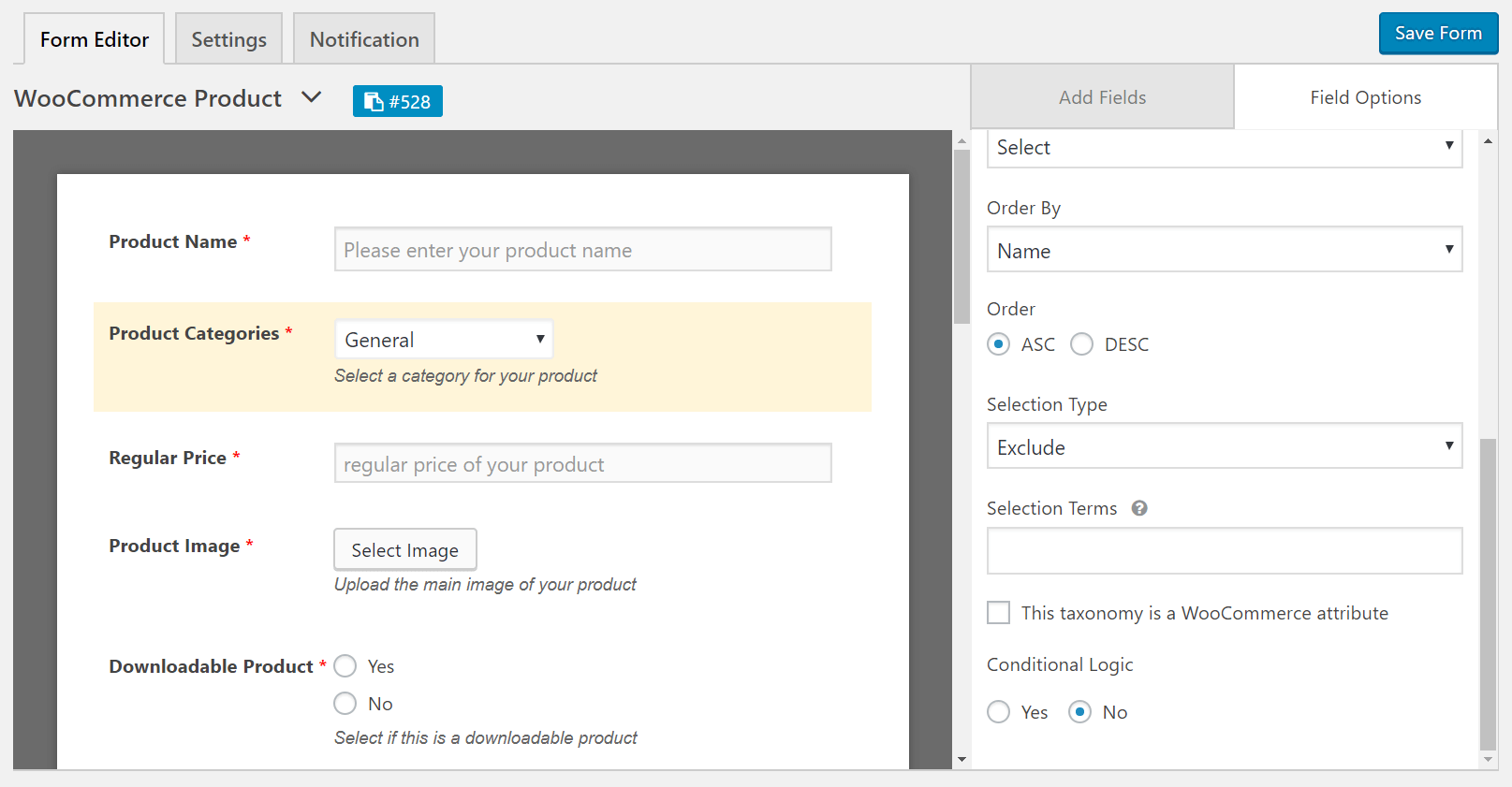 Custom Redirection
Use this to redirect users to a page, a custom page or show them a flash message after successful post submission.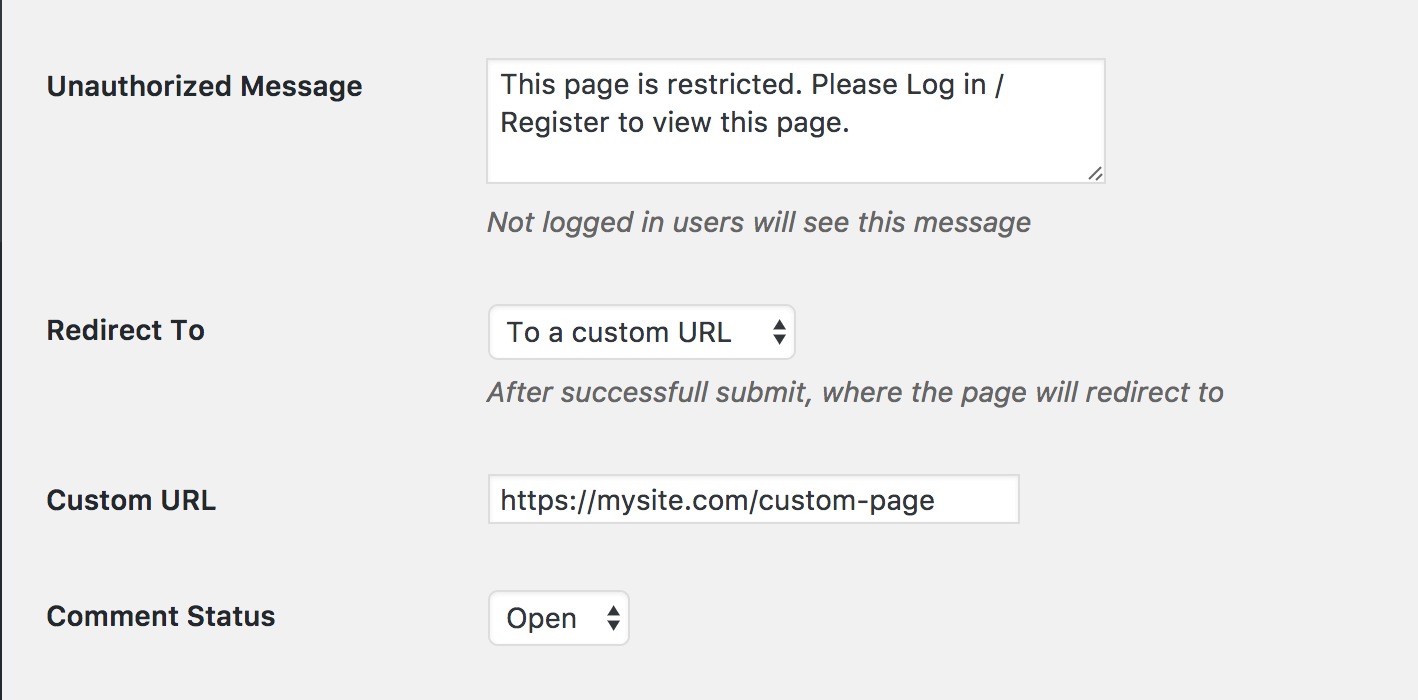 Image Submissions
Allow users to upload image into the post with file size and format restrictions. Excellent for use in normal posts or registration forms.
Set Default Post Status
When a post is submitted, you can directly publish the post or set it to pending for reviewing before publishing. Handy for maintaining quality of the published contents and blocking spammy posts.
New or Edit Post Notification
Get notified when a user submits a post, even be notified when edits are made. You can get all the post information in the mail without checking your site dashboard. Post title, content, excerpt, tags, category, any custom fields are supported in the mail. Awesome, right?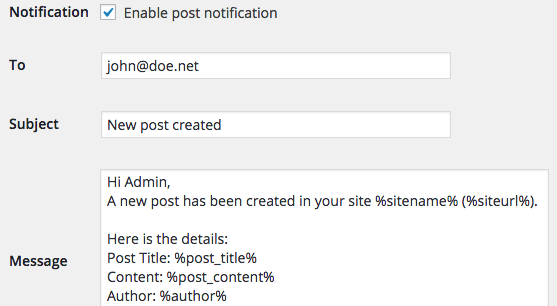 Action Hook Fields
What could be more awesome when you can insert a action_hook in any place of the form and render the content from outside of the plugin. Yes, I am talking to the programmer in you!

Post Expiration
Even if you are not using subscription packs, you can still expire posts from specific forms. Yes, this is great!
Custom Fields in Admin Area Too!
Did you thought you can only use the custom fields in the frontend? What happens when you want to edit the post from WordPress admin panel? Oh, don't worry, we got you covered. The same custom fields UI is also generated for the admin panel, so you could edit the same way you would in frontend.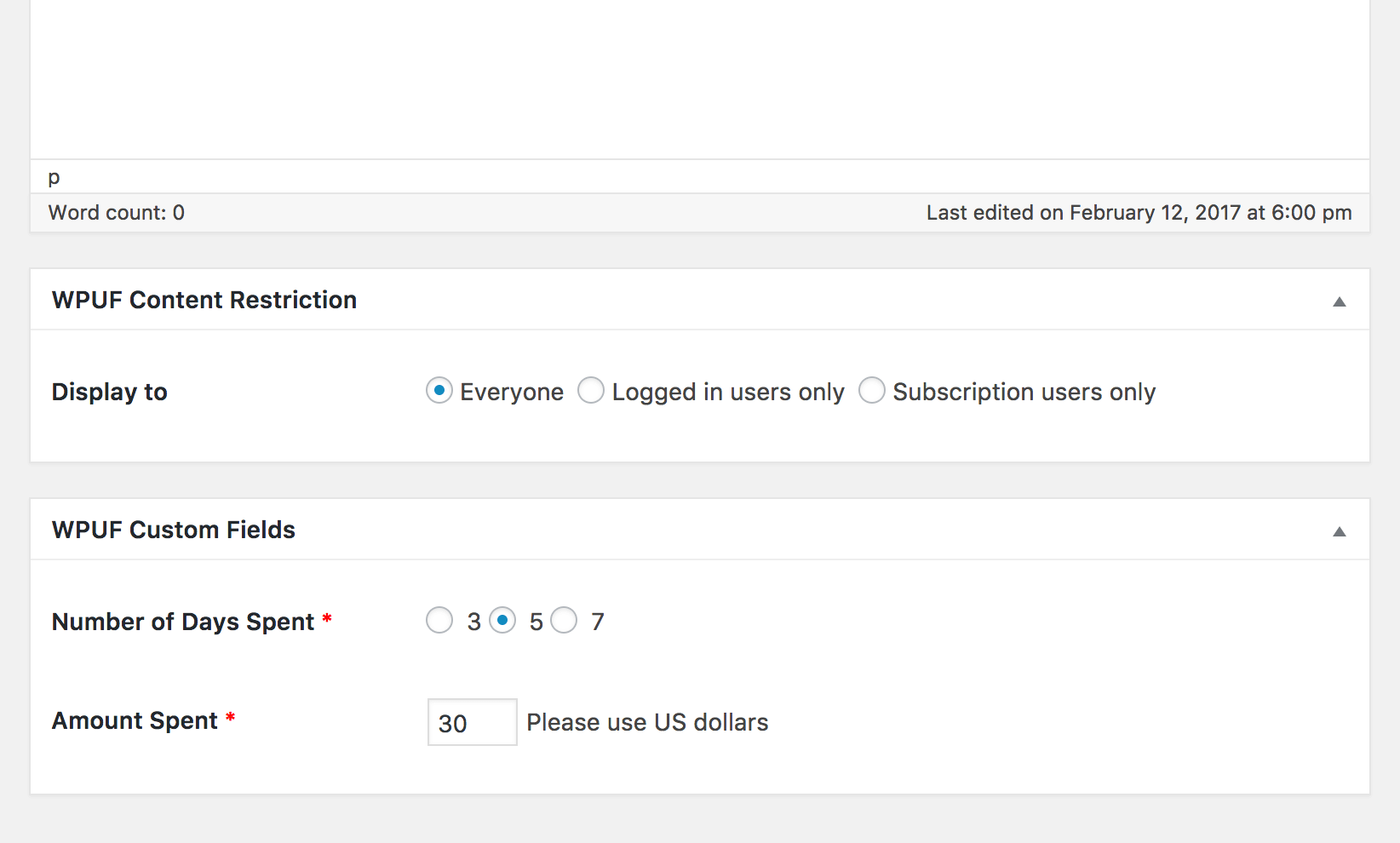 Registration Form Builder
Want to register your users with extra sets of informations? Add extra fields and elements to your registration form easily.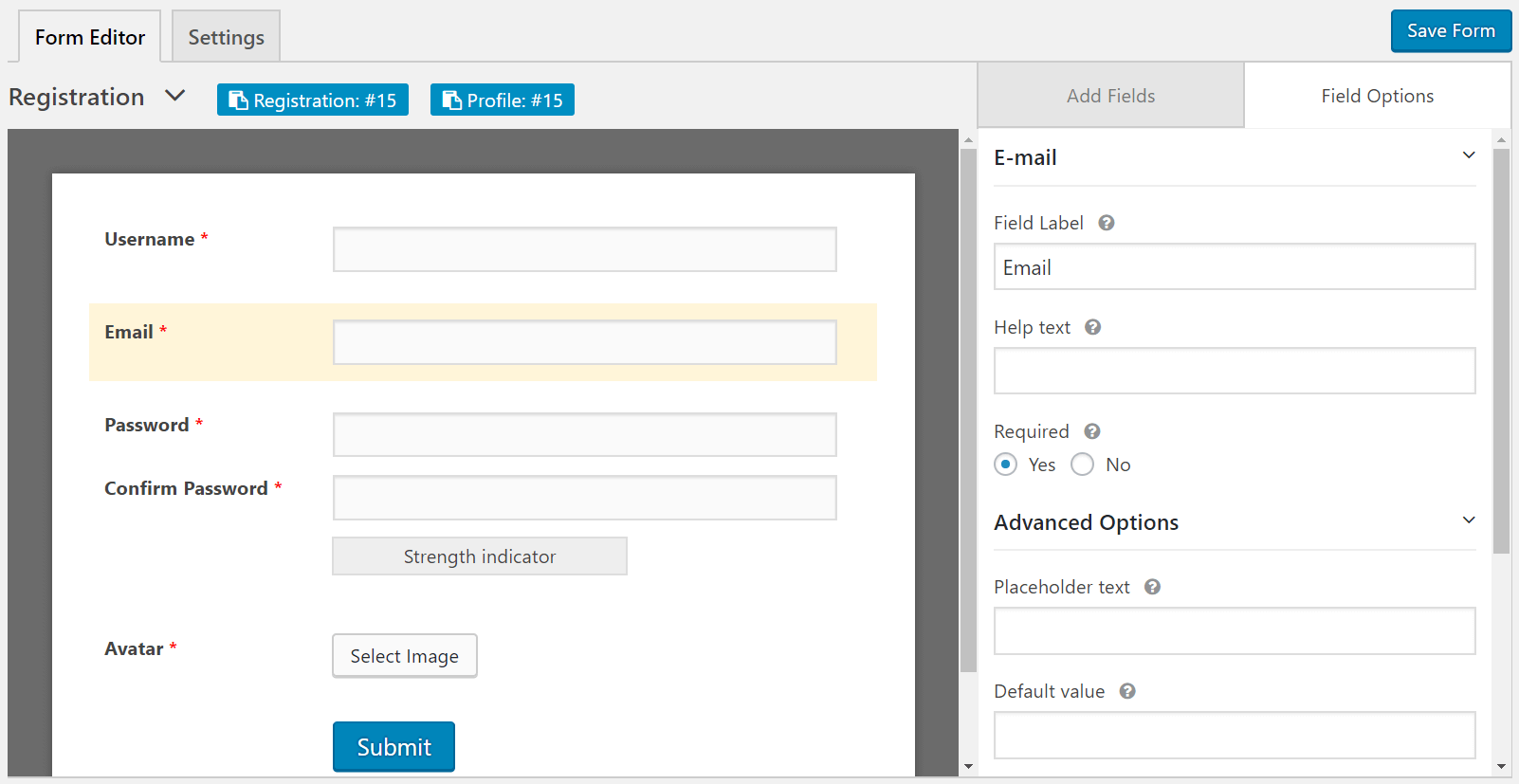 Assign Roles to Forms
Need to register users on your site with different roles? All forms come with different role settings, a life saver!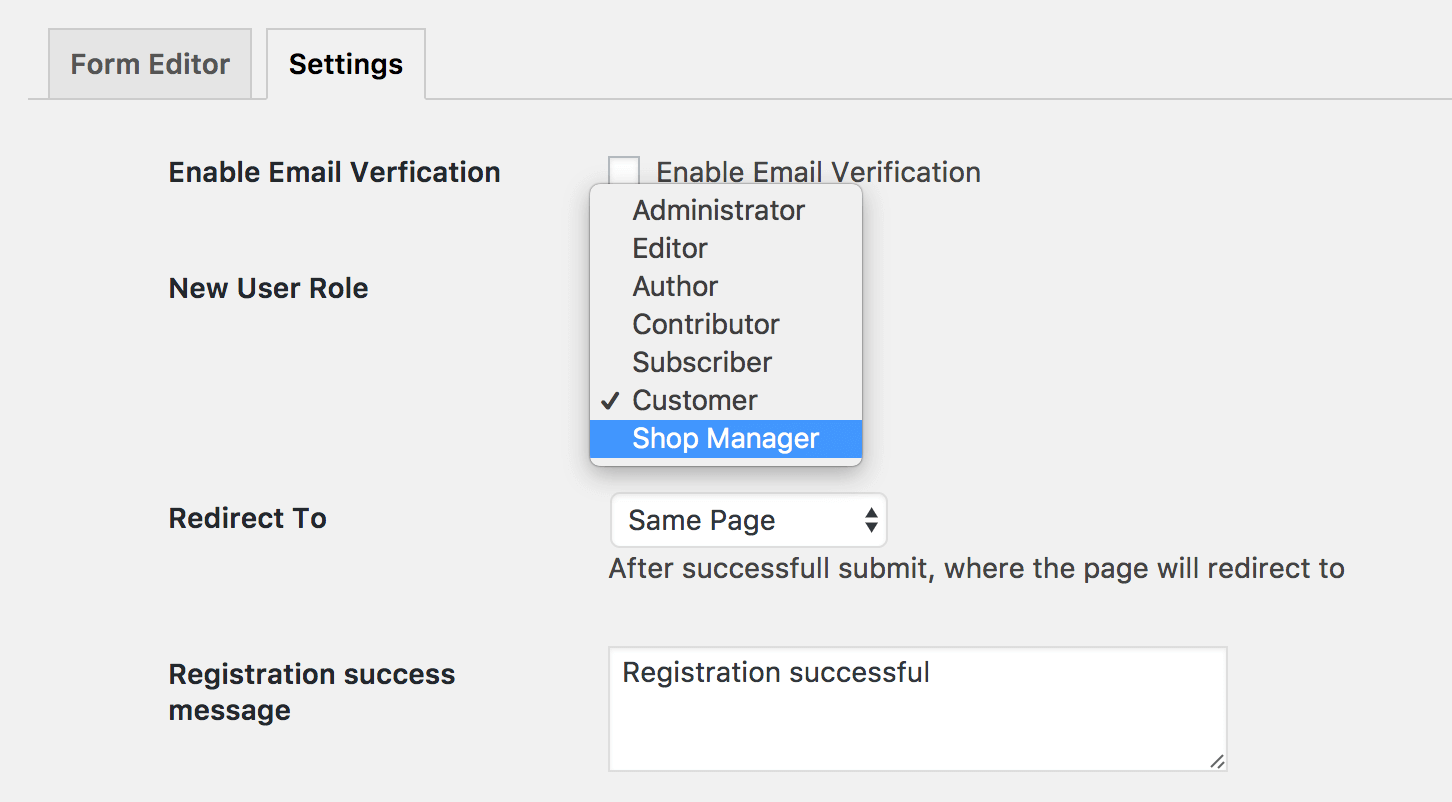 Captcha Support
Get rid of spammers with the most popular method, captcha! We currently support reCaptcha and Really Simple Captcha engines.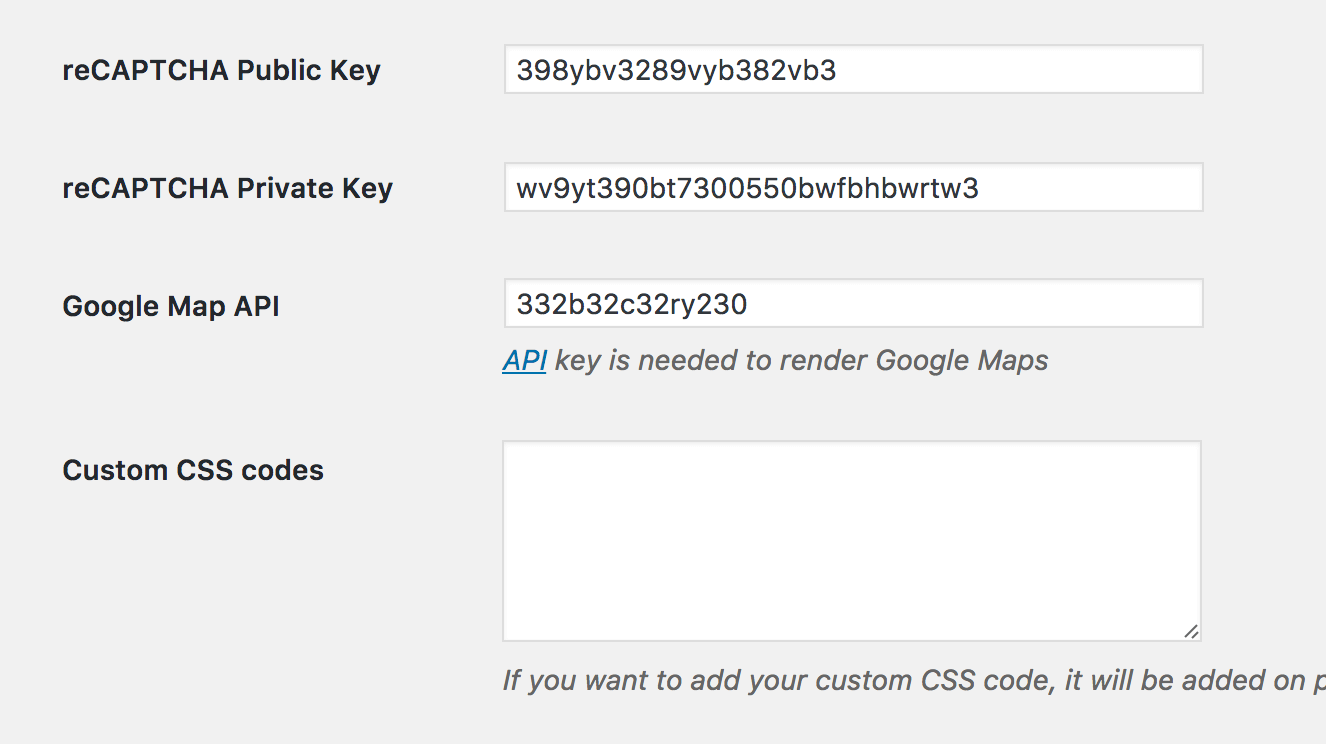 Post Listing
With a simple shortcode, all posts of an user can be displayed in frontend. Users can edit them or delete them. List all your posts in frontend, edit them or delete them. Also see them with their featured image.