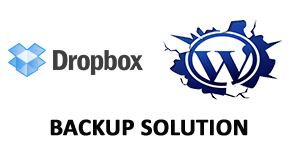 Backup Your WordPress site with Dropbox
BACKUP !
A most Important word in Web Industry. If you value the hours of work you have put into your website, it's most certainly worth 10 minutes to get your backups sorted out. Otherwise, one-day you may have a nightmare !
In this post i am going to teach you how to setup a schedule backup for your WordPress Site in the easiest way by using Drop-Box.
Lets Go !
1. Get a free dropbox account and make sure you are signed in. (here i used my refer link)
2. Go to Plugins >> Add New and install the WordPress Backup to Dropbox plugin
3. Activate the plugin and it will create a new menu item. Go to WPB2D >>Backup Settings.
You will see this dialogue:
4. Click the Authorize button and another browser window will open asking if you want to allow Dropbox to authorize the plugin.
5. Click Allow and return to the previous window on your WP site.
6. Click the Continue button.
You will see a list of settings:
6. Under Settings, create a folder for your backups, call it something that relates to your site, then choose a backup schedule.
7. Under Excluded Files and Directories click the "toggle all" link and then un-tick the wp-content folder.
The wp-content folder contains all your theme files, uploads and media. Everything else can be easily re-installed.
If you have installed other plugins that have created folders outside of the/wp-content folder make sure they are un-ticked as well.
NOTE: If you have a caching plugin installed (for speed and website optimization) you do not need to backup the files it creates. They are just copies of your web pages in HTML form for fast loading times. For the pluginW3 Total Cache it will be the /w3tc folder, inside /wp-content. If you're using WP Super Cache that will be the /cache folder inside /wp-content.
8. Click the Save Changes button.
9. Click on WPB2D >> Backup Log and click Start Backup to perform your first backup.
Make sure you leave that window open until it completes.
10. Login to your Dropbox account and download the folder you created for your backups.
It will be inside the folder wpb2d. Highlight the folder and click the Download button.
From now on the plugin will automatically backup on the schedule you chose.
Hope you are going to using this method and will have peace of mind for you and your WP site .
Any questions or comment most welcome 🙂
Thank you.