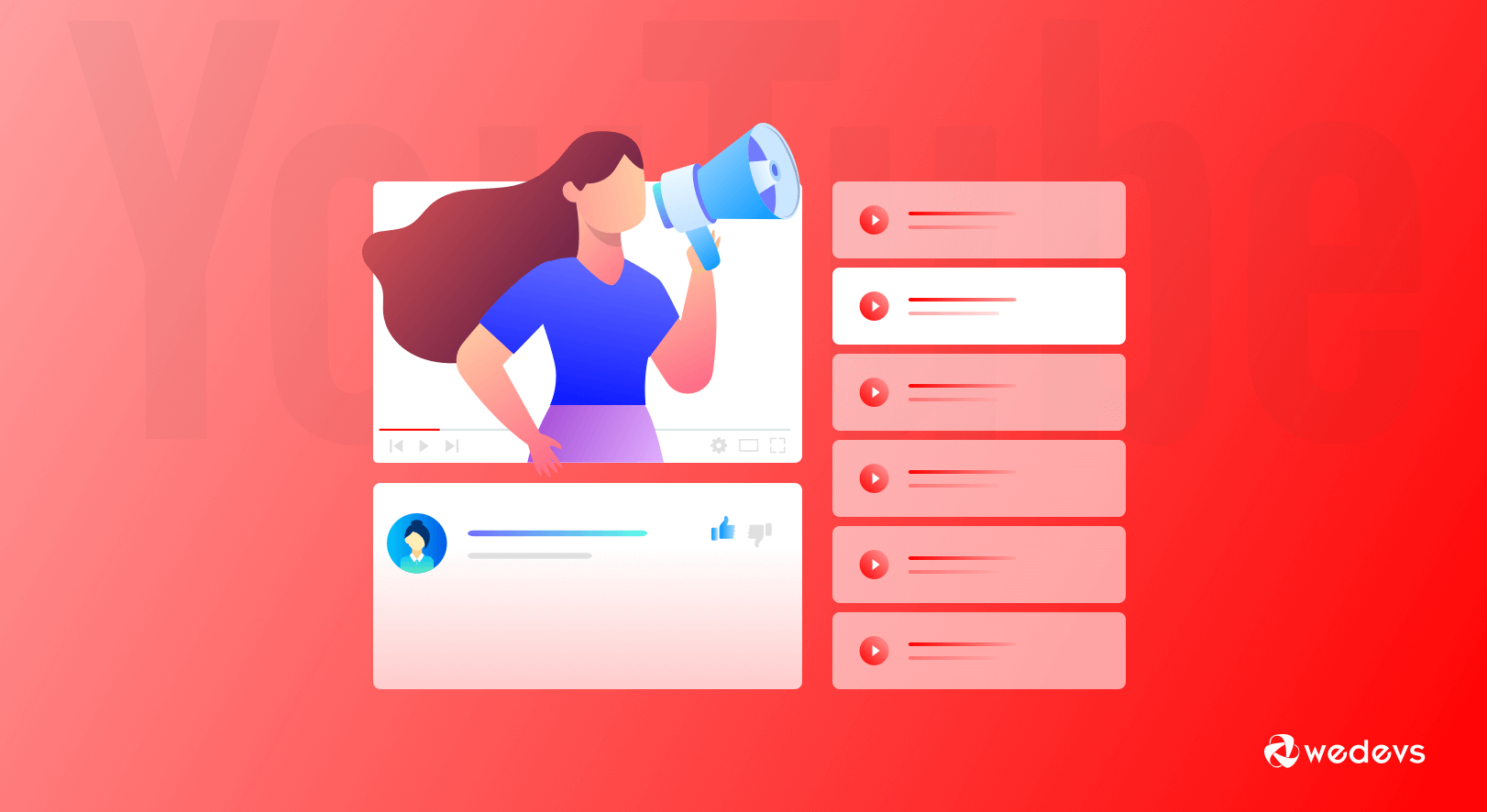 7 YouTube Marketing Strategies to Strengthen Your Online Presence
YouTube Marketing is an extremely powerful medium to promote your business on YouTube through videos and ads. Why not? After Google, YouTube is the 2nd most-visited platform in the World (Alexa). Apart from it, 68% of YouTube users believe that videos help them make a purchasing action (Google).
It clearly shows the power of YouTube and how it's been evolving day by day with 2 billion active users. So why don't be a part of this huge platform and start making YouTube videos right away? Even if you don't create videos for your business, still you can utilize this platform by showing ads on other people's videos. For both cases, you need a solid YouTube Marketing Strategy.
Below we've shared 7 inspiring YouTube marketing strategies to promote your business and smartly manage your YouTube channel. But before we talk about the methods, let's know shortly why YouTube is a great platform for promoting videos:
How YouTube Will Benefit Your Business in 2023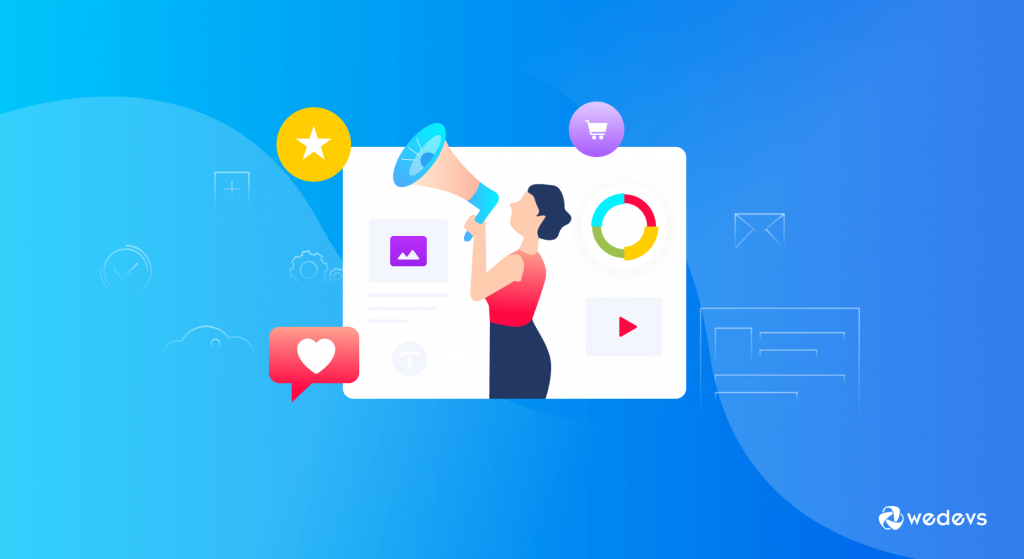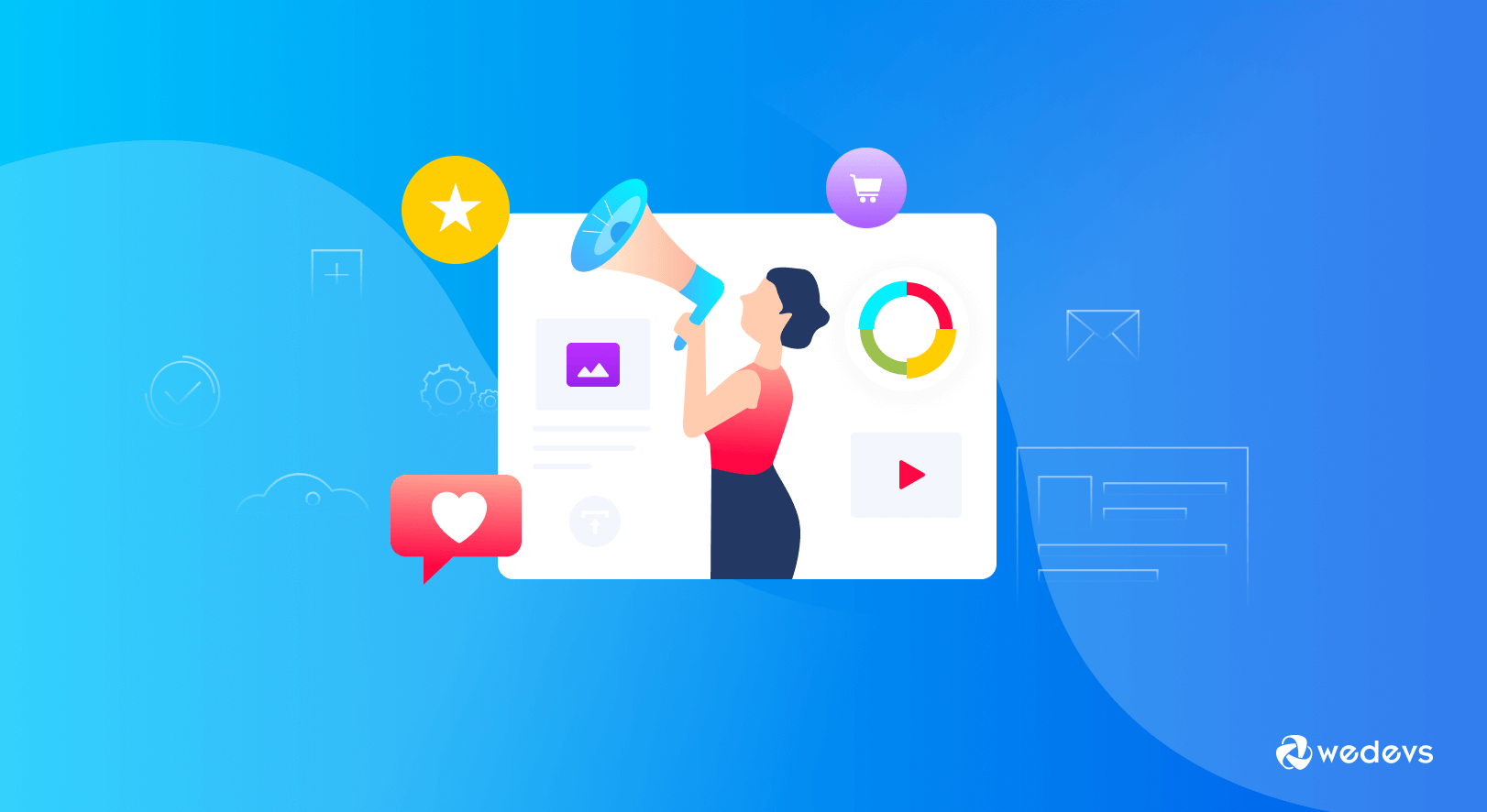 We already know how bigger is the YouTube platform is and how it's been growing gradually. Almost, half of the marketing community (55%) utilize YouTube as a strong digital marketing channel. Another reason why people prefer using YouTube is – its super easy-to-use features and user-friendly interface.
When someone sees your brand on YouTube, it's significantly more memorable than reading a blog post or seeing a text-based ad.

Backlinko
Anyways, let's make this statement more clear and evidential – why YouTube is a perfect platform for sharing & promoting videos:
Captures quick audience attention
Strengthens your sales pitch
Offers greater insight into campaigns
Visually attracts more customers
Improves SEO & overall brand presence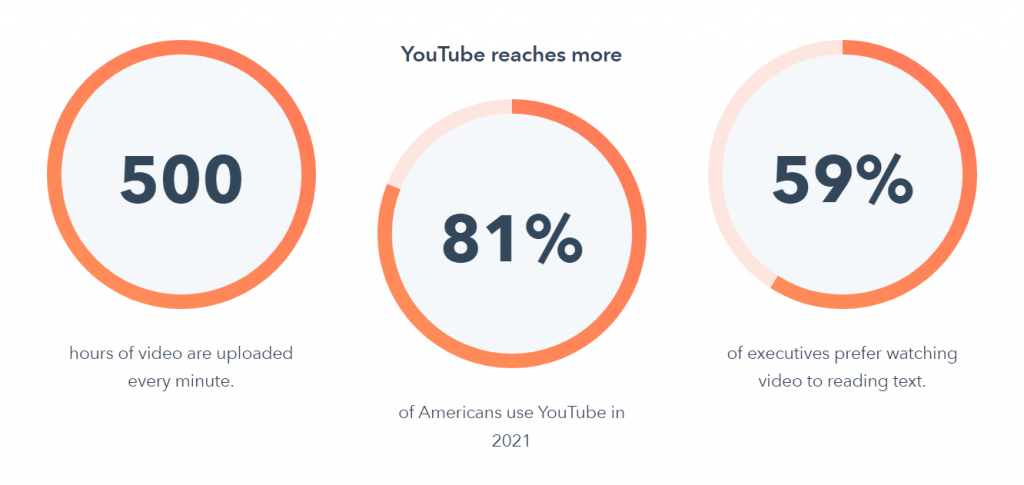 Apart from these, there are a lot more things that justify the popularity of YouTube. Being a top place for video marketing, the content process of YouTube is world-class to take your video marketing strategy to the next level. It enables you to grab a worldwide audience and boosts your local presence at the same time.
Related resource: How to Get More Views on YouTube for Free in 2022 (13 Proven Tips).
7 Proven YouTube Marketing Strategies to Boost Your Video Marketing Effort in 2023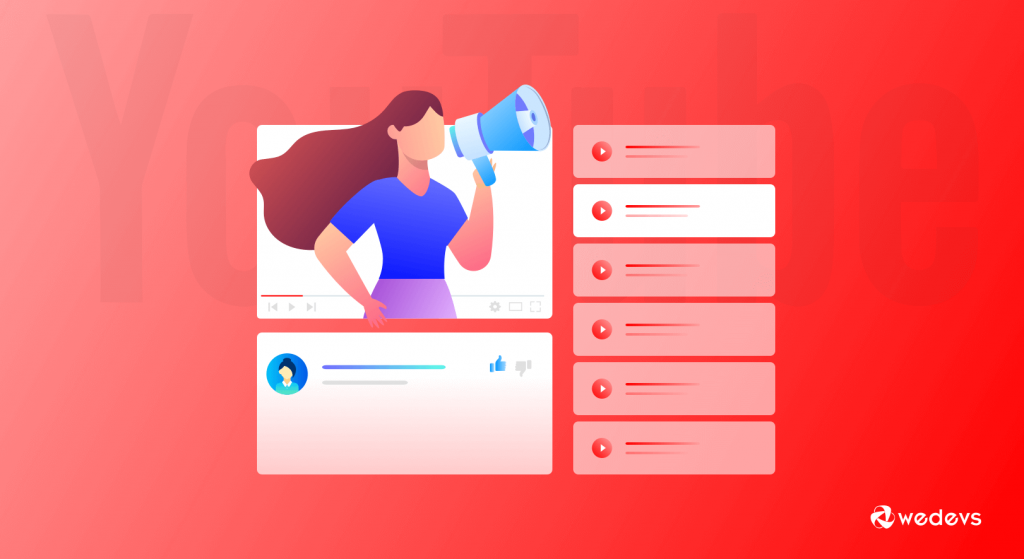 Having a professional YouTube channel have lots of facilities. From showcasing your company's insight to educating users, you can directly reach your targeted customers through this platform. But there is a harsh truth behind YouTube marketing, you can't just expect a good result by uploading videos.
More than 59% of executives prefer watching video to reading text.

HubSpot
So the fact is, this number of people are smart and educated. Just random videos without the proper plans will not work for your channel. That's why you need proper research, plans, and the ability to create great videos. Along with these, you must know the SEO to optimize those videos around keywords and topics that people on YouTube care about.
Here are 7 most workable YouTube Marketing Strategies for your business-
Select a Niche-based YouTube Channel Name
Identify Your Target Audience & Their Preferences
Conduct Competitor Analysis for Better Insights
Follow Top YouTube Channels to Learn More Advanced Things
Write a Catchy Video Title & Description
Upload Videos with Consistency & Fixed Time Schedule

Check YouTube Analytics to Measure Channel Performance
1. Select a Niche-based YouTube Channel Name
Before starting video marketing on YouTube, it's essential for you to find and research a unique name for your brand. There are a number of ways to research a brand name for a YouTube channel. You can set it as your brand name or keep it different.
It's is the official name for your channel on YouTube. There are different types of Channel Names, including a person's first and last name (Casey Neistat) and names that describe a channel's overall topic (5-Minute Crafts)
Here is the guide you might want to follow and know what is the actual process to set a professional name for YouTube Channel. This guide was shared by Backlinko.
Below is an example of an influencer's channel. The purpose of this channel is to help users to grow their followers and make money as Video influencers.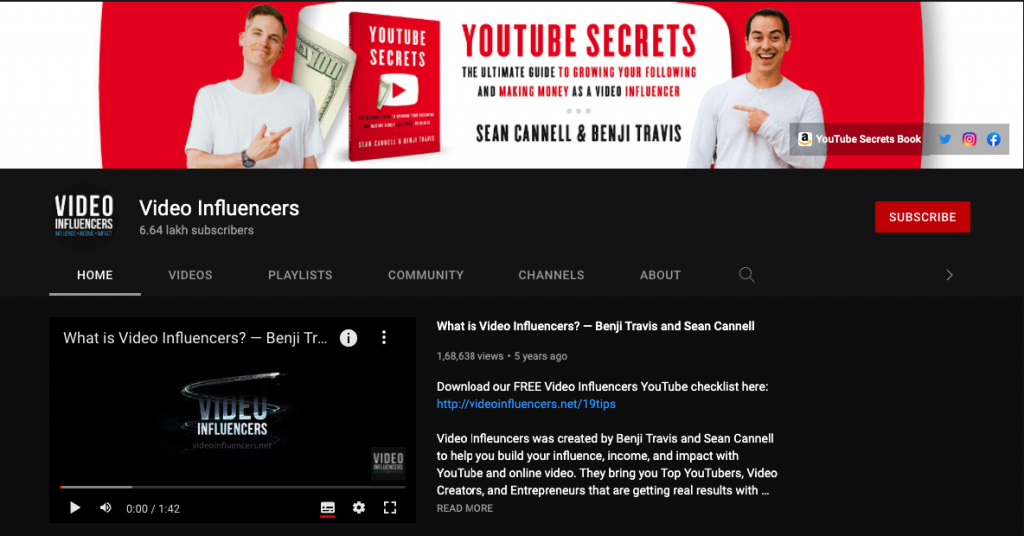 02. Identify Your Target Audience & Their Preferences
After you choose a name for your YouTube channel, now it's important for you to know your audience base. You can sort out your audience by asking these questions to yourself:
Who are you making videos for?
What are they already watching on YouTube?
You have two options in your hand.
If you already have a YouTube channel, then you can utilize the analytics page of your channel to know your audience. On this page, you will get an overall insight into your channel. Especially, on the Viewer age and viewer gender page, you can know the age and gender of your audience. Also, in the Geography tab, you'll learn the exact location of your audience.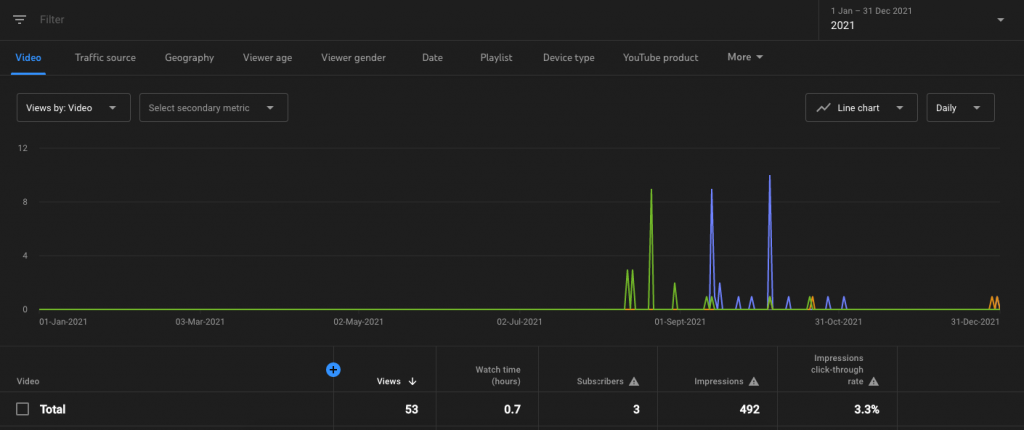 What if you have a newly made YouTube Channel? In that case, you can utilize your social handles like Facebook, Twitter, or Linkedin. You can initially publish a promo video to let your followers know about your YouTube channel. By observing what people are feeling about you or your industry, you can find out what people want to know and use that for video content ideas.
Related Resource: How to Create a Buyer Persona & Make Your Buyers' Journey Easier.
03. Conduct Competitor Analysis for Better Insights
Once you're done with the audience research, now you need to conduct proper competitor research. It's the quickest way to flourish on YouTube is to measure what is your competitor doing for publishing videos.
You can start competitor analysis by considering the following things:
Count subscriber
Track the average views per video
Frequency of posting
Video topic
Types of video promotions they utilize
What people are suggesting or commenting
After you consider these things, now you need to set some questions for yourself or your team:
What are their most popular videos?
How are they displaying themselves?
What is their brand voice?
How can I differentiate my company from them?
How can I get ideas for my new content from this channel?
Now gather all these notes into a SWOT analysis.
SWOT stands for Strengths, Weaknesses, Opportunities, and Threats;
| | |
| --- | --- |
| (S) Strength: | (W) Weakness: |
| (O) Opportunities: | (T) Threats: |
Layout for the SWOT analysis
04. Follow Top YouTube Channels to Learn More Advanced Things
Along with Google, YouTube is also changing its algorithm so frequently. So you can just stay relaxed by uploading random videos without any purpose. You need to research the trend, what's going on, types of videos and quality, etc.
Apart from it, you should be following your favorite YouTube channels to learn some video tricks, short hacks, or effects. It will improve your video-making skills and let you keep in with the latest trend. You will learn a lot about what's working, especially since it's always changing. These don't need to be part of your industry. Just watch videos of your beloved channels and learn the tips tricks.
So you may be thinking about what I should keep in mind while following my favorite channels? Here are some important notes that you can consider:
Their video thumbnails
Channel art or presentation
Video description and how they add the links to it
What types of video are they publishing
How they edit the videos, video effect, transitions, etc.
Check out 20+ Top WordPress YouTube Channels to Follow in 2022
05. Write a Catchy Video Title & Description
No matter how good your video looks, it is valueless if it doesn't get the expected clicks. It's important that you should optimize your video titles to bring in viewers.
Here are some useful tips for creating perfect YouTube titles for greater reach:
Select the right keywords: Keywords in the title tells Google crawlers what your video is about. And good keywords also tell your viewers what they can expect, so it's a win/win fact for your YouTube Videos
Keep your title short. The ideal length of video titles shouldn't exceed 60 characters. Readers should see the whole title at a glance
Try to create clear & descriptive titles. Don't force viewers to figure it out. Let readers know what the video is about
Tell readers why they need to watch the video. They need a reason to spend their time and view the content. They want to know how they will benefit from it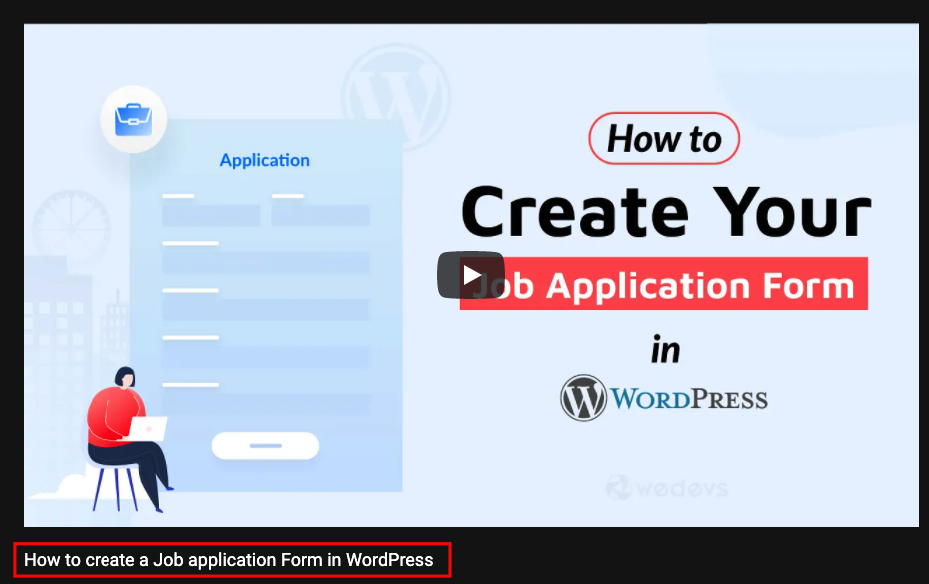 In this video, the Focus keyword is Job Application, the title looks short, clear, and descriptive. Showing a reason to the users to click on it.
So the overall summary is:
Identify a central idea of your video
Search for short and descriptive keyword phrases that address this theme
Choose a title which answers the most important question for viewers
The same importance goes for video description. A large number of people love to go through the text description along with the video. It helps them note the key points and review if they've missed something. You can optimize the description with target keywords hence it will boost your position on search engines. Moreover, you get the chance to refer to other related videos, social information, and call-to-actions with the video description.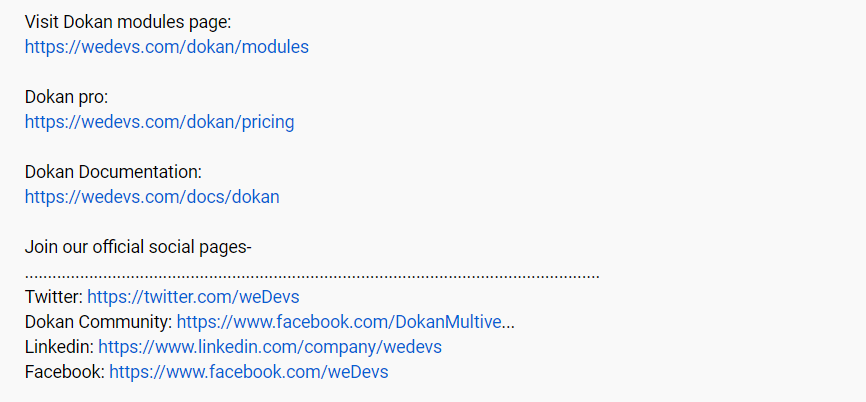 In order to simplify your users' journey include timestamps in the description. In turn, users can navigate your content and skip to different parts of the video according to their needs.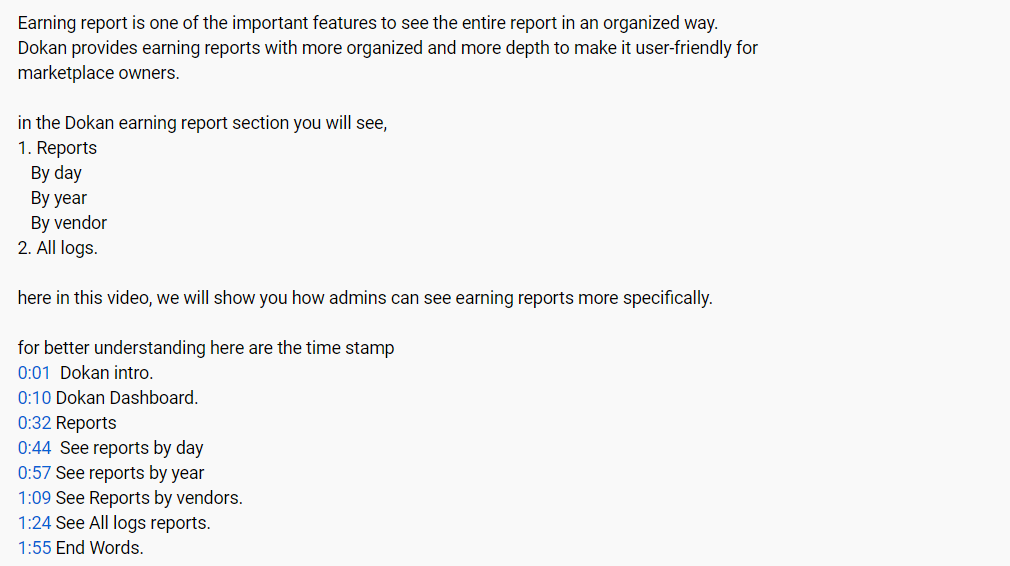 06. Upload Videos with Consistency & Fixed Time Schedule
The best time to upload new content to YouTube depends on the day of the week that you publish
They shared a time-frame for posting videos on YouTube:
Monday: 2pm-4pm
Tuesday: 2pm-4pm
Wednesday: 2pm-4pm
Thursday: 12pm-3pm
Friday: 12pm-3pm
Saturday: 9am-11am
Sunday: 9am-11am
Hopefully, you find these time frames useful and effective. But don't delay uploading videos for more than one week. Otherwise, your channel will not get the expected engagement and subscribers.
Note: Every individual channel has a separate time frame for posting videos. So try to focus on your time zone and then set your video publishing time.
07. Check YouTube Analytics to Measure Channel Performance
Once you're done with all the above parts, now it's time to check back your channel's performance from the Analytics. It will give you time to time performance reports. And considering it, you could easily come to the decision which video is performing bad, or which one is getting the most engagement.
So make the best use of your YouTube channel to track your channel growth, too. Write down your numbers monthly for:
Subscribers
Views
View duration
Top videos
Watch time
Impressions
Your click-through rate (CTR)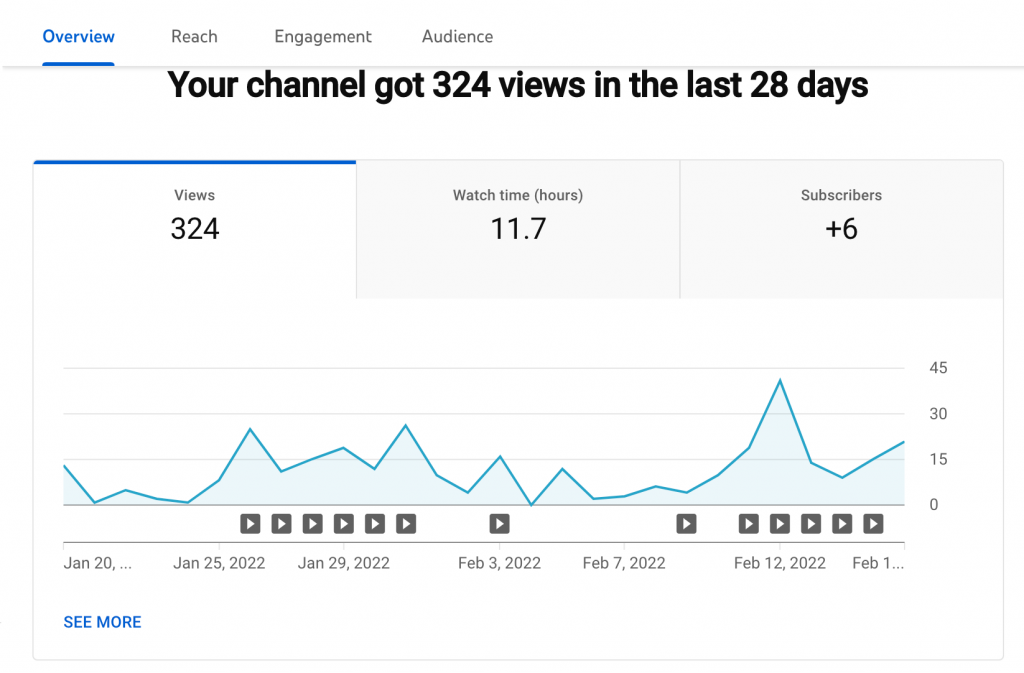 Bonus Tips: Some YouTube Marketing Tips to Uplift Your Channel Growth
The tips we shared above all are proven and many marketers are still practicing these strategies for their channels. But still, there are some tips that we didn't mention on our regular list. So in this section, we'll shortly mention them so that you can apply and follow them right away.
Here are they:
Promote your videos on social media
Use YouTube Tags to get more views
Add YouTube Stories to boost people curiosity
Run paid ads to reach your target audience
Related Resource: Top 6 WordPress Digital And Content Marketing Tips for Small Business.
5 Most Popular Types of YouTube Videos
Basically, YouTube Marketing depends on your business type. That means if you're an eCommerce businessman, your should video should focus on product-related. If you're a traveler then you must focus on traveling video.
And if you're a tutor and teacher then your videos should be for educative purposes.
So after researching, we have discovered 5 types of YouTube Marketing. Let's get into the discussion:-
Promotion Type video marketing
Interview or job-related video marketing
Tutorial Type/Product Demo video
Presentation or product releasing the video
User Interaction type video
Promotional Video Marketing
If you want to advertise your brand on YouTube, then the first and foremost task is to create more promotional videos. The idea of promoting videos traditionally is not available nowadays. Because your users are smarter now.
However, a quality promotional video can help you to create brand value thus helping to convert more traffic to your website.
Interview or Job-related Video Marketing
A job interview or product interview can be an effective way of promoting videos. The interviewer may ask you some questions about your products so that people can know each and every detail about your products.
On the other hand, your employee can take part in the interview for a particular product. Additionally, you as an owner also can take an interview with your customers on the experience they have. By doing this, your brand will get more responses.
Tutorial Type/Product Demo Video
This is very important for any small business. If you want to advertise your product to all, then you must create a short video, demo, trial, or teaser of your product, etc.
Do you know? Customers want to learn and connect with brands through video content.
You can showcase your product by giving proper tutorial videos. In this video, you can show the following things:-
Installation process
Advantages and disadvantages
Customer review or satisfactory video
How to utilize your products
And Success stories
Presentation or Product Release Video
You can also advertise your product through a product release video. Therefore, customers will get informed. On the other hand, you can create a video by giving guidelines to your audience.
Viewers from YouTube, prefer tutorial videos to the other videos. So it's high time you should take the proper initiative to make quality tutorial videos.
While making this kind of video, follow the tips:-
Make your video informative
Be straightforward
Keep your video short
Use animated illustration in your video if need
User Interaction Type Video
Now, this one may be harder to apply – especially if you will be depending on your audience to make videos that advertise your product directly. It's another part of the YouTube marketing strategy.
The oreo team does the trick. They create a hashtag #PlayWithOreo. And their users make the video. This is a huge video marketing strategy. This video got 600k views overall.
To sum up, use hashtags, make some entertaining YouTube videos with innovative ideas that are 'outside of the box. If you will, and surely, you'll get user interactions.
Some Common FAQ Regarding YouTube Marketing Strategy
How Do You Do YouTube Marketing?
There's a lot that goes into marketing your business on YouTube. In general, here are the 5 most important steps:
01. Create a channel for your company
02. Plan out your video strategy
03. Upload high-quality videos designed to maximize Watch Time
04. Optimize videos around popular keywords
05. Promote new videos on and off of YouTube
How Do You Do SEO on YouTube?
YouTube is the internet's 2nd largest search engine (after Google of course). Here are the most important things you need to do to optimize the videos that you upload:
01. Find keywords that people use in YouTube search (keyword research)
02. Include your keyword in your title
03. Write a description that outlines your video content
04. Include keywords in your video description
05. Add accurate tags that include keywords
06. Get comments and likes on your video
How Do I Increase My Subscriber Numbers?
Here are five ways to get more subscribers on your channel:
01. Ask viewers to subscribe at the end of every video (CTA)
02. Use playlists to encourage viewers to watch more of your video content
03. Create a professional channel page
04. Upload a channel trailer
05. Send social media followers to your YouTube channel
How Much Does It Cost to Run Ads on YouTube?
It depends. The cost of a YouTube ad depends on the demographic you're targeting and the keywords you're bidding on.

According to an industry study by AdStage, the average CPC in YouTube is approximately $3 per click.
Can You Pay YouTube to Get Views?
Yes! YouTube has a very robust advertising platform (run through Google Adwords).

And unlike buying views from shady websites, YouTube (obviously) has no problems with you getting views on your videos with video ads.
Is YouTube Good for Marketing?
In a word: YES. That's not to say that YouTube should be your company's main focus. But according to WyzOwl, 84% of small businesses stated that video has brought them more traffic.

And YouTube is hands-down the most popular platform for publishing your video content. So if you want to diversify your traffic sources, or just get your brand in front of your target audience, video marketing is as legit as it gets.
YouTube Marketing Strategy: Is It Really Worth Doing
Though Creating video content can be a time-consuming and long process but very important in this visual age. No matter who is your audience, consumers of all spheres are choosing video content over others.
All types of businesses are now including visual marketing in their promotional activities. Video is one of their top choices as it guides visitors' line of sight. According to Cisco, by 2023 online videos will account for 82% of all internet traffic. With its growing popularity competition also goes higher. This means without strategic planning it would be impossible to create your unique identity in this race.
If you're still confused about how to start your YouTube marketing, go through the above strategies to generate some ideas that align with your brand.
So, what type of marketing strategy do you use for your business promotion? Share your most performing YouTube marketing strategy with us.